*
I'm sitting on my deck at the lovely Anchor Inn Beach in Provincetown and there's a rainbow over the bay. So beautiful! Before I start writing about this week, I want to add to last week's column; I forgot one moment with Alice Ripley that Juli insisted I print because she thought it was hilarious. On the second day of shows at the Art House, Alice pointed out someone in the audience and introduced him. "Everyone! I'm very happy that in the audience is my very first boyfriend!" (applause) "…with his husband." Of course, everyone applauded more! I asked Alice when she realized he might be gay. She said it was when they first made out and he put his finger up her nose(!). Huh? That's a sign of being gay? Isn't it a sign of being four years old?
Secondly, I forgot to write down another amazing Michael McGrath understudy story. His first big Broadway musical was My Favorite Year where he was in the ensemble and understudied the leading role ("Benjy Stone") played by Evan Pappas. Well, right after the show opened, Evan started to get sick. Of course, Michael hadn't had any rehearsal and he was so busy learning his own stuff that he hadn't worked on Benjy. He went home after the show knowing that he might very well have to go on the following night. He sat down with his wife (the fabulous Toni DiBuono from Forbidden Broadway) and started going through his lines while she held the script. They were there for a few hours and got to a scene that began with his line. He was silent. She waited. Silence. Finally, Toni closed the book and told him, "You just don't know this part. I'm sorry but I have to go to bed." Michael wound up staying up by himself 'til around 6AM (!) reviewing everything and finally went to sleep. The next morning, the stage manager told him he was definitely on! Michael told us that the thing that saved him was being the fight captain, meaning he was in charge of keeping the sword fights correct. He thinks that if he didn't know the fight stuff, there would have been no way for him to go on. Cut to: He did the show and it went great! So great that at the end of the show, Michael prepared to do the regular bows in this order: the cast, then him and Tim Curry and then just Tim Curry. Well, when he was about to leave the stage to give Tim the solo bow, Tim grabbed his arm and told him to stay. Tim then got down on one knee, crossed his sword over his chest and presented Michael to the audience. Of course, Michael started crying when it happened…and then so did I when I heard the story! Speaking of My Favorite Year, it also happened to be my first Broadway show. And I was also an understudy. I was the sub piano player for the regular pianist, the fantastic Joe Thalken. However, I only got to play it a few times because the run was so short, so I always call it My Favorite Week. Anybody? One of the other understudies of note was a young blonde who covered the romantic lead and whose regular part had her coming out during the show-within-a-show's commercial break. I can't remember her specific costume, but it was a giant letter or a peacock…something that covered her head so she was unrecognizable. Now she has two Tony Awards… Yes, it was Katie Finneran!
I kept insisting to Michael that Casey Nicholaw was also in the ensemble. He kept saying he wasn't. I kept saying he was. Someone then looked it up and found out he wasn't. Finally, I conceded and told Michael he was right. He said, "I am. And you know why? Because I was in the show!" Good point.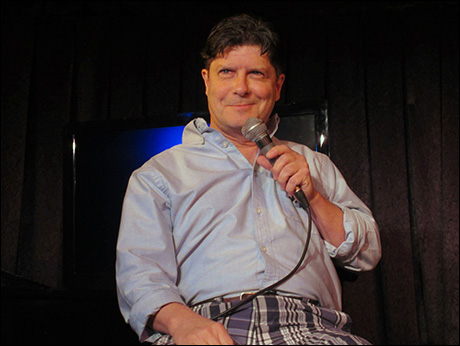 photo by Robb Johnston
I'm here in Provincetown with Judy Kuhn, whose voice, composer/lyricist/conductor David Friedman told me, is "the healthiest on Broadway." It's true. It's clear as a bell and sounds exactly the same way it did when she starred in
Les Miz
. I asked her how she got her Equity card and she said she hadn't thought about that for a long time but remembered waiting in a lo-o-o-o-ong line during the winter for an audition for a Theaterworks production of
Rapunzel
. She said it was freezing and the line went down flights of stairs and down the block. She couldn't take it anymore and was about to leave when a friend walked by. They chitty-chatted for a while and suddenly Judy was much further on the line. She decided she might as well stay, so she read the audition scene, thought it was hilarious, auditioned, and got the gig
and
her Equity card. She often thinks, what would have happened if her friend didn't stop by? She then remembered auditioning for a show that asked for a high soprano excerpt so she sang the end of "My Lord and Master" from
The King and I
. It was one of the those auditions where the door was open and everyone in the hall could hear. As she left the audition room, a woman stopped her and asked if that was her singing. Judy told her it was and the woman said they were looking for a new Tuptim understudy to do the national tour. She asked Judy to come in and sing for Yul Brynner. Judy came back the next day and got the gig! Again, she points to the arbitrariness of the business. If she hadn't sung "My Lord and Master" and that woman didn't eavesdrop from the hallway, then Judy wouldn't have gotten
The King and I
. I guess the message is to keep auditioning because everything leads to something else. P.S., it's not surprising that the
Rapunzel
script was so funny; it was written by David Krane and Marta Kauffman who then went on to create "Friends."
Judy and I also spoke about Chess, which I was lucky enough to see when I graduated college. Judy thinks the reason the show didn't work was because the set was so overwhelming and oftentimes didn't even work. Trevor Nunn wanted the show to be cinematic…meaning he wanted no blackouts and for people to be able to walk down hallways and then enter a room during a scene. Therefore, there were enormous columns onstage that moved all around and could create doors and walls, etc. Well, Judy told us that inside each column was actually a stagehand! He would have a compass (!) so he'd know where he was going and he'd move his column around the stage following cues from his headset. The headset had to be specially made to be able to work inside the columns and, unfortunately, they would often stop working. Judy said that in the middle of scenes people onstage would hear frantic knocking coming from inside a column and then a muffled voice yelling, "John! I'm out!" Someone would then come on the stage and push the column where it was supposed to go. Or sometimes, they'd be doing a scene and there'd just be a random column wandering around the stage, trying to find its place. At one point, Judy was doing a very serious scene with the late, great David Carroll, and out of the corner of her eye, she began to see an enormous column heading straight toward her. She kept signing and when the column got incredibly close, she kept going with her lines but thrust her arm out to the side and stopped it. Judy said that David Carroll was obsessed with the image of little tiny Judy Kuhn stopping a massive column with the flick of her arm. The stagehands were onstage all the time so they felt very connected to the actors. Judy said that for years she would walk through Shubert Alley and someone would run up with a big smile and a Brooklyn accent and say, "Judy! It's me! Tower four!"
Judy and I were in Varla Jean Merman's old dressing room. I took a photo of what remained on his/her counter and sent it to Varla: Cough drops, hair spray, Listerine, Urine Destroyer and a withered old eyelash. Varla wrote back a frantic message: "That's not all mine! I never use Listerine." Brava!
This week James and I went to 54 Below, the cool new club underneath Studio 54 and saw Marin Mazzie's new show. She invited the audience to the house she grew up in Rockford, IL (P.S., along with Joe Mantello, Paul Castree and Jodi Benson) and her song choices were all related to her childhood. I was especially obsessed with her acting on "That's the Way I've Always Heard It Should Be." So good! I decided that song is essentially Mother from Act Two of Ragtime transplanted to the 1970s. My favorite part of the show happened when she sang "Evergreen" and explained that she performed it in her Catholic High School during the "blessing of the class rings" ceremony. First of all, what? There's a special blessing for rings? Who's the patron saint? Liberace? Anyhoo, halfway through, she stopped and explained that the following lyrics were a problem with Sister Ann Patrice (or SAP, as she admitted everyone called her). SAP thought that "You and I will make each night a first. Every day a beginning…" was inappropriate. Marin tried to explain that it could easily pertain to her and Jesus, but SAP was unyielding. Therefore, when that section came, Marin switched from the lyrics to 16 counts of Barbra's signature humming, ooh-ing and ah-ing and then continued with the rest of the song. Marin demonstrated how she did it and told us, in her hilarious serious tone: "And a crisis…was averted."
This week I go to Buffalo on Friday to do Seth's Big Fat Broadway. Tell all your Western New York friends! Peace out. (Seth Rudetsky is the afternoon Broadway host on SiriusXM. He has played piano for over 15 Broadway shows, was Grammy-nominated for his concert CD of Hair and Emmy-nominated for being a comedy writer on "The Rosie O'Donnell Show." He has written two novels, "Broadway Nights" and "My Awesome/Awful Popularity Plan," which are also available at Audible.com. He recently launched SethTV.com, where you can contact him and view all of his videos and his sassy new reality show.)