*
I'm back in New York City after spending the weekend in beautiful Provincetown. My guest in the Broadway @ series was my friend, Ana Gasteyer. Ana and I took photos of ourselves proudly sporting our mutual love: fanny packs. We recently figured out that we've known each other for 16 years! Back in 1998, we connected at the NBC gym. She was on "SNL" and I was a comedy writer on "The Rosie O'Donnel Show."
The studios for "SNL" and "Rosie" were on the same floor, which was also the same floor as the gym. It was a corporate gym and when you joined, they gave you pair of shorts and a t-shirt. I immediately rejected the shorts because, as Ana puts it, they looked like the signature blue pair a kid in the mid-1970's had to wear when he/she signed up for intermural sports. I assumed that no one "cool" would ever be caught in those old-school blue gym shorts.
Cut to: I'm at the gym and noticed someone stretching on the floor, proudly sporting the shorts and t-shirt. I then see it's Ana, whom I recognized from TV but had never met. Regardless, not knowing her at all didn't stop me from breezing past her and commenting, "Nice wearing of the assigned gym shorts." I guess that could have alienated her, but she immediately owned that the outfit was crazy and I followed up my dish by complimenting her on her voice. When I was at "Rosie," we had a closed-circuit TV in the writer's room where we'd see the rehearsals that were happening at the SNL studios. I had heard Ana rehearsing her Celine Dion sketch and was obsessed with her high belt. We wound up becoming friends and soon bonded over stories about our parents.
Ana and I are obsessed with how her Mom can totally dismiss someone's entire body of work for one mistake. They'd be watching some brilliant gymnast on the Olympics who, in the middle of demonstrating her world-class athleticism, would fall. Immediately her Mom would pipe up with, "On her ass!" Or the more vernacular, "On her wazoo." Either comment translated to mean "Oh, well, that's the complete end of her career." Ana said the most recent and perfect example happened recently while her Mom was at home folding laundry. Madonna appeared on the TV and her Mom rolled her eyes and asked, "Pfft! Whatever happened to her?" Ana's Mom was very into classical music and loved that Ana played the violin. Ana went to Interlochen Arts Academy over the summer, which she loved because it not only had classical music, but many other types of classes and activities. However, her family couldn't afford it every summer so on the "off" summers, her Mom enrolled her in the Gettysburg Chamber Music camp. Ana said it was "wonderful" to be with a bunch of hormonal teenagers in a humid pavilion full of gnats while playing chamber music all day long. And, on the days when they didn't have rehearsal, Ana told us they had the privelege of visiting Civil War battle fields. "What teenager wouldn't love that?" she asked. Ana thinks her mother figured out that she wasn't into chamber music when she picked her up one day. Another string player came over and said, "Your daughter is so talented!" Mrs. Gasteyer smiled humbly. The girl then added, "I mean, you should see her lipsynch 'Funky Town.'" The smile was erased.
We talked about "SNL" and I realized that I never thought about how quickly sets and costumes had to be changed on that show. There's a dress rehearsal Saturday evening with lots of extra sketch material. After that, the final sketch list is announced. That means the cast doesn't know what sketch is going to follow what sketch until the last minute. On Broadway, there's a long tech rehearsal period where all set, wig and costumes changes are rehearsed very meticulously, but on "SNL" they do it for the first time while the show is live. She told us that when the show comes back after a commercial break and you see the host picture while music plays, that's usually because the set isn't in place or someone hasn't made their costume change yet. Insider secret!
Ana then told us that the episode when Betty White hosted in 2010 had the worst quick change experience she ever had. Ana left the show years earlier and this episode feautured a return appearance of the early 2000 "SNL" ladies. Ana did the NPR sketch with Molly Shannon and Betty White which was hilarious… Watch. Right after that sketch was Fred Armisen's "Manuel Ortiz Show" sketch. Ana said that during the commercial break, she ran to the quick change area in "SNL" which are situated underneath the bleachers where the audience sits. She took off her entire NPR outfit and was standing there, wearing pantyhouse, a strapless bra and a wig cap. She then went to put on her dress... and it wouldn't go on.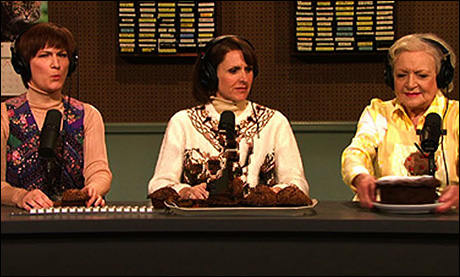 She kept trying to put it on and literally couldn't get it on. Back when she had done the show in the '90's, she had an unflappable dresser who could do anything. She had been in the business a long time, demonstrated by the fact that she had been Jessica Tandy's dresser for A Streetcar Named Desire! By the time Ana came back to the show in 2010, her original dresser was too old to work. The new dresser saw that Ana's dress was messed up and tried to solve it by simply screaming. It made the situation much worse, so Ana adopted the tone she uses with her two children and calmly stated, "I need you to stop yelling now, so we can fix this."
Suddenly, the commercial break was over and the sketch began! Ana had around 90 seconds before her entrance. The dresser kept yelling, so Ana asked for her wig so she could be partway dressed. The wig person put it on and then took off her own t-shirt and handed it to Ana so she'd have something to wear in the sketch. Ana was appreciative, especially since her wig person was now standing in only a bra. However, Ana didn't want to go on television wearing a t-shirt over pantyhose, which she thinks is the most unflattering thing in the world to wear.
Suddenly, her dresser's non-stop screaming paid off because it attracted the host dresser. She approached calmly, picked up Ana's dress and ripped the entire lining out of it. She quickly put the lining on Ana, who ran out and made her entrance! Ana said it was super short although she confirmed "no one could actually see my pubic triangle." A month later she was on the subway and someone approached her and told her that she was in the audience for the Betty White show. The woman then dropped her voice and darkly intoned, "We saw your quick change…" Ana then realized the entire bleacher section was able to see the getting into the dress, the screaming, the wig cap, the pantyhouse, the wig woman in the bra and the head dresser shredding the original dress. Amazing! Anyhoo, I actually found the sketch! Watch it here and brava for Ana being so calm when she enters. 
Photo by Joan Marcus
I asked Ana about doing
Wicked
,
and she said the one of the most difficult parts was carrying around crazily heavy props. For some reason, they're all made as real as possible. She actually wants to ask Idina if she's a method actress, because why else would the book of spells literally have to weigh as much as the actual yellow pages? And the suitcases Elphaba has to carry during "The Wizard and I" are bascially the same as carrying your bags through the airport.
Ana actually got a giant bicep on her left arm from always having to hoist up the broom like a kettle bell. And, one time, the side of her neck swelled out an enormous amount prompting the show to send her to the ER. The hospital kept her overnight and finally told her that her fascia had expanded. Why? Because of all the weight she was having to bear when carrying the bag with the spells at the end of Act One! Ana wants to ask if anyone involved in the creation of the show has ever heard of balsa wood. Here's a great recording of her doing "Defying Gravity." 
Last week, I started doing my weekly master class in New York City and it was so fun! I wrote an article about what I teach and made a really fun video featuring the five worst audition mistakes. Take a gander! The classes are every Tuesday at noon and sign up and info is here. 
And speaking of videos, I've decided to make a deconstruction every day until my London Leicester Square Theatre show which is Aug. 10. I've done Audra, Barbra, Rent, Dreamgirls, Follies and a cra-za-zy version of "Heaven On Their Minds." You can see them all here.
Next Monday, I'm performing with some amazing Broadway folk at Broadway Stands up for Freedom to benefit the New York Civil Liberties Union. Deets and tix here. Have a great week and peace out! (Seth Rudetsky is the afternoon Broadway host on SiriusXM. He has played piano for over 15 Broadway shows, was Grammy-nominated for his concert CD of Hair and Emmy-nominated for being a comedy writer on "The Rosie O'Donnell Show." He has written two novels, "Broadway Nights" and "My Awesome/Awful Popularity Plan," which are also available at Audible.com. He recently launched SethTV.com, where you can contact him and view all of his videos and his sassy new reality show.)