*
Ah! T-minus one week until They're Playing Our Song. This is the week when we should be doing the most intense rehearsing. We should. Instead, Sutton (who's playing Sonia) has rehearsal for Trust in the afternoons and I (who's playing Vernon) am leaving for Provincetown on Wednesday and won't be back until the night before the show. Terrifying. The good news is rehearsals have been much fun and Sutton and I seem to have great chemistry. That's [AUDIO-LEFT]right, we rehearsed some of the smooching in the show. After our first one, she told me I had very soft lips. I was pleased 'til I began to think about her implication that some people don't have soft lips. Really? Who has firm lips? Is it because they've been botoxed? Does anyone have contact info for Joan Rivers?
Denis Jones, who's directing and choreographing, has come up with some amazing staging. I'm going to do a whole video dedicated to it for this Friday's Playbill.com "Obsessed!" video series. Speaking of which, I just did a video with Tyler Maynard who's also in They're Playing Our Song. He was my last-minute guest replacement at Thursday's Chatterbox when Corbin Bleu had to ixnay because he was filming "The Good Wife" and they wouldn't release him. It was fun trying to find a guest at 5:35 for a 6 PM interview show. And speaking of Corbin, I was talking to the cast members of In the Heights and they said that it's hard to be with him sometimes when he walks around New York because there are super-obsessed "High School Musical" fans who will run over to him and go cra-za-zy. One time recently, he was walking with some cast members and a teenaged girl started screaming from across the street "OH MY GOD! It's Corbin Bleu! AH!" Corbin geared up to give an autograph and the In the Heights cast members geared up for an onslaught of teenage-girl mania. When the girl frantically approached, it turned out to be Jordin Sparks pretending to be a psycho fan. Brava!
Anyhoo, back to Tyler Maynard. He is so organically funny. Pretty much anything he says makes me laugh. He was talking about how high his speaking voice is and how recently he had to talk on the phone to a costume designer for a TV show he was doing.
COSTUMER: What's your waist size?
TYLER: 31.
COSTUMER (Slightly miffed). OK…what's your height?
TYLER: 5'9".
COSTUMER: (Taken aback). I see.
And….what's your bra size.
TYLER: (Mortified. Wondering "Does this character wear a man bra? Is there such a thing?"). Well, my suit size is a 40 regular.
COSTUMER: (Irritated). That's not relevant. I said, "What's your bra size?"
TYLER (Finally accepting he has to spell it out.) Um…I'm a man.
COSTUMER: *Stunned Silence*



photo by Robb Johnston
I also asked Tyler about doing
The Little Mermaid
where he played one of the eels and had to skate around on little heelies for the whole show. He said it was the first time he gained weight doing a show because instead of walking across the stage, he just had to give a slight push and then he'd soar wherever he needed to go. He would always try crazy skating tricks so the cast called him Oksana. When I asked how long he did the show for, he told me that he "birthed and buried it." Huh? He then explained that he got that expression from Cheryl Freeman who played the Acid Queen in
The Who's Tommy
back in the '90s. When asked how long she was in it, she sassily said, "Child! I birthed and buried it!" — meaning that she did it from opening night all the way to closing night. Brava new Broadway expression!
Here's the current video I did with Tyler
. His re-enactments of onstage inappropriateness are hi-lar!
This week, I got into a heated exchange with the very funny Jack Cummings III who is one of the founders of The Transport Group and directs many of their shows. His recent show, See Rock City had the creative and, quite frankly, extremely annoying gimmick of making audience members chose their seats right before the show began! That's right, no seat numbers. And not even first come first serve. More like first frantic run, first seated. We all had to line up around all four outer walls of the room where the show was being performed and then, right when the show was about to begin, we all scurried to get seats. I was with James and my good friend Tim and we managed to get three seats together. Cut to, Jack came over and said that we would hear better if we were further away from the orchestra. He said there were two seats on the other side of the room with one seat in the row in front of it. I said I didn't want to separate from James and Tim. He reiterated that we'd hear much better from across the room and I told him that I came with James and Tim and wanted to sit with them. I then told him it was his karma for making us choose our seats in the first place! Cut to, I wrote in my column last week that I felt bad for Sally Wilfert because in the show she had to call her grandfather "Grampy" and sustain a crazy high note on the second syllable. Here are the e-mails that followed after the column came out:
FROM JACK CUMMINGS:
Ok, now to make a correction — Sally's big high note you mention was not on the "y" of Grampy — as you so confidently write — it was on the word "tried" — here's the lyric:
"And believe me Grampy, I've triiiiiiiiiiiiiiiiiiiiiiiiiiiiied!"
Where did you pick up that note was on the "y" of Grampy?! — crazy!
FROM ME:
I stand by the fact that the vowel she had to sing was a nightmare AND by the fact that I probably couldn't hear because I was seated near the orchestra. Next question.
FROM JACK: I gave you the option to move but you turned it into Sophie's Choice and there you have it.
I then wrote back and gave him a shout-out for his amazing/inappropriate comparison and he wrote me that he always stands by the motto "When cornered, invoke the Holocaust." Brava! I then e-mailed Donna Lynn Champlin, who was in the show, and is also a great musician. I wanted verification that it was indeed on "tried" and not on "Grampy."
She wrote:
It actually IS on 'trieeeeeeeddd,' but there is also BEFORE that...."and believe meeee gram-peeeeeeeeeeeeee".... so the sentence prior is just chock full of 'eee' sounds, which we thought was rather cruel as a vocal set up to a big belt blast.
I sent that off to Jack and he wrote back:
The note you refer to as crazy high is a B — and in the words of our music director, "I challenge Seth to find anyone else to categorize that note as crazy high." Your witness your Honor.
That prompted me to write:
Sally is a soprano and those chicks have trouble with a middle C.
Finally, Donna Lynn had had it and fired off this missive, effectively silencing us all:
I find it fascinating, absolutely FASCINATING, that this whole argument is among MEN who have NEVER belted anything as woman, ever. So, when you grow a uterus and THEN try to belt anything above G, I'll take your "expertise" more seriously.
There were no more e-mails sent.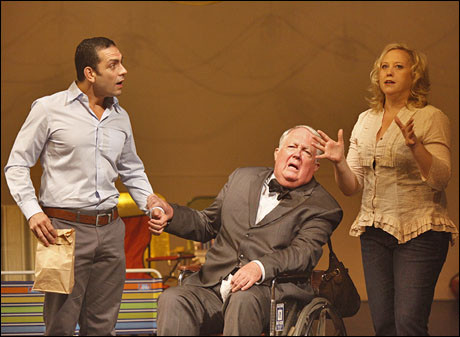 photo by Carol Rosegg
This week Juli did camp at "The Broadway Workshop." It was AMAZING. It's only five days, but during that time they get workshops from members of all different Broadway shows (Like
Memphis
and
The Addams Family
) who teach them the choreography to numbers from their shows. AND they had a stage combat class, AND a commercial workshop class where they were filmed reading scripts from actual commercials AND they saw
Wicked
AND did a talk-back with the cast. On the last day, they had a performance at New World Stages (!) where they sang and danced medleys from Broadway shows. All the kids had a solo and it was so exciting and
extremely
nervewracking to watch Juli do her solo from
Snoopy!!!
They also sang "One Short Day" from
Wicked
…with the two women who played the leads during the Wednesday matinee they just saw! It was my first chance to see Mandy Gonzales do a little Elphaba and she was a brava. The founder of the camp is my friend Marc Tumminelli who played my teenaged son when I did
Torch Song Trilogy
. We talked about how Juli looks like Daisy Eagan (who was 11 when she won the Tony Award for
The Secret Garden
) and Marc said that he was obsessed with Daisy when he was a kid. He remembers that he somehow got the number for backstage at
The Secret Garden
and used to call all the time, desperate to speak to her. MARC: HI, is Daisy Eagan there?
THEATRE PERSON: Who is this?
MARC: (Pause.) A friend.
Of course, he never got through to her and now thinks that his "secret backstage number" was actually the number for the box office. Ouch.
OK! Tonight (Aug. 23) is my Seth's Big Fat Broadway Show at the Triad and my special guest is super-belter/riffer Orfeh! If you've never heard her incredible voice, watch this! You can tix at http://triadnyc.com/. Then Thursday I'm doing Deconstructing Broadway in Provincetown at the Crown and Anchor and Friday and Saturday, I'm doing Andrea Martin: Final Days! Everything Must Go! in Huntsville, Canada. And then They're Playing Our Song on Monday! Excited/terrified. Get more info at www.SethRudetsky.com and peace out!
*
Seth Rudetsky has played piano in the pits of many Broadway shows including Ragtime, Grease and The Phantom of the Opera. He was the artistic producer/conductor for the first five Actors Fund concerts including Dreamgirls and Hair, which were both recorded. As a performer, he appeared on Broadway in The Ritz and on TV in "All My Children," "Law and Order C.I." and on MTV's "Made" and "Legally Blonde: The Search for the Next Elle Woods." He has written the books "The Q Guide to Broadway" and "Broadway Nights," which was recorded as an audio book on Audible.com. He is currently the afternoon Broadway host on Sirius/XM radio and tours the country doing his comedy show, "Deconstructing Broadway." He can be contacted at his website SethRudetsky.com, where he has posted many video deconstructions.