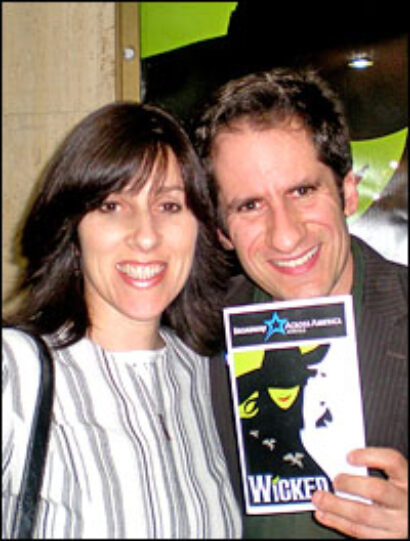 I've been here visiting my sister Nancy, and this morning I kept saying that I was worried about rain. Nancy asked me, "Why would you think it would rain specifically when your flight is supposed to take off?" Cut to: My flight's been delayed due to rain. Why does my mental imaging only come true when it's a hindrance? I noticed I have not won a Tony Award nor have I reached my goal weight, but the cable guy does show up during the two minutes I'm in the shower.
Anyhoo, I'm down in Virginia not only to visit Nancy and my two nieces, Eliana and Rachel Sarah, but also to take them to see the national tour of Wicked. We went on Thursday, and the show was great. It also happened to be opening night, so there was extra excitement in the air. I was really impressed by the crazily big set. How the hell do they haul that all over the country? It certainly doesn't fit in a carry-on. Speaking of which, the plane to Norfolk is so small that they pretend you can bring carry-on, but before you get on the plane, they check it into baggage. Passive/aggressive. It was "fun" to look out the window of the plane and see propellers instead of jets. I've always wondered what it was like to fly in a B-52 during the 1940's and now I know: nauseating.
Back to Wicked. Marcie Dodd is a brava as Elphaba and Madame Morrible is being played by Marilyn Caskey, who was brilliant as Electra in the recent Gypsy revival. Norfolk is a conservative town, and since Eliana is only 12, Nancy decided to try to appear like a good mother. After the sexy touching and major making-out between Elphaba and Fiyero during "No Good Deed," Nancy whispered, "Girls…don't watch that last part." It's called being a good mother while trying to break the time/space continuum.
The next day I was at the Norfolk Starbucks with Nance, and my cell phone rang. I looked at the caller ID, and it said "Patti LuPone." We both went into a state of excitement/panic. I had called Patti about her doing Nothin' Like a Dame a few days ago but never thought of the idea that she might call back. Turns out, she could not have been nicer and told me that she can't do the actual show because she'll be on vacation with her family, but she would make a video for the event! Yay! I wonder if she knows that the video I want to make is her singing through the entire score of Evita and Anything Goes. PS, If you haven't heard about Nothin' Like a Dame, this year's show is still for the Phyllis Newman's Women's Health Initiative, but it's gonna be my style. Instead of the signature stand and sing blow-out, I'm gonna interview a bunch of my favorite sasstresses, show embarrassing/hilarious video footage of them from the past and then have them sing up a storm. So far, I'm loving the line-up: Kristin Chenoweth, Audra McDonald, Kelli O'Hara and Bebe Neuwirth! Get tickets at ActorsFund.org.
And now let's talk about the parallel to Nothin' Like a Dame… Last Monday was the fourth Leading Men concert! Like the past two, Alan Muraoka was the director, I was the music director and John Tartaglia was the host. It raised more money than ever…over $10,000! While John was onstage, he mentioned Beauty and the Beast, and I asked him how he got the fire to come out of his hands when he played Lumiere. He said that Lumiere carries propane on his back, and that's what lights the fire. Isn't that what those trucks have that always crash and burst into flames on the interstate? I guess that sounds safe. He also said that during his put-in rehearsal, he was in full costume offstage with the man who was in charge of teaching him how to use the fire. Right before John went on he was told, "Oh, by the way. The only thing in your costume that's not fireproof is your wig." And…places. He said that the publicity shots of him show him posed with his head at a crazy angle, avoiding the flames. What a worrywart. I'm sure nothing could have gone wrong. And, I'm sure that's what they said to Margaret Hamilton just before she was engulfed in flames during the filming of "The Wizard of Oz." Jonathan Groff performed at The Leading Men IV, and we have a history of doing one-nighters together where I give him a note during rehearsal and during the show it makes him laugh onstage and/or ruins his performance. During the Broadway's Back concert that we did when the big strike was over, he had a lyric that said, "There was no business in restaurants…". I told him that "There was" had too many syllables and it should be one. For some reason, we changed it to "T'were no business in restaurants…" which was sort of ye olde English with a smattering of making of no sense. I posted the video on my website, and you can see him start to laugh halfway through his verse because he looks at me in the pit. Then, in last year's Leading Men concert, he sang "Try Me" from She Loves Me. During an acting moment in the middle of the song that's supposed to take place in silence, I came in early and started playing. It threw him, which, of course, led to his signature onstage laughter. This year, he sang a medley from The Sound of Music where he inappropriately went back and forth between the title song, "Do Re Mi" and "The Lonely Goatherd." I told him that right before the end I should stop and say to him, "Well, say it, Sister Margaretta!" and then he should say, "Maria…makes me…laugh!" Well, we added it to the show that night, but the audience laughed so much that he got thrown and came back into the song singing the wrong section. The song was supposed to end fairly quickly, but he was back in the middle of it. I thought I made it obvious that we were about to end it, but he kept singing….even after I stopped playing. He finally realized it was over because the piano had stopped so he arbitrarily said goodbye, British-style, to the audience. In other words, instead of ending the medley by signing, "Do re mi fa so la ti do…so do!" He went, "Do re mi fa (realizes piano has stopped playing, and he's now singing a cappella)… Cheers!" Cheers? Is he Dame Judi Dench? For more inappropriate laughter, check out how much time we wasted by giggling/guffawing and cackling during the recording of my audio book version of "Broadway Nights." http://sethrudetsky.com/blog/2008/10/
Wayman Wong, who produced the concert, asked me to do a deconstruction about leading men, so I did a bust on how the leading lady always gets the amazing songs and the male songs clank. First I compared "Everything's Coming Up Roses" to Herbie's section of "You'll Never Get Away From Me" (Rose I love you…but don't your chickens…"). Then I compared/contrasted Fanny Brice's "People" from Funny Girl with Nick Arnstein's "I Wanna Be Seen With You." Never heard of the song? Exactly. Then I gave in and said that some leading men get nice songs…for instance the leading man in Applause has a great one. I then played "Welcome to the Theater" and feigned shock when I discovered that the male voice I was touting was the smoky baritone of Lauren Bacall. Finally, I seriously said that there are some phenomenal songs for men and talked about the late, great David Carroll and his thrilling version of "Love Can't Happen" from Grand Hotel. I was incredibly moved the next day when Tom Viola, the head of BC/EFA, sent out a thank-you email to the performers and included this:
"On a brief personal note: It was amazing for me to hear so unexpectedly Seth's tape of David Carroll's extraordinary performance of "Love Can't Happen" from the Grand Hotel CD. As Seth said, David died of AIDS in 1992 at the recording session of the show, so sick and before he was able to pull his strength together to put down any tracks. In a tribute to him, the producers included this recording from a performance David gave the year before at Steve McGraw's (now the Triad on W. 72nd Street) as part of one of our early fundraising efforts, The BC/EFA Cabaret Series. (Note: Wikipedia has it wrong).
"I was there that night for the performance. David had been sick for a while, out of Grand Hotel for a few months and very uneasy at the time about people knowing his health status. If you were around then, you'll remember the fear and secrecy that surrounded so many. If you weren't, I don't think you can completely imagine it. And that's a good thing.
"David did the concert, in December, I think, wanting people to see and hear him, vital and alive. It was quite a night, playing out on many levels. But David got much sicker soon after. I think it turned out to be one of, if not his last public performance.
"To hear the recording of David singing again, with such life, in the midst of you all, each so very full of life, was very moving. It brought back a flood of memories, some sad but many more filled with the reminder of all there is to be grateful for.
"So with David Carroll in mind, thanks for being a part of all this, so many years later when certainly the needs still exists but thankfully without the horror that walked next to us all when this all began. "You were all delightful last night. You sang to and for the heavens."
If you've never heard that thrilling David Carroll recording, here's a link to me deconstructing it...the last note is stunning! http://sethrudetsky.com/blog/2009/04/08/deconstructing-surprise-high-notes/
On Wednesday night I did a fundraiser put together by Judy Gold for Juli's elementary school. Judy was, of course, hilarious. She did a bit about how much she hates the voice in her car's GPS machine, so she pitched the idea of her 83-year-old Jewish mother doing it: "OK…you're gonna turn right in 11 miles. Actually, you know what, turn left now. I wanna go by Florence Hirschman's house and see if she's still alive. I was never fond of her. OK, now….on your right is gonna be Smith's Ice Cream Store. Don't go in! They're anti-Semitic!"
The last act was the hilarious Robert Smigel playing Triumph the Insult Comic Dog. He busted me amazingly. "It was great to see Seth Rudetsky…which is code for 'Mario Cantone wasn't available.'" Then he busted my Sirius/XM radio show. "Satellite radio? My conch shell has more listeners!" Then, the line-up for the evening. "Judy Gold, Seth Rudetsky, Caroline Rhea. The hottest young comics…of 1994."
Speaking of Sirius/XM, my Wednesday live show had the amazing Hunter Foster, who was Drama Desk nominated for Lincoln Center's Happiness. We were reminiscing about Grease and the time his sister Sutton was playing Sandy and he was Roger and understudying Danny. I asked him if ever had to go on and do the drive-in make-out scene with his sister. First Hunter hauled out the ol' joke; "We're from the South, so it was no big deal," but then told us that one time the guy playing Danny was out and the producer, Barry Weissler, asked Hunter if he was willing to go on because Barry would call the papers. Hunter gave him a resounding no, and that boundary was never crossed. Then I asked him about his talented wife, Jen Cody, and he told us that she recently was gardening in their country house while brazenly standing in poison ivy. He warned her to move, but she defiantly told him that she wasn't allergic. Of course, she woke up the next day with her body so swollen that she literally couldn't open her eyes! At one point, she called her fellow Shrek cast mate, Haven Burton, and cried, "I just passed you on the street, and you didn't recognize me because I'm so disfigured!" Finally, the swelling went down, and all that was left were marks that looked like bruises on her face. That afternoon she got a call from her neighbor.
NEIGHBOR: Jen…are you OK?
JEN: Yeah.
NEIGHBOR: I mean…is there anything you need to tell me?
JEN: No.
NEIGHBOR: (in hushed tones) Do you need to me to call someone? Or do you need a place to stay?
That's right, not only did Hunter warn Jen about the poison ivy to no avail, but he's being paid back by people thinking he's a wife-beater.
Poison Ivy ain't the only thing affecting Shrek. I went to see it last week, and there were several people out due to allergies. But the understudies were all great (Haven, who normally plays Gingy, sounded great as Princess Fiona, and Ryan Duncan from Altar Boyz is making his Broadway debut and was fabulous as Donkey). I, of course, got to the theatre at the last minute, and as I entered the usher told me that I couldn't bring a doggy bag with food in it to my seat. Busted! I ran to the stage door, and as I entered, Chris Sieber was coming down the stairs in full make-up/costume. I wished him a good show and promptly told him to store my food during the show.
I've got lots of fun trips coming up because I'm doing my Deconstructing Broadway show all around the country and doing master classes (go to my website for details). First I'm going to Charlotte, NC, then Harrisburg, PA, and then San Francisco, CA. And by "San Francisco, California," I mean "Newark, California"… which is close by. That reminds me of when I was the conductor of Pageant and the hilarious David Drake who was playing Miss Deep South would say, "We're playing at the Blue Angel on 44th Street…right near a Broadway theatre." Let me end by saying DVR alert: Don't forget to tape the premiere of "Glee" this Tuesday on FOX. It stars Broadway's own Lea Michele and Matthew Morrison. And, come to my Sirius/XM Live on Broadway show this Wednesday with Rock of Ages' James Carpinello. Peace out!
*
(Seth Rudetsky is the host of "Seth's Big Fat Broadway" on SIRIUS Satellite Radio and the author of "The Q Guide to Broadway" and the novel "Broadway Nights." He has played piano in the orchestras of 15 Broadway musicals and hosts the BC/EFA benefit weekly interview show Seth's Broadway Chatterbox at Don't Tell Mama every Thursday at 6 PM. He can be contacted by visiting www.sethrudetsky.com.)