*
Yay! I have a delicious job coming up! In August, I was asked to audition for [title of show] at the George Street Playhouse but I looked at all of the out-of-town gigs I had coming up and I told them I couldn't do the show, so ixnay on the audition. I'd have to miss rehearsals plus I had to play for Betty Buckley on the two-show day after opening night. And George Street doesn't have understudies! The next day, I went to rehearse for They're Playing Our Song and noticed [AUDIO-LEFT]Tyler Maynard was leaving during lunch. I asked where he was going and he told me he was auditioning for [title of show]. What the — ? When I turned down the audition, I hadn't thought about who I could be performing opposite. I completely freaked out when Tyler told me he was going in because I think he is one of the funniest people I know. He started egging me on to audition but I knew my schedule would never work so I held firm. That night he texted me and said he spent half his audition talking about me with the director. The next thing I know, the head of the theatre (!) calls me on my cell phone. George Street is run by David Saint who directed the musical Midsummer Nights which I music directed right when I got out of college. We've known each other since I was 22 (five years ago). He asked me to consider coming in and I explained my horrifying schedule and he just kept saying we could work it out. Cut to: I was so flattered by him and the prospect of working with Tyler that I immediately scheduled an appointment. A few days later, Tyler and I left during our lunch hour to read for Matt Lenz, the director. We each read for both roles and literally 15 minutes after the audition my agent called with the offer to play Jeff. It was so exciting! Uh-oh. What about my schedule? Well, they agreed to work rehearsals around my horrific non-stop out-of-town-ness and I asked Betty Buckley if she'd get another pianist to play her show for that one night… and she did! Thank you, Betty! The rest of the cast is phenomenal!. Fabulous beltress Lauren Kennedy and the hilarious Susie Mosher. I just saw this video someone posted of her performing at the After Party. It's essentially her improv-singing about her day. The pianist plays a chord progression and she just sings whatever comes into her head. I have watched it so many times at this point because I am obsessed. One of my favorite parts is where she sings about auditioning for the role of Madame Morrible in Wicked and reading a full five-page scene. After she was finished, the casting director asked her to try it again, but this time with an English accent. She then sings, "I thought it was. I thought that was my English accent."



photo by Aubrey Reuben
The craziest part is that on Sept. 24 the cast was announced and Sept. 26 was the Broadway Flea Market… and who immediately came up to my booth saying, "Mary Stout got hit by a hot dog cart," but none other than Mary Stout! If you don't know, that's one of the signature lines in
[title of show]
and I finally got to ask her what the hell it's based on. Turns out, she was leaving the stage door of Beauty and the Beast where she was playing the Wardrobe (seriously…that's the role) and a man pushing a hot dog cart whizzed by and crashed right into her! I got the story straight from the source and now I can approach the role confidently after having done my extensive research…AKA one conversation.
Speaking of the flea market, it was so fun to keep running into people. Andrea Burns was on her way to In the Heights with her son, Hudson, and he wound up hanging out at my booth with Juli. I took them both backstage to meet Andrea before the show and Juli almost had a conniption when she heard that Jordin Sparks was backstage. Hudson went to Jordin's dressing room and asked her if she'd meet Juli. Turns out, Jordin couldn't be nicer. So sweet and chatty. And we wound up talking about her newest release: a re-make of "Beauty and the Beast"! I can't wait to hear the sassafrass! I told her the story that Alan Menken once told me during an interview. After he and Howard Ashman wrote the title song, they sent the demo off to Angela Lansbury. Angela called and said it was a lovely song but she couldn't possibly record it. They went into shock! They told her she was a great singer and would sound great on it. She reiterated that she listened to the demo and it was not at all something she felt comfortable doing. Why wouldn't she feel comfortable singing a song like that? They told her they'd change the key if she wanted and she kept saying it wasn't the key, it was the song. Finally, after much "who's on first"-type back and forth, Alan realized that they sent Angela the demo meant for Celine Dion! Zikes! Angela may be sassy but she didn't feel comfortable doing crazy Mariah Carey riffs up two octaves! PS, Alan also told me that the fabulous version that Angela recorded and we've all heard a million times was done in one take! Brava!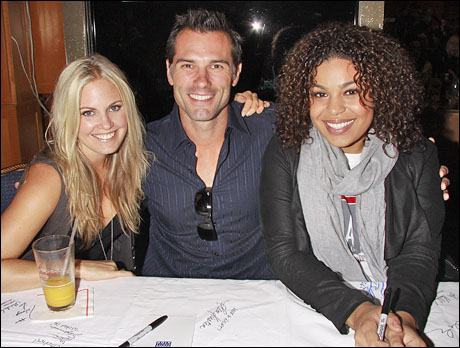 photo by Joseph Marzullo/WENN



photo by photo by Joseph Marzullo/WENN
In other news, Juli is now ten! We went out for an Italian meal at Sambuca on her birthday but because gluten exacerbates her eczema (it's true! If you have skin issues, try an elimination diet), it was a gluten-free Italian meal. Gluten-free pasta and gluten-free brownie for dessert. Excellent idea. Take the one thing that pasta and brownies are made of, and now take it away. And yet, it was delish. This may also be due to the fact that I'm petrified of the scene in
[title of show]
where I'm supposed to take my shirt off so I've been on a diet. In other words, at this point gluten-free air would taste delicious. Last Wednesday at my Sirius/XM
Live on Broadway
show, I interviewed Lorna Luft who could not have been more fun and sweet! I mentioned to her that Juli is dyslexic and gets tutored in reading by her grandmother (who's a certified academic language therapist) but essentially wants to have
nothing
to do with learning from her grandmother. I asked if she was like that with her Mom (Judy Garland). Turns out, Lorna loved learning from her mother and "all the incredible, talented people who were always around." She told us that as a child she thought that everybody had their godfather dropping by. It wasn't until she got older that she realized yes, that's true, but not everybody's godfather is Frank Sinatra.
What I didn't know it that she took over the lead in Promises, Promises in the early '70s when she was only 19, even though the man playing Sheldrake (her married boyfriend) was much older. She remembers that they had her wear a cute "fall" that made her hair have that 1960s length. Right after she began performances, a man came to her dressing room in a fury. He went right over to her hairdresser and told him, in no uncertain terms, that Lorna was not to ever wear a "fall" again because it made the man playing her boyfriend look like a blatant child molester. Lorna had no idea who the man with the strong opinion was and when she asked he replied, "Michael Bennett!" P.S. I didn't know falls can make you look years younger. (Note to self: get a fall.)



photo by Aubrey Reuben
She also remembers that the conductor would speed up the show if he had a date afterwards. One night, he started "Turkey Lurkey" super-fast and, as many of you know, it's a crazily high-energy dance number as it is. Well, Baayork Lee who had taken over the Donna McKechnie part, had
had
it and she blatantly screamed, "STOP!" The whole orchestra grinded to a halt. Then she looked at the conductor and stated, "Now let's start it again in the proper tempo." Sass. It reminds me of when I was the music director at Surflight Summer Theater and we added a section to "We're in the Money" from
42nd Street
. It involved repeating a part of the song but I had to transpose it because it's normally a chorus number and I arranged the new section for a soloist (Noelle Player, who is
super
talented). I didn't write it down because I knew it "in my head." Well, my version of "knowing it" was playing it three steps up instead of three steps
down
. Poor Noelle started to sing it and sounded cra-za-zy. I heard her stop singing so then I stopped. In the silence I suddenly heard her say, "OK, let's get it together!" That prompted me to remember the right key and we started again. That whole episode made me learn a valuable lesson: it's always smarter to write everything down. Of course, I haven't yet applied that lesson. Welcome to Adult ADD.
The craziest thing that happened to Lorna was during the beautiful "I'll Never Fall in Love Again" ("What do you get when you fall in love…?") ballad. The whole song looks like she's accompanying herself on guitar. In reality, she would play the first two measures and then mime the rest while the guitarist in the pit really played. Cut to, she played the first two measures and then…silence. She played it again and…silence. Turns out, the guitarist was taking a break for a smoke and wasn't in the pit! The "good" news is, someone quickly took over and started accompanying the song. The bad news is, it was the pianist. Lorna said she looked like a brilliant magician who could pluck a guitar and yet make it sound like a piano.
I have a new video with the fabulous Mary Testa up on Playbill.com where she tells crazy stories about doing The Rink and Barnum and re-creates two songs she hasn't sung for almost 30 years! Her amazing show is tonight (Sept. 27) at 9:30 PM at the Laurie Beechman Theater. Right now, I'm busy memorizing. Not [title of show] — that's not for a few weeks. No, I'm hauling out Rhapsody In Seth again. That's the show I did for six months at the Actors Playhouse in 2003. My old reviews are at www.RhapsodyInSeth.com. I'm performing it in Canada in a few weeks and I'm going to use my monthly show at the Triad on Oct. 11 to perform it once before I leave. You can come see if I know all my lines by getting tix at www.triadnyc.com. And I'm out. Of the country, that is. Tomorrow is my Deconstructing Broadway and master class in Toronto! Get info and sign up for the class at www.SethRudetsky.com. Then Friday I'm playing for Betty Buckley at Pepperdine University on the West Coast and Saturday we're performing in Patchogue on Long Island. Pass the Dramamine. And the under-eye concealer. Peace out!
*
Seth Rudetsky has played piano in the pits of many Broadway shows including Ragtime, Grease and The Phantom of the Opera. He was the artistic producer/conductor for the first five Actors Fund concerts including Dreamgirls and Hair, which were both recorded. As a performer, he appeared on Broadway in The Ritz and on TV in "All My Children," "Law and Order C.I." and on MTV's "Made" and "Legally Blonde: The Search for the Next Elle Woods." He has written the books "The Q Guide to Broadway" and "Broadway Nights," which was recorded as an audio book on Audible.com. He is currently the afternoon Broadway host on Sirius/XM radio and tours the country doing his comedy show, "Deconstructing Broadway." He can be contacted at his website SethRudetsky.com, where he has posted many video deconstructions.)