*
Well, now it really feels like the end of summer because I've done the final Broadway @The Art House for summer 2014. It feels like a minute ago that I did the show with Andrea Martin in Provincetown in June. Speaking of Andrea Martin, she called James in total devastation last week. Both she and James are obsessed with "So You Think You Can Dance" and decided to watch the finale together. Because she just started performing again in Pippin, she couldn't watch the finale when it was actually on and they made a date to do it over the weekend. Well, it's so difficult to shield yourself from information nowadays because things are constantly being posted on the internet. James warned Andrea not to go online at all so she wouldn't accidentally see anything about who won.
Well, the night after the finale aired, she was performing Pippin, blissfully unaware of who won, and during intermission, there was an announcement over the loudspeaker: "Attention cast! We have a special guest. After the show, we'd like everyone to take a picture with the winner of 'So You Think You Can Dance'... Ricky!" AH! Andrea was devastated. She left James a message, "Why couldn't he have started the announcement with 'spoiler alert'"? Here's the photo of her trying to put on a brave face.
PS. Just because my Provincetown series is over for the summer doesn't mean I've stopped flying to a different city every week! This weekend I'm super psyched to do my show in San Francisco for the first time! I'm performing Deconstructing Broadway Saturday and Sunday at Feinstein's, which is in the stunning Nikko Hotel. The fun part is, Jonathan Groff is filming "Looking" for HBO out there and he's going to come to the show! And James and Juli are flying out with me as well and my Dad is meeting us there! The last time I was in San Fran with my Dad was in the '80's when I was 15 years old! The one memory my Dad and I both have is going to an all-you-can-eat breakfast in a restaurant that was high up in a tower. It slowly rotated so you could see the city throughout the meal. Our memory, however, has nothing to do with the view. The one thing from that experience we talk about to this day is taking so much advantage of the non-stop food that we were completely immobile for the rest of the day. PS, I wish I could say I learned my lesson when I was a teenager, but when I was 26, I went to an all-you-can-eat buffet with my Disaster! co-writer Jack Plotnick, and I ate so much that I literally laid down on the restaurant floor. Everything old is new again?
A few days after San Fran, I fly to Buffalo and do my show at Shea's. If you're on the West Coast, you can get tix for my San Fran show here and East coasters can get Buffalo tix here. My final Provincetown Broadway @ show was with the amazing Gavin Creel. One of the reasons he has such flexibility with his voice is because he grew up singing along non-stop with Whitney Houston. That's why he wrote this song called, quite literally, "Whitney Houston." When he got to NYC after college, he did lots of workshops like being in the ensemble of Wicked (with Sutton Foster) and playing Melchior in Spring Awakening. Jonathan Groff's role, PS! He was 24 and playing opposite Lea Michele who was 14! Michael Douglas? He knew he was too old to ever play the role when it got to Broadway but wrote Michael Mayer a letter after the first workshop and asked if he could play it one more time because he loved the show. Gavin did the second workshop and one day, Michael told him he might be right for a role in the next Broadway show he was doing. He explained that it wasn't a rock show, it was more Golden Age. Gavin told him that he was a musical theatre major at Michigan and he could certainly sing that style. While he was waiting to audition, he wound up being cast in the workshop in Mask. He told us that, even though he was ensemble for most workshops, he would always read the script before rehearsals began so he would have a good handle on the show. Well, by the time Mask came around, he figured he would read the script during rehearsal and showed up not knowing anything about the show.
At the very beginning of rehearsal, they announced that the leading man was Anthony Rapp. Yes, was Anthony Rapp because had to leave the show in order to do the film "A Dangerous Mind." They then asked Gavin on the spot to play the lead! He went into a panic, but assured them he "loved the script." Anyhoo, the show Michael Mayer was talking about was Thoroughly Modern Millie and Gavin started auditioning while doing the Mask workshop. On the day of his final callback, he had two presentations of Mask. He did the first one, went to the bathroom, slicked back his hair, put on a suit, did the Millie callback and then did his second presentation. A la Lena Hall, who performed in the matinee of Kinky Boots, got completely dressed as man, did her final callback for Hedwig and then did the evening performance of Kinky Boots. And, PS, both of those auditions were for Michael Mayer!
Anyhoo, Gavin remembers all the amazing feelings he had when he got cast in Millie. First, the delicious news he got his first Broadway show! Then, thinking about how the poster features a girl and he'd be playing the love interest of that girl! Then getting the script and flipping through it and seeing a scene that he's in, then another scene he's in, then seeing lyrics for a song that he gets to sing, then seeing lyrics for another song etc. He said it was thrilling!
During the first week of Mille previews, Gavin was doing a dance near the middle of Act One and felt his knee completely give out. Sutton asked him quietly onstage if he was OK and he said no. After the number, he limped offstage and was immediately supposed to be in adjoining jail cells with Sutton. Well, he couldn't move fast enough to make it into the jail cell as it rolled on so he hobbled onstage and sang the number about being locked up in jail while standing in front of his jail cell. And when he started singing, "Oh, the places I would like to show you…" and gestured towards Sutton in her jail cell, he saw that she didn't make it back onstage either! He wound up singing the song towards the ensemble girls who were in the jail cell. I'm sure the audience had a wonderful time trying to figure what the h*ll was going on. Gavin then had to come back all dressed up for a scene at a classy dinner party and someone backstage gave him an umbrella he could use to lean on. He took it onstage and immediately leaned all of his body weight against it and it broke!
During intermission he laid down in Sutton's dressing room waiting to go to the ER and remembers the surreal moment of seeing his understudy walk by in his costume. No hospital could do an MRI on Sunday (PS, really?) so he got one on Monday, it was read on Tuesday and he got surgery on a Wednesday. He was then out of the show for three weeks of previews! When he came back, Sutton lost her voice and the understudy wasn't ready to go on so they cancelled the whole show! There weren't any costumes for her understudy either, so he said they took her (Catherine Brunell) shopping at Strawberry and said things like "Hmm... Sutton sings 'Gimme Gimme' in a red dress, here's a red dress. Put this on!" Catherine went on the next day and while she was dancing with Gavin onstage, the entire back of her dress ripped! Gavin was in back of her and suddenly saw exposed bra straps, mic belt pack and underwear! She was facing forward and coming to part of the dance where she turned her back to the audience and Gavin danced over to her, grabbed her shoulders and said, "Don't turn around!"
When the Outer Critics Circle Award nominations came out, Gavin wasn't nominated. Then he wasn't nominated for a Drama Desk. On the morning the Tony Awards nominations were announced, Gavin was awake at 5 AM. Not because he couldn't sleep, but because he thought the Tony Awards were like the Oscars. You know how the Oscar nominations are announced at 5 AM Los Angeles time so it's 8 AM New York time? Well, Gavin thought the Tony's were announced at 5 AM New York time. Why? So people in LA could hear the nominations at 2 AM? I kept trying to ask him how he did that math and he had no answer. At the time, he was living in an apartment that had a loft bed so he couldn't actually sit up in his bed. There were just a few inches between his head and the ceiling. He opened his eyes around 5 AM, see it come and go, and accepted he wasn't nominated because no one called him. Then, a little after 8 AM, his phone rang and he heard his agent on the answering machine congratulating him! Gavin said as soon as he heard "Congratu-" he shot straight up in bed. And smashed his head on the ceiling. He picked up the phone and his agent told him he had just been nominated for Best Actor in a Musical. His agent also said they were still announcing categories and that Gavin should turn on NY1 right away. Gavin hung up and ran to his TV only to remember he didn't have cable. He said he wound up just doing a little dance around the room because he was so crazily happy. On the night of the Tony Awards, they told him that his category would be right after the Millie number and he could sit in the audience or do the number and be filmed backstage when they called his name. He knew he wasn't going to win. His competition was John Lithgow (who won), John Cullum, John McMartin and Patrick Wilson, and he wanted to have the fun of performing on the Tony Awards and making the $2,000 TV salary. The only thing he had to do was to run onstage at the very end of the number and raise both of his arms so he always says he made $1,000 per arm. He's not kidding. Watch. 
Gavin just got finished doing The Book Of Mormon in London (where he won the Olivier Award) and is taking a few weeks off and then playing the role in some great Canadian cities like Toronto and Montreal. He's nervous he's going to forget the show during his weeks away, so he got the sound people to record the entire show while he was there and they were then able to mute his entire role. Now, he can practice his lines and songs by listening to the show and doing his part along with the tape!
While we were in Provincetown, Rory O'Malley came to stay with Gavin and see our show. Rory is not only a co-founder of Broadway Impact, which fights for marriage equality, but he's also getting married very soon and he's hilarious. We were at dinner and Gavin was telling everyone that he's now eating gluten free. He asked the waitress for the gluten free pasta and she told him that the only gluten free option was rigatoni. Gavin immediately said he would take regular pasta instead. Rory was obsessed. He kept imitating Gavin proudly saying he would never eat gluten and as soon as the waitress said it was rigatoni, he said Gavin's subtext was "I will not put that shape in my mouth!" I agree! What possible difference does it make? Gavin finally admitted he didn't really know what rigatoni was and panicked. On the way home from the restaurant, Rory insisted on taking a photo of Gavin near a store window because it happened to feature a box of rigatoni. Look!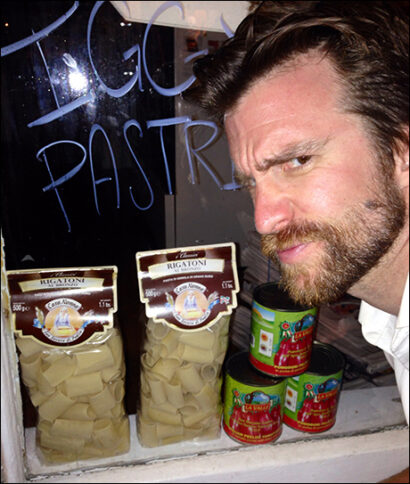 Also, we were discussing memory lapses and Gavin asked Rory if he ever forgot a lyric. Rory told us he forgot a lyric during The Book of Mormon. The lyric was "Turn it off." I was obsessed. If you don't know, the title of his song is literally "Turn it off." Rory said it was during the part where the other guys in the number say "Turn it off" twice then Rory is supposed to say it and then all the Mormons laugh. Well, when it got to Rory's part he was literally silent. He said it was probably the only time the guys onstage did the laugh following his lyric and the laugh was completely real. If you want to support marriage equality, get thee to BroadwayImpact.org because they're amazing. And, on that altruistic note, peace out!
(Seth Rudetsky is the afternoon Broadway host on SiriusXM. He has played piano for over 15 Broadway shows, was Grammy-nominated for his concert CD of Hair and Emmy-nominated for being a comedy writer on "The Rosie O'Donnell Show." He has written two novels, "Broadway Nights" and "My Awesome/Awful Popularity Plan," which are also available at Audible.com. He recently launched SethTV.com, where you can contact him and view all of his videos and his sassy new reality show.)