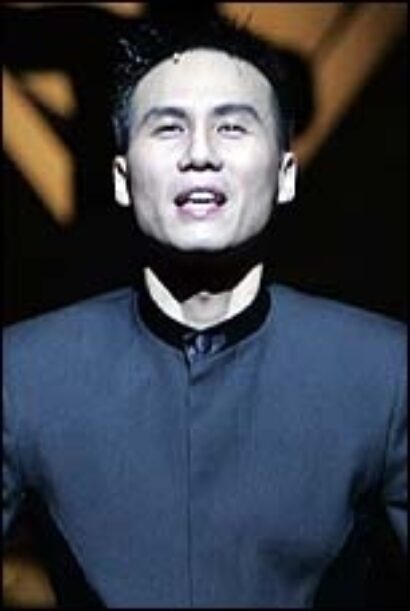 The musical, widely praised as potently sung, closed Jan. 30 at Studio 54.
PS Classics, Grammy Award-nominated for preserving Roundabout and Sondheim and Weidman's Assassins, as well as for Roundabout's Nine, produces the disc, with a release aimed for May.
*
The production, presented by Roundabout Theatre Company (Todd Haimes, artistic director) in association with Gorgeous Entertainment (Kumiko Yoshii & Michael Wolk, producers), began performances at Studio 54 on Nov. 12, 2004.
"Spanning 150 years, the Tony Award-winning Pacific Overtures tells the story of Commodore Matthew Perry's arrival in the 'Floating Kingdom' of Nippon in 1853," according to production notes. "This landmark musical, first produced in 1976, chronicles the influence America had upon Japan, detailing and dramatizing the westernization of Japanese culture in a style based on the ancient form of Japanese Noh theatre." Pacific Overtures is the second of two Sondheim and Weidman musicals produced by Roundabout Theatre Company in 2004. The critically-acclaimed and Tony Award-winning production of their Assassins opened on April 22, 2004 at Studio 54.
Jonathan Tunick created fresh orchestrations for this revival. Paul Gemignani was musical director and conductor. The staging was directed and choreographed by Amon Miyamoto, inspired by his own Japanese-language staging of the show. An original Broadway cast album was released almost 30 years ago.
B.D. Wong stars (as the Reciter, and other roles) in Pacific Overtures with Eric Bondoc, Michael J. Bulatao, Evan D'Angeles, Frederick Edinger, Joseph Anthony Foronda, Yoko Fumoto, Alvin Y. F. Ing, Fred Isozaki, Francis Jue, Darren Lee, Michael K. Lee, Ming Lee, Telly Leung, Orville Mendoza, Paolo Montalban, Alan Muraoka, Mayumi Omagari, Daniel Jay Park, Hazel Anne Raymundo, Sab Shimono, Yuka Takara, Kim Varhola and Scott Watanabe.
Tommy Krasker, co-founder of PS Classics with Philip Chaffin, will produce the album; Krasker has previously produced six Sondheim cast albums, including The Frogs and Assassins (for PS Classics), Saturday Night and Bounce (for Nonesuch Records) and Sweeney Todd: Live in Concert (for the New York Philharmonic's own label).
"Celebrating the heritage of Broadway and American popular song," PS Classics' cast albums celebrate Broadway (The Frogs, Fiddler on the Roof, Nine, A Year With Frog and Toad), Off-Broadway (My Life With Albertine and Zanna, Don't!), and regional theatre (Ricky Ian Gordon's Only Heaven and Michael John LaChiusa's First Lady Suite).
For more information, visit www.psclassics.com.
*
In addition to the original Broadway cast album, Pacific Overtures is also heard on a cast album of the English National Opera production (complete with spoken libretto). For it, Weidman updated the finale sequence, "Next," with references to the 1980s. He also updated that section in 2004 to reflect the times.