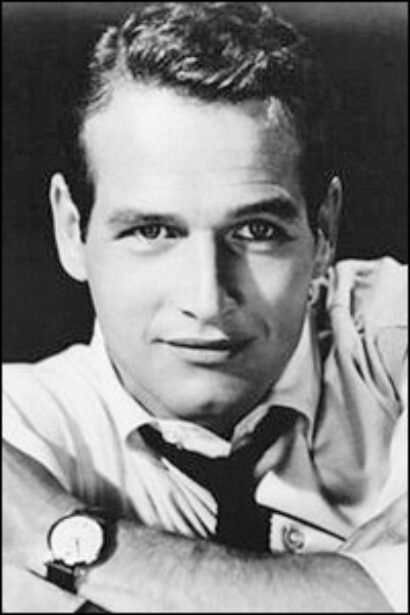 Mr. Newman didn't look the type to play troubled or neurotic souls. His slim, muscular frame, chiseled features of Greek purity and dazzling blue eyes were made for leading men parts. And, indeed, he played plenty of leading roles, but few were simple characters. His Cool Hand Luke in the Stuart Rosenberg film of the same named bucked society for the hell of it, winning a spot on a Southern work gang for the pointless crime of twisting the heads of parking meters. As the title cowboy in Martin Ritt's "Hud," he resigned himself to a life of dissolution, empty self-interest and amorality, needing but not understanding his urge to rebel against his strict rancher father. His "Fast" Eddie Felson in Robert Rossen's "The Hustler" frittered away a God-given talent for pool for the sake of ego-driven showmanship, and threw away a faithful girlfriend for the sake of ambition. In every role, Mr. Newman won and kept the audience's sympathy with a combination of playful charm and aching vulnerability that became his hallmark.
Mr. Newman's neuroses quotient was less than that of his contemporaries Marlon Brando, Montgomery Clift and James Dean. He didn't make a show of his characters' pain, eschewing histrionic twitching and mumbling in favor of an effective minimalism, which relied heavily on the set of his eyes and mouth, and hitch of his shoulders. The handsome face attracted the viewer's attention and the quiet turmoil behind the eyes held it.
From the very beginning of his five-decade movie career, when he broke through as boxer Rocky Graziano in Robert Wise's "Somebody Up There Likes Me" in 1956 (a role originally meant for Dean, as was another early Newman film, "The Left-Handed Gun"), he was never accused of being merely a pretty face — though he certainly was that. His effortless sex appeal came through in his first big stage role in William Inge's tale of rural lust and repression, Picnic. Newman campaigned for the leading role of the good-looking stranger Hal, but director Joshua Logan gave the part to Ralph Meeker. Newman played Hal's former college roommate Alan Seymour while understudying the role of Hal. Newman eventually took over the lead role. The impact of his performance was such that he was immediately offered a movie contract by Warner Brothers.
Though busy in Hollywood, he returned to Broadway twice in the 1950s: to play Glen Griffin, a fugitive criminal holed up in a suburban home, in Joseph Hayes' The Desperate Hours in 1955, and the gigolo Chance Wayne in Tennessee Williams' Sweet Bird of Youth opposite Geraldine Page in 1959. The two actors repeated their roles in the subsequent film.
After Baby Wants a Kiss in 1964, he didn't return to the stage until 2002, when he played the Stage Manager in a revival of Our Town at the Westport Country Playhouse near his home in Westport, CT. He second wife, Joanne Woodward, was at the time the playhouse's artistic director, a position she recently reclaimed with co-artistic director Anne Keefe. He subsequently played the part on Broadway for a limited run, and won his only Tony Award nomination. Bruce Weber, in The New York Times, referred to "the cool assuredness and gravitas-with-a-wink that are his natural gifts." In his later years, he became as well-known for his philanthropic causes and business ventures as for his acting. His line of food products, "Newman's Own," which puts out pasta sauces, salad dressings and microwave popcorn that can be found in every grocery story, has made more than $100 million in profits over the years, all of which Mr. Newman has donated to various charities. He owns The Hole In The Wall Gang Camp, a summer camp for children with cancer and other blood-related diseases (and their siblings) in Ashford, CT, and also runs a fall "Discovery" program for inner city kids, also in Ashford. He was awarded an honorary Oscar in 1994 in recognition of his charity work.
Paul Leonard Newman was born Jan. 26, 1925, the second son of the well-off Arthur Newman, who was Jewish, and Theresa Newman, a Catholic who converted to Christian Scientist, in Shaker Heights, OH. His father ran a successful sporting goods store. During high school, he began acting in plays. The young Newman was kicked out of Ohio University for bad behavior. Later, he served three years in the Navy during World War II as a radio operator. (Color-blindness kept him from being a pilot.) After graduating from Kenyon College, he married his first wife, Jackie, with whom he would have three children.
After his father died, he ran the family sporting goods store for a short period, but quickly moved his family to New Haven to attend Yale University's School of Drama. He first met his future wife, Joanne Woodward, on Picnic, where she was an understudy. They met again during the filming of "The Long Hot Summer." After Mr. Newman and Jackie filed for a divorce, he and Woodward married in Las Vegas in January 1958. They shared one of the longest marriages in Hollywood history, and are parents to three children.
His film career almost ended before it began when he appeared in the 1954 costume drama "The Silver Chalice," an epic turkey which he would later denigrate. But he soon landed on his feet with a series of persuasive performances as moody, smoldering anti-heroes. He received his first Academy Award nomination for Best Actor in "Cat on a Hot Tin Roof" (1958). But the 1960s was his most creative decade. Several films he starred in were not only critical and box-office hits, but emblems of the unrest of the nation at the time: "Hud," "The Hustler," "Cool Hand Luke" (in which he uttered the phrase, "What we have here is failure to communicate") and "Butch Cassidy and the Sundance Kid."
In the latter, he was paired with Robert Redford. The two would go on to make "The Sting" and become known as one of the best film acting teams of their time, Mr. Newman playing the cynical, bemused veteran to Mr. Redford's cocksure greenhorn. The 1970s brought the disaster film "The Towering Inferno," the counterculture Western "The Life and Times of Judge Roy Bean" and the ice hockey drama "Slap Shot." Critics hailed a return to greatness with the 1982 legal drama "The Verdict," in which he played a down-and-out Boston lawyer trying to win an impossible case. He once again played pool shark Eddie Felson in "The Color of Money" in 1986. And he was the ultimate unflappable Yankee in James Ivory's "Mr. and Mrs. Bridge." He continued to take on significant roles in his golden years, in such films as "Nobody's Fool," "The Hudsucker Proxy" and "Road to Perdition."
In May 2007, he announced his retirement from acting. "You start to lose your memory," he said, "you start to lose your confidence, you start to lose your invention. So I think that's pretty much a closed book for me."