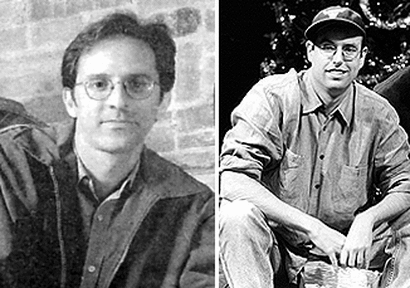 John Rando has lately been labeled the busiest director in the theatre, mainly because of his most recent spate of non-stop activity. (That's most recent spate; Rando seems to always work in frantic spasms, tackling several shows at once.) Late last spring, with one hit show already on Broadway — Neil Simon's The Dinner Party — Rando began putting the Tom Selleck vehicle, A Thousand Clowns, through its out-of-town paces while sending the very different Urinetown on to a hit Off Broadway run, which eventually evolved into a Broadway transfer.
Rando will soon start rehearsing Urinetown for its Broadway opening, and then race off to the west coast, where a job staging A Midsummer Night's Dream at the Globe Theatres awaits him. Still, for the coming season, I'll wager that Christopher Ashley will snatch the crown from Rando's head as Most Overbooked Director. Ashley, who received a Tony nomination for his work on Broadway's The Rocky Horror Show, recently piloted Michele Lowe's comedy The Smell of the Kill at the Berkshire Theatre Festival. Currently, he's in rehearsals with Paul Rudnick's trio of one-acts, Rude Entertainment, the Drama Dept.'s latest offering. Will he take a break then? No—in the fall, he's due to begin work at Manhattan Theatre Club for David Lindsay-Abaire's Wonder of the World. Looking ahead to 2002, Ashley is slated to mount not one, but two Stephen Sondheim musicals, Merrily We Roll Along and Sweeney Todd. Furthermore, The Smell of the Kill, which starred Kristen Johnston and Claudia Shear, reaped good reviews in the Berkshires and will probably be seen in Manhattan next year.
The theatre community seems to know that among the members of the Society of Stage Directors and Choreographers, these are the two guys who more than anything love to fill up their date books. Example: Goodspeed Opera House hired Rando to direct They All Laughed!, its new Gershwin-tinged musical. When the busy Rando did that rare thing and bowed out, the Goodspeed knew whom to call in as a replacement. Christopher Ashley.
Neither Ashley or Rando have anything to do with The Crucible, which will bow on Broadway in February 2002. Richard Eyre will direct Liam Neeson as John Proctor; that much had been known for months. Now Neeson has a co-star — Laura Linney. It will be Linney's first stage role since her success in the Kenneth Lonergan film, "You Can Count on Me." Meanwhile, another one-time Broadway-bound show looks like it's coming back from the dead. Barry Manilow's Harmony — which played the La Jolla Playhouse in 1997 with plans to come to Broadway, but hasn't been heard much from since — may be resurfacing in Chicago. Manilow, while promoting Could It Be Magic?, a revue of his music which recently opened at Chicago's Mercury Theatre, said during a television interview that he was trying to bring Harmony to the Goodman Theatre in Chicago. Harmony is inspired by the true story of the Comedian Harmonists, six young men in 1920s Germany who rose from unemployed street musicians to become world-famous entertainers. The fortunes of Harmony may have been slowed by the failure which met the 1999 Broadway bow of Band in Berlin, another musical retelling of the Comedian Harmonists' tale.
Eli's Comin', a hit at the Vineyard Theatre last spring, wants to return Off-Broadway for fall 2001. According to Vineyard artistic director Douglas Aibel, the successful musical of Laura Nyro tunes is "actively pursuing a remount or transfer of Eli's Comin' for the upcoming season, and hopefully will be able to reunite the original cast when the right space becomes available." In other news, Valerie Harper began performances on Broadway in The Tale of the Allergist's Wife; and The Stratford Festival in Ontario confirmed that Christopher Plummer, 71, an early company member in the 1950s, will play King Lear in the 2002 season. Finally, last week it was a maybe; now it's a certainly. Those fighting to get a free ticket to the hottest show in town have an extra week to do so. The Public Theater is adding an extra week to the starry production of The Seagull currently in previews at the Delacorte Theatre among Bob Crowley's idyllic set of live birch trees, ably assisted by Central Park's indigenous lake and moon.