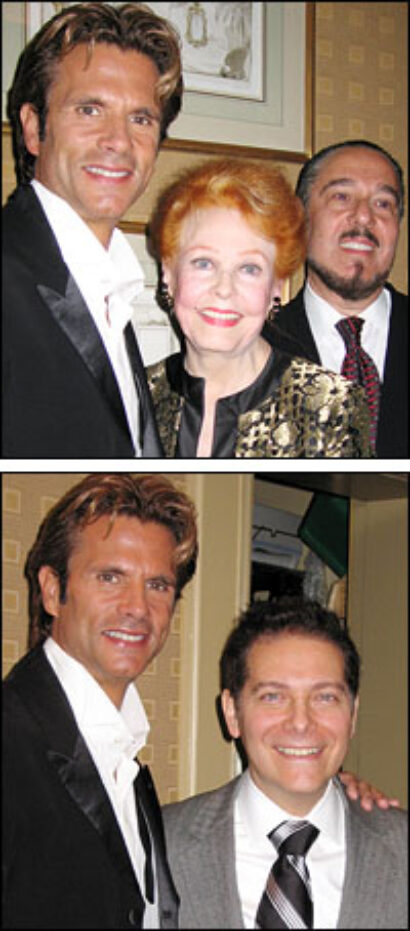 Lamas, who created his program with Michael Feinstein, has titled his show "Lorenzo Sings About Love." Cabaretgoers can expect to hear standards like "Teach Me Tonight" as well as more contemporary fare by kd Lang, including "Don't Let the Stars Get in Your Eyes" and "Calling All Angels"; the latter will pay tribute to America's overseas troops. Lamas is the son of Arlene Dahl and the late Fernando Lamas, who both appeared on Broadway—she in Applause and Mr. Strauss Goes to Boston and he in the Ethel Merman vehicle Happy Hunting. When asked whether he would like to play Broadway, Lamas says, "I'm keeping all my options open regarding a singing career. I am still under contract to 'The Bold and The Beautiful,' so they have first dibs on my schedule."
At left (from top): Lorenzo Lamas, his mother Arlene Dahl, and stepfather Marc Rosen; Lorenzo Lamas and Michael Feinstein.
Below: Joan Rivers, Lorenzo Lamas, Arlene Dahl and Marty Richards after Lorenzo's opening night cabaret debut at Feinstein's at the Regency.
photos by Aubrey Reuben