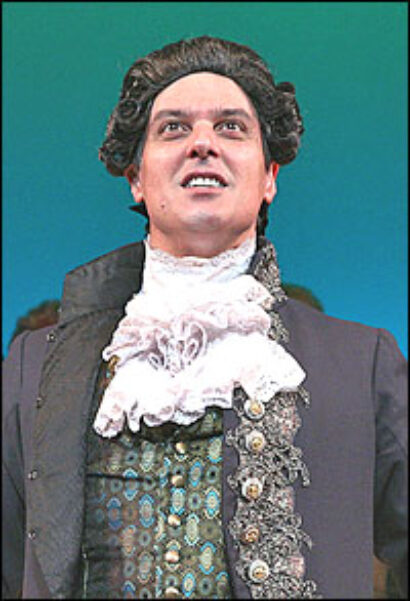 Previously a hit onstage as well as in the Academy Award-winning film adaptation, Amadeus is described as "an intriguing, fictionalized account of the mysterious relationship between the great celebrated young Mozart, and his contemporary Salieri. While Salieri considers the great composer a genius, he believes he is flawed beyond redemption by his crude and juvenile demeanor. Driven by zeal and ravaged with jealously, Salieri plots to silence the great composer and destroy his character and reputation."
The cast is led by Tony nominee Robert Cuccioli as Salieri. The NJ Shakespeare veteran originated the title roles in Jekyll & Hyde and was most recently seen Off-Broadway in Jacques Brel is Alive and Well and Living in Paris at the Zipper Factory.
The Amadeus cast, directed by associate artistic director Joe Discher, also includes Jordan Coughtry as the young Mozart; Tricia Paoluccio as Constanze, Mozart's wife; Mark H. Dold as Joseph II, the Emperor of Austria; Robert Hock, Greg Jackson, Darren Kelly, John Little, Colin McPhillamy, Patrick Toon, Tom Robenolt, Jon Barker, Robyn Berg, Christopher J. Payseur and Mary Trotter.
For tickets and information visit www.ShakespeareNJ.org.
Here is a look at the production, which will officially open May 31 and run through June 22:
Photos by Gerry Goodstein