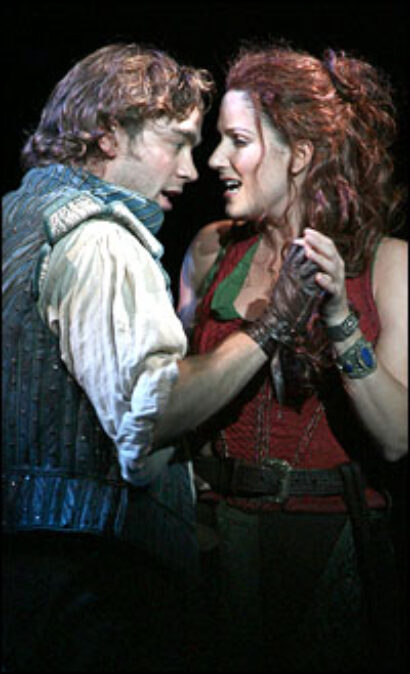 The disc of the drum-thumping, pennywhistle-kissed score is all that remains of the $16 million staging that closed June 17 at the Hilton Theatre.
The producers of the Irish-history musical yarn are seeking a European life for the epic by the Tony Award-winning authors of Les Misérables and Miss Saigon. The songwriters served as the 26-track disc's executive producers under the aegis of Bouberg Music Limited.
The cast of 42, led by Stephanie J. Block, Hadley Fraser, Linda Balgord, Marcus Chait, Jeff McCarthy and William Youmans, recorded the album at Legacy Studios in New York City on April 30.
Hal Leonard will release The Pirate Queen songbook July 3.
* Commissioned and presented by Riverdance producers Moya Doherty and John McColgan, the show tells the tale of Grace O'Malley, the Irish chieftain who inspired her people and came face to face with Queen Elizabeth I.
The new musical was directed by Tony Award winner Frank Galati with musical staging by Graciela Daniele. The creative team included John Dempsey (co-lyricist), Richard Maltby, Jr. (co-book and co-lyricist), Julian Kelly (orchestrations, vocal arrangements, musical supervision and musical direction) and Carol Leavy Joyce (Irish dance choreographer).
The CD track listing follows:
ACT I
Prologue
The Pirate Queen
Woman
My Grace
Here on this Night
The Waking of the Queen
Rah-Rah, Tip-Top
The Choice is Mine
Boys'll Be Boys
The Wedding
I'll Be There
A Day Beyond Belclare
Sail to the Stars
ACT II
Entr'Acte
Enemy at Port Side
I Dismiss You
If I Said I Love You
The Role of the Queen
The Christening
Let a Father Stand by his Son
Surrender
She Who Has All
The Sea of Life
Woman to Woman
Finale
For more information, visit www.thepiratequeen.com or www.sonybmgmasterworks.com.
*
The show opened April 5 following a Chicago tryout and New York previews from March 6. Upon closing, played 85 performances and 32 previews, at a loss of most of its reported $16 million investment.
"We are proud of The Pirate Queen and the talented cast and creative team that has brought this epic musical to Broadway," producers Moya Doherty and John McColgan (Riverdance) said in an earlier announcement. "We are also pleased to report that there is international interest in Pirate Queen productions. Plans for a European English-language production are underway and will be announced in the near future."
The Pirate Queen did not receive a single 2007 Tony Award nomination. In the months leading up to the Broadway bow, following its fall 2006 tryout in Chicago, the show was rewritten and re-staged, with the help of 11th-hour artists Richard Maltby and Graciela Daniele.