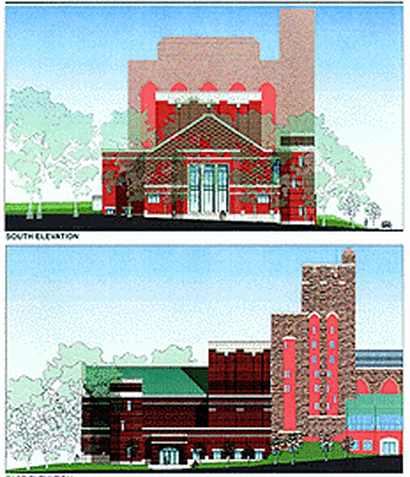 The McCarter Theatre and Princeton University have raised the curtain on the design for the new Berlind Theatre, to be built on the south side an the existing McCarter structure. Groundbreaking is expected to commence in early 2001.
The new, 350-seat theatre is named after veteran Broadway producer Roger S. Berlind, who made a $3.5 million gift to Princeton University and neighboring McCarter Theatre in late 1998. The money goes partly toward construction of theatre, which will be used by both the McCarter -- which will increase its number of performances and productions -- and Princeton's theatre and dance program.
The design is by architect Hugh Hardy, founder of Hardy Holzman Pfeiffer Associates, and without whom no theatre is built or restored these days. Hardy's many major accomplishments include the renovation of the New Amsterdam and New Victory Theatres, and the Ford Center for the Performing Arts, all on 42nd Street.
The Berlind Theatre exterior will be composed of stone and dark red brick, some of which will be laid in a diagonal pattern. The structure's mainly vertical lines include a 130-foot-high tower and a French gothic entrance facade. The theatre is meant to blend in which the extant buildings on the Princeton campus.
Berlind is no stranger to Princeton. A graduate of the Class of 1952, he has since been a university trustee and, in 1986, established the Roger S. Berlind '52 Professorship in the Humanities. Novelist Joyce Carol Oates currently holds the post. During his collegiate years, Berlind presaged his future in the theatre by composing tunes for the famous Triangle Club. (The McCarter Theatre was originally built in 1930 for use by the Triangle Club.) Since 1975, Berlind has produced such shows as Death and the Maiden , The Real Thing , Guys and Dolls , Nine , A View from the Bridge , and Amadeus . The last three won Tony Awards.
-- By Robert Simonson