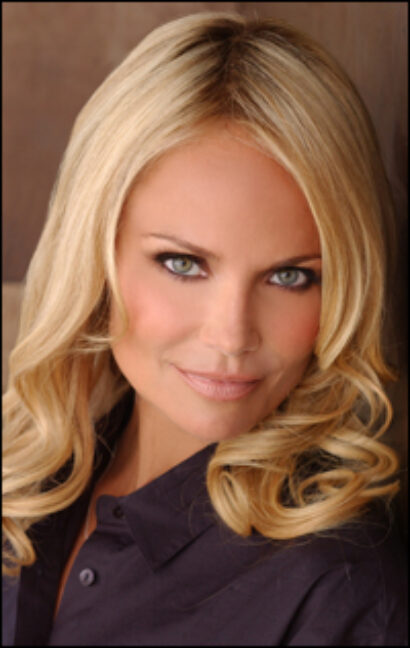 *
On July 11, on an outdoor Brooklyn set where she was shooting an episode of TV's "The Good Wife," Kristin Chenoweth was struck by falling equipment and knocked unconscious. Cracked nose. Skull fracture. Bruised ribs. Hip injury.
It was a scary time for fans, family and friends, to say nothing of Chenoweth herself, whose tiny frame and preexisting neck condition seemed to make her more vulnerable to serious injury. Bed rest was the answer. Her immediate return to a recurring role on "The Good Wife" would be impossible. And the injury got in the way of any immediate concert and movie plans. (You may recall that her spring 2012 schedule was busy with concert engagements, including a stop into New York City Center. London was next, in September.)
Now, two months later, following bed rest and physical therapy, she is emerging from her shell with an occasional talk show appearance ("Anderson Live" on Sept. 10, "Live With Kelly and Michael" on Sept. 7) and talk of more concerts later this fall.
We got a few minutes with her on Sept. 10, from the Green Room of "Anderson Live." What kind of response have you gotten from the community since all of this happened?
Kristin Chenoweth: Amazing! When things like this happen in your life, and you receive nothing but love, it does aid in the "getting better" part, you know? [Laughs.] So many of my theatre friends — friends in general — and family bonded together and helped me so much. I think that's why I'm healing so well.
It's not "recovery" at the moment. It's "road to recovery," right?
KC: Yes. People think, "Okay, so it's supposed to be 8-10 weeks for the skull fracture, so you'll be well by Sept. 25! Okay!" But the thing is that I had some other things that happened — I have some rib issues and neck, which I already had, and it kind of exacerbated it in a different area. And then, you know, I cracked my nose and [injured] my shoulder and my hip. So I have more than just one thing to get better, but I'm doing physical therapy, and that's really working.
I do require a little bit more sleep, I think. When you crack your head open, you require lots of rest. And, just getting back into the daily life, because for so many weeks, I was not even able to move. So the fact that it is eight weeks later, and I'm out and about, even just co-hosting with Anderson [Cooper] today, it's like, "Okay, I'm getting back into it. I'm getting back into it."
"Rest" is not something that you're known for. You're always going. Was it a challenge to say, "I'm just going to lay here?"
KC: [Laughs.] Oh! Well, I first of all didn't have a choice, but yeah. I had told my doctors that I was going to go back to work in four weeks, and I was in a wheelchair at the time when I told them that. They started laughing at me: "No you're not. You're not!" And, they were right. I was trying to go back to "The Good Wife," and that's when it became apparent to me that I needed to take a little time. But yeah, when you go from 200 miles per hour to zero, and you're left with just your thoughts [laughs], that can be a scary, wonderful journey. And it has been, and it's made me realize — again, we all know life is short — I want to enjoy this life. I love what I do, but I still want to cultivate my friendships, and just take a little bit more vacation in general, and enjoy the success and the love and family — all that stuff. So it's very true that you readjust. I don't want to say I'm going to stop working because that's not gonna happen, but I just want to just slow it down a bit, maybe.



Photo by John Paul Filo/CBS
Does this down time make you more sensitive or connected to the world around you?
KC: I got to know my neighbors. I mean, that sounds hilarious, but I've never really gotten to know people like that. To find out about their lives and their struggles. This has been a time of
literally
just listening and reconnecting with old friends that I wanted to be with. For example, Jim Newman was just here with me during the taping of the Anderson show; I met him doing
Steel Pier
. Debra Monk is like my second mom, and I hadn't gotten to see her very much, and I have now, since I've been hurt. And I want that to continue. I want to spend time with the people that I love the most, instead of doing all business all the time. That's no fun. That's no good for your soul.
When you're back on the hamster wheel of your career, you'll probably be thinking more deeply about your friends and your connections.
KC: Absolutely, I will. There's no question. There's no question.
I just referred to your career as a hamster wheel.
KC: [Laughs.] By the way, you're not wrong! That's how I sometimes feel. Get me in the Habitrail right away, you know!
You've talked a little bit about the injury and what happened. Do you remember it happening or was it sudden and you were out?
KC: It was very sudden. Josh Charles was in the scene with me, and he was kind of waiting to enter — off to the side — and we were outside, and it was very windy. And, I just remember having a prop phone — and it was somebody's phone, it started ringing — and I said, "Hey, somebody's phone's ringing," and that's all I remember. So the good news is: for anybody who's had somebody pass away from something very quick, I am here to tell you, "They never knew what hit them," because I never knew what hit me. I got knocked out right away and then slammed to the ground, and that's where my head hit the curb. So, I remember nothing.



photo by Joseph Marzullo/WENN
What is the extent of your injuries?
KC: Very stretched ligaments in the front of my neck. The doctor seems to believe that I probably might have cracked — hairline-fractured — a rib or two, just because of the pain I was in from that. But they were really unable to get the correct X-ray because I couldn't sit up. But they didn't really seem to care about that injury [laughs], because they were so concerned about the head. Mainly, it's been the head, the neck and the ribs — and not to mention that my nose isn't exactly the same as it used to be. That's kind of a bummer, but hey, it could've been worse!
The selfish question from your fans is, "Does it affect the singing voice?"
KC: The chords, actually, look great. I was scoped by [throat specialist] Dr. [Gwen] Korovin and everything. It's the muscles surrounding that that get so fatigued, and that's why I'm working on building back up. I do have some concerts I'd certainly like to make in November, and rescheduling London for March. So I have some goals ahead that I'd like to reach, but I have a great PT — physical therapist — and I'm really trying to say "no" more, so that I can get healthy and come back stronger. I had a ball at your concert at City Center earlier this year.
KC: Thank you so much for coming! I'm so proud of it. I'm so proud of it!
When are we seeing it again?
KC: Well, I'm probably going to do a modified version of it at some upcoming concerts, but by the time London comes in March, I would like to be doing that show again. You work so hard to do all those different styles — and do them well, in a way that you can respect how you've done it — and I'd like to get back there. So certainly after Christmas I'd like to be doing that again.
Has London been officially announced or are you in discussions for London?
KC: It's been officially offered and being worked-through right now at the Royal Opera House. I was supposed to play Royal Albert Hall Sept. 17, but clearly, I didn't make that date. So having to move venues in order to get over there is what I'm willing to do, and certainly that venue is fantastic. The Opera House is in the middle of the West End, and the next day, I'll be doing Manchester. So I'm just excited to get onstage again, you know. November is Fresno, Sacramento and Costa Mesa, so that's November dates. I'm really looking forward to having those, to see where I'm at. I'll be rehearsing — getting my butt back into rehearsal soon — just so I can build back up.
It's about building your stamina again.
KC: That's exactly right.



Photo by Bill Matlock/ABC
You're known as a person of faith. What does adversity do with your relationship with God? What kind of conversations do you have about pain and struggle?
KC: [Laughs.] My parents were able to be here for about four weeks. I couldn't have done it without them because I also couldn't put weight on my right foot for a good week because of my hip. I think for me, the question was, "Why me? Why me? Why me?" I come off tour in one of the most incredible artistic experiences and challenges of my life, [with] great reviews and excited to continue — I was going to do a movie, I was going to do "The Good Wife" and Royal Albert Hall, and then you say, "Why did this happen? Why me? Why me?" And, my mom said something very interesting. She said, "Why
not
you? You're just like everybody else. You're a person. You're no more special or worse off than a lot of people. Your talent makes you unique, but you're just human." So things happen, and there's no reason to ask, "Why me?" It should be, "Why not me?" And, that's helped me a lot.
I'm also a big believer in, "What goes around comes around," and then I go, "Did I do something?" And, she said, "No. Things happen, and why not you?" So that's one of the things that helped me get through it. She's right. She's absolutely right.
What's the short-term like for you in the next eight weeks?
KC: Frustrating because of my memory. Sometimes the words don't seem as easily — like they weren't on the tip of my tongue. It was weird to not be able to think of the word for whatever reason in whatever I was saying. That was weird. Not being able to multi-task like I used to. That all is getting better. In fact, I would say that it's darn near gone. But, you know, when you get whacked on the head pretty hard, that's to be expected. The neuorologist warned me and told me it would be that way. Going home, trying to get home and going the wrong way, it's like, "Why would I do that?" But that's exactly what's to be expected in that kind of injury, I guess.
Your doctors feel that this is recoverable, and you will return to 100 percent? Is that the indication?
KC: Yes! Fully recovered. I think, for me, it's going to be the challenge of the neck, because I already had a neck injury, but I had disc issues. This is more ligament issues, so it's a different thing. That's going to take a lot of time, but I will fully recover, and I will be back in the swing of life and singing very soon. I'm just going to have to continue and take good care of myself and get lots of rest when I can, and do physical therapy — so that I don't take a step backwards.
And when friends tell you to rest, you need to rest!
KC: And that's so hard for me — not my forte! (Kenneth Jones is managing editor of Playbill.com. Follow him on Twitter @PlaybillKenneth.)