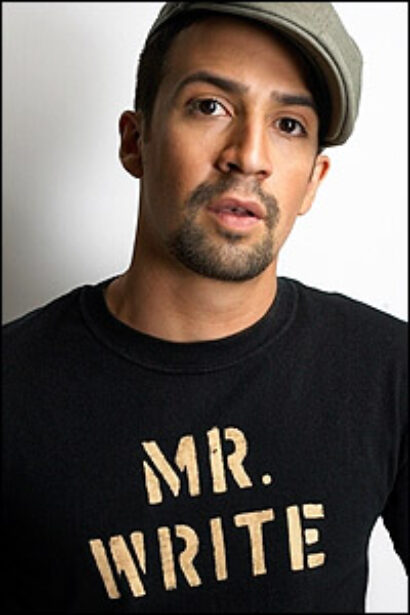 *
Lin-Manuel Miranda, who was last seen on stage one year ago in the Encores! staging of Stephen Sondheim and George Furth's Merrily We Roll Along, will return to the spotlight one night only. On Feb. 11, he will revisit the role of Washington Heights bodega owner Usnavi, who "pounds the pavement" by day and dreams of the easy life in the Dominican Republic in his spare time. He will be joined by fellow original Broadway cast members Karen Olivo, Chris Jackson, Olga Merediz, Mandy Gonzalez, Robin de Jesús, Janet Dacal and Andréa Burns, among others, who will reprise their roles in the 2008 Tony-winning Best Musical about life in and around the uptown Manhattan neighborhood populated by Latino-rooted friends, families, lovers and dreamers. (The libretto is by Quiara Alegria Hudes, who, with Miranda, was a finalist for the Pulitzer Prize for Drama for In the Heights. She would later snag the Pulitzer for her play Water By the Spoonful, now playing Off-Broadway.)
Following the star-studded Heights concert, which is a benefit for Viva Broadway, Miranda will continue to work on The Hamilton Mixtape, his hip-hop song cycle about the life of American founding father Alexander Hamilton, seen in January 2012 as part of Lincoln Center's American Songbook series. We recently spoke with Miranda, who shared details about the anticipated In the Heights reunion as well as his latest project.
I first saw In the Heights on its final Broadway preview, and it was one of the most insane nights I've spent in the theatre. The audience and the energy inside the Richard Rodgers Theatre was out of this world.
Lin-Manuel Miranda: [Laughs.] Awesome! Yeah, we're hoping to get even a fraction of that on Monday. Have you ever been to the United Palace Theatre?
No.
LMM: It's like Radio City [Music Hall]. It's the second largest theatre in New York, but it's this secret theatre uptown. [Laughs.] I'm really excited about the energy of being in that big house, which is like literally double the size of the Richard Rodgers, where we originally played [on Broadway].
photo by Joan Marcus
What prompted you to say, "Let's do a reunion concert of In the Heights"?
LMM: [Original Broadway cast member] Karen Olivo. [Laughs.] It was this funny bit of synchronicity. This is the easiest way to tell the story: When I did the first version of
In the Heights
[around] the year 2000 at college [at Wesleyan University] — it was an 80-minute one-act — my dad rented a bus and brought a bunch of family friends up to see it in Middletown, CT. So we kind of did a repeat of that, with me
on
the bus this time, to go see the second national tour of
Heights
when it was in New Haven. We had a bus of friends going up to see the show, and Karen joined us, and, on the way back, we were high off seeing a great production, and Karen [said], "Hey, if we ever want to do a reunion concert, we should do it soon while we're young and have our health…and have these notes!" [Laughs.] It sort of came out of that casual conversation. I talked about it with my dad, [who] is a big community leader here uptown, and his gears started turning. We started talking: "How great would it be to actually do the show in the neighborhood and find some great causes to raise money for?," which, in the case of this concert, is Viva Broadway, which exposes families to theatres for the first time, and arts programs in Washington Heights.
Tell me about your involvement with Viva Broadway.
LMM: Their goal is to get new theatregoers — people who aren't necessarily exposed to theatre. To me, that's… I think that the fact that my parents were avid cast album collectors [when I was] a kid really changed the direction of my life, or at least the direction which I channeled my creativity. And, I think that it's a really worthwhile goal. If you take 50 kids to the theatre, 10 of them will go, "Oh my God, my life is changed forever, and I'm going to do something with this." I was definitely one of those kids. I think it's a great program, and we're really excited to be involved with them.
Was it difficult to get most of the cast on board for this reunion?
LMM: I mean, there were logistical issues to handle. Some people don't live in New York anymore; we're sort of scattered about a bit. But, logistical issues aside, everyone was very excited to get together and sing this score again. Not only is much of the original cast doing the concert, we have a lot of guests from the first and second national tours and friends who were in the original Broadway run but weren't necessarily [part of the] original cast, but did the show for many years. It's really like a family reunion. A lot of us are still in touch and work together in various capacities, so it's just nothing but a joy. Our first rehearsal together is later this week, and I can't wait… We'll have a couple of rehearsals going into the weekend and then rehearse the day of. I mean, it's pretty burned into our muscle memory after over 1,000 performances [on Broadway]. It will be fun to get back into the ring.
Photo by Joan Marcus
How "staged" will the evening be?
LMM: It's a concert. This is not a production of
In the Heights
. If you've ever seen one of those
Les Miz
anniversary concerts on PBS, it's closer to that, except Colm Wilkinson won't come on at the end and sing "Bring Him Home." More's the pity — Colm Wilkinson is awesome! [Laughs.] It's going to be us singing through the score of the show. I doubt we'll be able to make it through this show without dancing. It's very difficult not to! That's just the nature of the score.
Choreography played its own role in In the Heights.
LMM: Absolutely. There's a great video of the making of our cast album that's on YouTube, and there's a section where they're singing through "Carnaval [del Barrio]," and you see Luis Salgado and Josh Henry just doing the choreography as they're singing in the vocal booth. I mean, it's very hard for us to separate it, so I'm sure you will see some of it break out.
Since there will be cast members from national tours as well as Broadway replacements, will everyone stick to a specific track or will the songs be spread out?
LMM: Well, without giving too much away, our goal is that the original cast members will be singing their tracks in the show, and we will bring the family together for a big finale and big encore. But it will be us singing our original roles.
You tweeted about a "beloved" song that was cut from the work when it transferred from Off-Broadway to Broadway being incorporated in the concert. Can you tell us more?
LMM: I don't want to give it away! But there were a couple of songs that did not survive the journey from Off-Broadway to Broadway, and that wasn't a reflection on the quality of the songs; the landscape had changed around them. We changed almost every song going into Broadway, but we added four new ones, including "Enough," which Camilla sings; we added "When the Sun Goes Down"; we added "Champagne"; and we ended up cutting songs as a result. There's one that I hear about all the time via Twitter or via fans. [They say], "Why isn't that song in the show anymore?" There's a very good reason it's not in the show anymore, but there's no reason we can't sing it on Monday, so we're singing it… So it'll be fun.
photo by Joan Marcus
What excites you the most about revisiting In the Heights with most of the original cast?
LMM: This year has been an interesting year in the "life" of the show. The show is its own thing. It lives its own life. This year is the year that stock and amateur [licensing] rights became available for the show, so it went from me getting messages [that said], "We love the show" to, "I'm playing Usnavi"… "I'm playing Graffiti Pete" … "I'm playing Daniela" at various schools all over the world — at least 30-50 messages a day from people who are doing the show. So, in a lot of ways,
Heights
has never really gone away from me, but what's really fun is actually getting to plunge back into the work with the people who helped shape it. To be perfectly honest, that original cast — so many of them — were along for the journey, not just in the ramp-up to Off-Broadway or Broadway, but for years when we were just doing readings and workshops, and trying to raise money and attention, and trying to get our show right. People like Chris Jackson and Janet Dacal and Andréa Burns, who were involved in some of the earliest readings… Doreen Montalvo… That's the fun — plunging into the material, not just when I go see a school production and talking to the kids about how we did it. These people all
know
how we did it. They were there every step of the journey, so it's a very special feeling to get to relive it with them.
Do you often see regional or school productions of In the Heights?
LMM: [Laughs.] I get requests almost every weekend at this point because they're all starting, so it's impossible for me to be at all of them. I do try to provide encouragement and tips whenever I can, but it is a shame that I can't be at every production because I just love going to school productions! [Laughs.] That's how I fell in love with theatre — by doing it. I was in a lot of musicals in middle school and high school, and that was my way in, so it really thrills me that there are kids that are going to be friends forever because they played the Salon Ladies together, or [they] have weird crushes on each other, but it's not going to be able to work out, because they're playing Benny and Nina. [Laughs.] That comes with the roles. I have my own friendships that are lifelong friendships because of shows I've done. I played best friends with Colin Donnell and Celia Keenan-Bolger last year [in the Encores! production of Merrily We Roll Along], and I still feel like they're my best friends, even though we only did it for two weeks at City Center. There's something that is to be gained by doing a show that you can't ever get from watching a show, and I'm just trilled that kids are getting that experience through this show.
What are their reactions when you do go to the show and give them advice or talk to them following the performance?
LMM: They are not dissimilar to my own reactions when we got fancy people to come to our show. When I was a senior in high school, [Tony-nominated book writer] John Weidman came and spoke to our cast of West Side Story, and he brought Steve Sondheim to speak to our cast, and it was the most exciting day of my teens, you know! [Laughs.] It was because [Sondheim] was the guy responsible for this work that was making me so happy, and we got to ask him for-real questions rooted in practicality, not just, "I love your show, why are you so awesome?" We got to ask him, "How did the prologue come about?" That's the fun of meeting with students who are working on the show in production. Their questions are really practical. One of the things that I do… I'm still in touch with my high school, [Hunter College High School], and whenever they do their annual musical, I try to bring someone who was involved in the process to come speak to them. I once brought [Tony Award-winning composer-lyricist] John Kander to speak to the school while they were doing a production of Cabaret, and he left blown away by how specific and probing and deep their questions were because they were really wrestling with it. That's the real joy.
Photo by Joan Marcus
On a different note, can you tell me where you are in the process with your song cycle The Hamilton Mixtape?
LMM: So, here's the thing…! [Laughs.] I become a beautiful butterfly for the next two weeks — I get to go up on stage and do the
Heights
concert, then the next week we have a Freestyle Love Supreme show at Gramercy Theatre — I've been doing that [musical improv] show with my friends even longer than I've been doing
Heights
, and those are incredibly fun, and I couldn't tell you what's going to happen in it because the audience decides what happens in it.
And then you won't see me on stage again for the rest of the year because I'll be working on The Hamilton Mixtape. My goal is to have a draft of the musical this summer — the [concept] album component of it being dependent on how much I accomplish that goal, so I just go back in the bunker and start writing.
What's the goal for this project?
LMM: World domination. [Laughs.] … No, the goal for the project is really to get these songs that have been in my head since 2009, when I started writing this, in a form I'm happy with. It feels like it's been a long time since that White House video first came out [in 2009], for example, but when you consider that Heights took six years [to develop], this is actually going really fast. So patience and faith — that's all I can say. [Laughs.] I am working on it; it's my number one priority in 2013.
You also worked on Stephen Schwartz's Working, which was recently seen Off-Broadway. Tell me about that.
LMM: That was great. I was really thrilled with the production that we got in New York Off-Broadway this past year. It was a lovely production… A lot of those cast members also debuted this version of the show at the Asolo [Rep] in Florida [in May 2008]. I wrote those songs, actually, shortly after Heights opened. I was working with Stephen, and it kind of came along at the perfect time because we just opened Heights. I had spent my 20s writing In the Heights, and I was mourning the fact that I was done writing it. But I had these songs to write for Stephen Schwartz, which was a real honor and a real thrill and a real collaborative experience. I wrote those basically backstage at the Rodgers [Theatre] as we geared up for making this new version [of Working]. [Director] Gordon Greenberg was instrumental in making that happen, and Stephen Schwartz is an incredible collaborator and as nice a guy as he is talented, so it was joy. Do you have anything else up your sleeve? Is there anything else that you want to musicalize?
LMM: I have a couple of things, but what I'm focusing on in 2013 is trying not to stretch myself too thin. I'm saying yes only to things that will not take me away from Hamilton for too long and just writing.
(Playbill.com staff writer Michael Gioia's work appears in the news, feature and video sections of Playbill.com. Follow him on Twitter at @PlaybillMichael.)