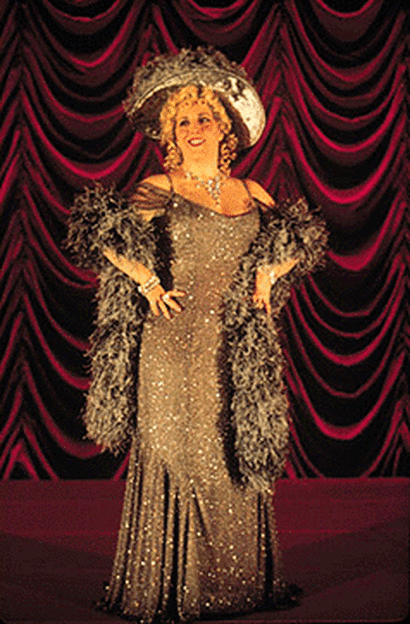 Actress-playwright Claudia Shear calls herself "the luckiest girl in Brooklyn." Hit play. A collaboration with a Pulitzer Prize winner. Anointment from The New York Times. High hopes. After years of yearning for an acting career, and following her acting and writing tour-de-force, the monologue-rich Blown Sideways Through Life, Shear has now matured to create (with director James Lapine) Dirty Blonde, a hybrid work that is part Mae West docudrama, part love story, part vaudeville. In it, she plays Jo, a woman obsessed with the power of Mae West. Kevin Chamberlin plays a fellow fanatic, and helps create one of the 1999-2000 season's most unforgettable stage kisses. There is talk of a longer commercial run for the theatrical riff about tough girls, transformation and image, but Shear, who is in her late 30s, is practical. Even if the staging at New York Theatre Workshop doesn't go on to greater glory, there is other work to be done. Shear is not afraid of work. After all, she was a hardware store stock girl at age 12. To get that gig, she lied about her age. Mae West would be proud. She talked to Playbill On-Line about Mae and more.
Playbill On-Line: Are you exhausted on Mondays? There's a lot to do on stage, going in and out of characters, on platform shoes. You play the older Mae West and a high-strung very New Yorky fan.
Claudia Shear: It's the changing, it's the changing. And the shoes. The shoes and the rake.
PBOL: There are so many different energies on stage. The older Mae is so languid, so --
CS: I'm like the fastest talker on the planet, so it was very hard for James to make me slow down.
PBOL: One of the things I loved about the piece was that I had no idea where it was going.
CS: I'm so glad. That's my favorite thing.
PBOL: I can't really grab onto it, and that's a good thing. What is it? It's a love story, a weird docudrama -- I loved the rawness of it, do you know what I mean?
CS: I do. "Idiosyncratic" is not something I would be insulted by. We sort of wanted that. So frequently, you sit down and in the first minute you know exactly what it's going to be. PBOL: Mae West wasn't someone you knew a lot about at the beginning of this project, was she?
CS: I knew more than most because I had silent film obsessions and vaudeville obsessions and stuff. I knew more than, "Come up and see me sometime..."
PBOL: What's the weirdest bit of trivia you found when researching her, something that didn't make it into the show? Like some weird hidden tattoo...
CS: No, she would never mark her skin. She would have pure cocoa butter and pure lanolin, that she would warm up, and she would rub that into her skin every day. She had magnificent skin. She only drank bottled water. She only bathed in bottled water.
PBOL: Was she a drinker?
CS: (Gasps.) Never touched anything. Never touched anything. In fact, she's somebody who never went in the sun, somebody who never ate fried foods. Only now, people are thinking maybe we shouldn't go out in the sun. Health-wise, she was very ahead of her time. She lived 'til she was 87. Her book, "Sex, Help and ESP," is really a little weird and has a couple of things in it you that you would not believe, would not believe...!
PBOL: Is it true playwright-director James Lapine (Sunday in the Park With George, Passion, Twelve Dreams) called you, sort of out of the blue, and pitched the idea of Dirty Blonde to you? Did you know him?
CS: He had seen Blown Sideways Through Life and I met him very briefly at the opening night of Passion. That was it.
PBOL: He gave you the idea of a piece about Mae West.
CS: He said, "Mae West." And then I started doing research. And then at some point, he said, "Two Maes kissing." The rest was me. [The play's idea of] obsession is me.
PBOL: Knowing that your major piece prior to this was the monologue rich Blown Sideways, was your inclination to write monologues first?
CS: No, I wrote scenes first. I had written other things since Blown Sideways. Just not produced. I'd written a screenplay for Meg Ryan, I wrote two TV pilots. So I had written things that were not monologues at that point. At first I didn't write anything except huge reams of paper which were just thoughts: about Mae, obsession and her life. When James said, "Write in your own voice, " I started writing things that were monologues.
PBOL: When Lapine said "Mae West" to you, what did you think?
CS: I felt an absolute shiver run through me. If I say that now, it sounds like I'm making it up, you know what I mean?
PBOL: What was the research process like?
CS: I went back to primary sources. I'm obsessed about doing primary research. I read all the biographies and then I would go into the biographical references and actually track down the primary material, if I could, so I wasn't depending on somebody else's work. I read this sociological book from the late 1800s by a social historian who wrote about "tough girls." This was a whole new world for women. Mae West, I think, embodied that, not to get too abstract. She embodied the whole new world for women. Mae West could never have existed before that.
PBOL: She broke down barriers.
CS: In a huge way, and she was destroyed for it.
PBOL: Was Mae West the Madonna of her day?
CS: See, I never agree when people say that. Nothing against Madonna. Madonna is totally different. She changes all the time, which Mae West never did. And Madonna grew up in an age when anybody can do anything. She's good at it. She fabulous. She's a huge star. I don't see them as comparable, at all. Mae was a mature woman and there was a real sort of [sense of], "Here I am, here I stand, and where I stand I go 50 feet into the ground." Whereas, someone like Madonna -- and I don't mean this as a criticism -- is out to find out what's gonna work: "What do you want me to be?" Mae West just stood there with her big body, clearly not a 22 year-old, and said, "Here I am, I'm so sexy." That's an amazing power. I can't think of anybody today who does that.
PBOL: I don't really know your acting background.
CS: I didn't have one, honey, I didn't have one! I studied in England. I studied acting in the city, I did showcases and I auditioned like crazy and I couldn't have met with less interest. I worked at the Public Theater when I was young, when I was a late teenager. I was a volunteer. I cold-called them. They gave me a part-time job. Jim Nicola was a casting director there. Years later, he was [artistic director] at New York Theatre Workshop, and I hooked up with him again. I would hang around the Workshop and do readings and make pasta for pot luck suppers and things. I went to him and said, "Can you help me find an agent?" He said, "No, I don't think that's the answer. I think you should write something." I was very angry with him. I did come around and started writing something. Jim set me up with [director] Chris Ashley, and we did Blown Sideways. Jim Nicola, to his credit, not only told me to write, but then produced a first time, unknown playwright in his theatre, on the mainstage.
PBOL: What's coming up for you?
CS: I am supposed to be rewriting my screenplay, which is called "Five Very Pretty Girls," which is based on my job answering phones in a whorehouse.
PBOL: You grew up in Brooklyn. Did your folks take you to the theatre?
CS:I went on my own. By the time I was 11 or 12. But I working by the time I was 11 or 12. As far as I can remember, my first Broadway musical was A Little Night Music.
PBOL: What was your first job at age 12?
CS: My first job was at [a] hardware store. I lied about my age. I went in and they had a sign, "Boy Wanted." I said, "You can't have that sign. You have to hire a girl if she wants it." They were like, "Fine." I had to clean toilets. I was like a stock girl...
PBOL: Breaking down barriers?
CS: I didn't see it that way. I wanted a job.
-- By Kenneth Jones