*
Quite a dandy, this Yankee Doodle about-to-be, struttin' his considerable stuff as (and in) A Free Man of Color, John Guare's Restoration cavalcade which director George C. Wolfe installed Nov. 18 at the Vivian Beaumont.
By any other name, the play's Jacques Cornet is French for Jack Horner in William Wycherley's The Country Wife, bed-bouncing about London of 1674 as a very bogus eunuch. Cornet uses the same ruse and his substantial endowment in New Orleans of 1801. He doesn't exactly rule with an iron fist, but he rules — and rocks a lot for a guy who's into fabric and fashion and powdered wigs. The century has just turned, and he's clinging to Old World customs and styles, a fop who absolutely abhors the new American preference for wild 'n' woolly outfits.
He has that right in this new land, being a free man of color (which is to say: the mulatto offspring of a white plantation owner and his black slave, thus someone who is permitted to buy back his freedom and own slaves himself). This easy life is upended two years later when the United States takes over the territory with the Louisiana Purchase, and Cornet reverts unceremoniously to his former slave status.
"It's what happens to one man who has one world when everything in that world changes," Wolfe explained after the play at the reception held across the Lincoln Center pond at Avery Fisher Hall. "In a sentence, he goes from a person who is controlling, on top of the world, seducing and wooing everybody to a big zero. All of a sudden, with the world changing around him, his life is thrown into a tailspin, and he goes to all sorts of extreme he possibly can to maintain his position of power." The feeling of an epic forming took hold early for Wolfe. "As you're working on it, it starts to come to you," he said. "Last summer when I was working with David Rockwell [the set designer who, in a week, has gone from Pee-wee's Playhouse to the American panorama], the images kept growing and growing.
"You know, there's a little game that you play with a big play. I remember when I was first given Angels in America to direct, I went, 'How the hell do you direct a seven-hour play?' And then I thought, 'Oh. One scene at a time.' And that sorta freed my brain. This is a big show, but, if you think about how big this show is, you'll just stand still and you won't do anything. But if you do one moment at a time, then it frees you. So, when I walked onto the stage at the Beaumont, I didn't look at how big everything is. I went, 'Oh, what an intimate house.' You know it's big, but you just sorta pretend it isn't so you're not intimidated and you can have fun."
In his 11 years as artistic director at The Public, Wolfe never directed a Restoration play, so he essentially ordered one — this — from playwright Guare, commissioning it in 2002 and coming this close to getting it on there a few years ago. Lincoln Center Theater's Andre Bishop and Bernard Gersten, flush with South Pacific returns, stepped up to the plate and put it on, fine feathers and all.
Arriving at Avery Fisher Hall a bit harried but very relieved, Guare seemed a bit thrown when he was asked if this was his first Restoration play — he answered, unsteadily, in the affirmative — then explained the proper way for one to get into Restoration-writing gear: "By reading every Restoration play ever written."
The amount of research which he put into the project over the eight years of its creation is both staggering and conspicuous, but did he make his fictional story conform to certain historical truths? "Everything is true," he said, adding with a smile, "except for the things I made up. I have been so grounded in this period that I haven't looked around. Tonight means I'm coming up and stepping out of this."
Jeffrey Wright, who owes his Tony to Wolfe for Angels in America, is the Cornet in question and was planning to show up at the party wearing the spectacularly flashy uniform jacket he is discovered in. Then, he thought better of it.
"This is a character who expresses himself through hyper-realism and through the grand gesture, but he becomes a very specific American creation," said Wright. "It's rare that we have that opportunity as actors to use classical muscles within an American culture setting. Most often, we have to wedge ourselves into a European culture reality because it doesn't fully and successfully express the complexity of who we are — particularly African-American actors. We have either to amputate some part of ourselves or overly subvert the cultural context in which we work. With this character, I can fully embody everything culturally I bring to the table."
[flipbook] Wright's co-star in Suzan-Lori Parks's Pulitzer Prize-winning Topdog / Underdog, Mos (then known as Mos Def), assumes the underdog position as Cornet's slave, Cupidon Murmur, and also plays Toussaint L'Ouverture, the Haitian firebrand. Why the name change? "Most people call me that anyway.
"There's a lot of joy in the play. I'm honored and very pleased to be a part of it. I wanted to do the play desperately because I think it's an important play. I love a lot of things about the play — the language, the way that the play goes in and out of time, how it breaks the wall, and how it makes references outside of the time that it's in."
He came a-running because Wolfe brought him to Broadway and opened up an acting career for him. "George has definitely been a huge supporter of my career and been a great advocate for me and given me the opportunity to do great things."
Actor-magnet that he is, Wolfe attracted some of the best in the business to populate this world — 26 in all, plus seven (may God have mercy on their souls) understudies. The trick becomes to find them, so elaborately have they been disguised and gussied up by costumer Ann Hould-Ward and wig master Paul Huntley. And they keep coming back for seconds and thirds as some other characters.
At times, all you have to go on is the voice — like John McMartin's learned-man rasp as Thomas Jefferson ("My first President, although I've been ambassadors and a lot of senators before") or Peter Bartlett's pristine piss-elegance ("Because I'm usually found in beautifully tailored clothes, Paul Rudnick said to me, 'It's so wonderful to see you playing a poor, dirty person.' I loved that!").
The cleverest camouflage is Jefferson's Minister of France, Robert Livingston, replete with a spiky white mop of hair and ear trumpet: tada! Veanne Cox.
"I have 11 costume changes per show so the show that I'm doing backstage is harder than the show that I'm doing on stage," laughed Cox, who also seamlessly insinuates herself into the 19th-century settings as a couple of haughty, high-born ladies of the court. How does she make herself so at home here? "Well, I've done Restoration comedy which puts you in that world — everything from 1701 to 1876. The part of the play that is Restoration, I love — and that's the part really I'm in. There's a broadness to Restoration acting. It's not naturalistic at all. It's very aware of the body and how you exist in space and being watched and knowing that you're being watched and presenting yourself. It's not an easy thing, but also I have a dance background."
Arnie Burton, who has more faces on call than 'Sybil,' is the hardest-working multiple-personality in the business — and, happily, cast accordingly. "I played only two characters tonight [one a future President, James Monroe]. This is practically a picnic for me." In the play before this (The Temperamentals), he played three roles, and in the play before that (The 39 Steps), 42, "counting all the inanimate objects, and I always count the inanimate objects." More multi-casting is ahead: "This closes Jan. 9, and the next day I start rehearsing Peter and the Starcatchers at New York Theatre Workshop where I'll be playing at least three, and they're all going to be women. I'll be doing drag. It's an amazing script."
Broadway-bowing Nick Mennell makes three nationalistic stops with his roles — the king of Spain, the brother-in-law of Napoleon and a wannabe aristocrat in New Orleans: "I love that they are from different parts of the world. It sorta embodies the nature of the play. Diversity is something I always appreciate about theatre and performance in general when I have the chance to do it, which I don't very often."
Off-stage, Reg Rogers perpetuated the positive view of the people he plays — in this case, Cornet's half-brother, Zeus-Marie Pincepousse, and Napoleon's foreign minister, Tallyrand. "I like both of them because of their desire for good," he offered. "People would say the opposite, but I think that's just a misunderstanding. Tallyrand was a real guy, by the way, and he was a fascinating character. He was a bishop. He was a billionaire. He managed to milk every potential to the fullest."
Occasionally, his two characters almost collide on stage — and don't, because of his quick-change artistry, which he credits to the backstage crew. "I've got people back there doing it for me. I'm not doing anything. There are three people standing around, changing my wig and my coat. The costumes are all made in such a way that it works."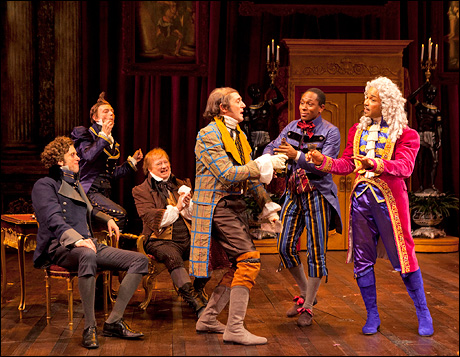 photo by T. Charles Erickson
The company's title holder for Quickest Change is Robert Stanton, who flips into French farce writer Georges Feydeau in one second flat — on stage. "It's the fastest change I've ever made — and I'm really clumsy with changes — but the head of the costume department helps me with it," Stanton admitted. "George double-cast me, and, as we were staging the play, he realized, 'Oh, hell, he's on stage at the same time.' And I said, 'Well, you know, I think we can make this work.' And then the costumer, Ann, came up with an ingenious solution. I don't want to give it away." The show's Long-Distance Runner winner is Joseph Marcell, who did it in one role. "I'm the best friend who narrates the story," he explained, "but I get to run the whole play. I think I ran about two miles tonight, running from one side to the other and being there. I have the various entrances, and I have to follow the play — all of it — because I can't miss an entrance. But I love it all. It's true Guare Guignol."
A few others are allowed the luxury of sticking to one part — Paul Dano, for example, who makes a late-arriving but significant contribution as Meriwether Lewis, Jefferson's secretary and the Lewis of Lewis and Clark. "I don't think I've ever played a historical character before — or a hero," Dano said, pausing to turn this over in his head and deciding yep. "I did a lot of research on him and just tried to brush up on the history covered in this play. Lewis was a fascinating guy — a guy I didn't know a lot about except for the fact that he explored America's West for the first time. He had a public life as a hero and a private life that was actually quite tragic."
Similarly, Sara Gettelfinger plays just one role — Cornet's much-cheated-on wife-on-the-warpath, Calliope. "I love that my character is tired of keeping it in, and she decides to let it all out," she said. "It's a wonderful stress relief every night."
She heaped praise on her director, too: "George is a force of nature — one of the most generous, passionate, brilliant men I've ever had the pleasure of working for. If he so much as needs me to play a tree in anything in the future, I am there. This has been one of the most extraordinary experiences of my career. Heaven!"
First-nighters included Heather Harlan Randall with Tony's sprouting son, Jefferson Salvini Randall; Carmen Ejogo; Angels in America author Tony Kushner with Entertainment Weekly scribe Mark Harris; the show's lighting designer, Jules Fisher, with the Mrs. (a.k.a. director-choreographer Graciela Daniele); composers Mary Rodgers and Stephen Flaherty; Mylinda Hull; playwrights A. R. Gurney and John Weidman; Marylouise Burke; Marian Seldes; Rosie Perez; Marilyn Sokol with Hope Clarke; Pia Lindstrom; director Bartlett Sher; Lynn Whitfield; S. Epatha Merkerson; Cornet understudy Howard W. Overshown; Stockard Channing; director-playwright Moises Kaufman, Zoe Kazan; Musicals Tonight! impresario Mel Miller; chanteuses Anna Bergman and Christine Andreas; producer-playwright George Stevens Jr.; conductor Patrick Vaccariello; Irish Rep's Charlotte Moore and Ben Stiller, Broadway-bound this spring in Guare's The House of Blue Leaves, and his director-to-be, David Cromer.

John Guare's Epic A Free Man of Color, Starring Jeffrey Wright, Opens on Broadway