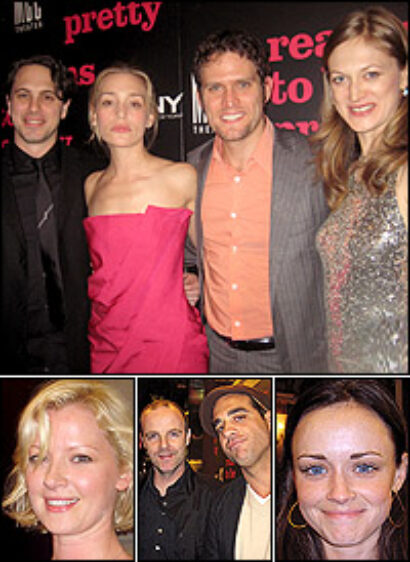 Much like the mixed-doubles warfare Yasmina Reza is waging a block west on 45th Street at the Jacobs, the foursome here go at each other hammer and tong till there's no relationship left standing. Think of it as a Kmart mark-down of Reza's ritzy elites who did make a superficial, if monumentally unsuccessful, pass at civility.
Subtlety and politeness have never been LaBute's strong suit, and that would plainly be out of place in this outsized wholesale warehouse where a couple of blue-collar buds, Greg (Thomas Sadoski) and Kent (Steven Pasquale) sweat out a bleak and boring existence, brightened a bit by the women in their respective lives. Greg has attached himself to a hairdresser, Steph (Marin Ireland), and Kent is wed to a security cop on the premises, Carly (Piper Perabo). Both unions are frail alliances.
The fifth character is the unseen catalyst — a beautiful new bod in the office who has the boys panting. Her name is Crystal (possibly after the shopgirl homewrecker in The Women), and she goes the way of all flesh, ravaging relationships right and left.
Kent's crumbles from the conventional Seventh Sin, but Greg's dies a slower, subtler death, prompted by a simple remark — a word, really, that comes with a death knell: Greg, speaking comparatively to Kent, says he prefers Steph's "regular" face over Crystal's gorgeous one. That assessment is overheard by Carly and dutifully reported to Steph. The play starts with Steph's snorting fire at Greg.
Again, as with God of Carnage, something small and seemingly inconsequential snowballs into an avalanche of angst and recriminations and physical violence. At the after-party held at Hudson Terrace near the river's edge on West 46th Street, the show's director (and sometimes actor) Terry Kinney pleaded guilty to the kind of tip-of-the-iceberg maneuvering Matthew Warchus employs in God of Carnage.
"This play has always been about what people aren't saying, so it is a lot of subtext directing," Kinney confessed. "They're not saying what's really troubling them. They're not saying what is making the predicament and making them fall apart — they're not saying it. They can't. The only search for growth is coming from Greg, really. One at a time, he has to leave those people — because they're not growing."
It's not by accident that LaBute wrote this title all in small letters, he pointed out. "Neil put it in lower case because there is no reason to be pretty. He's diminishing it. Neil is the most collegial writer I've ever worked with. I have no idea how he can trust. I don't know if he always does — I think he must — but, with me, he was, like, 'If it doesn't work, throw it out. If it works, keep it.' I would say, 'I need something for this,' and the next day he would bring it in."
One of the things that didn't work — or, at least, would work better for Broadway — was when each of the four characters stopped the show and addressed the audience about the damaged state of their psyches at that particular point in time.
Kinney said, "We had four monologues in the earlier inception, and I always had my eye on them as something I might play with or excise in some way, but, when we decided to do that, there were parts of them that we missed a lot so we laced them into the dialogue.
"When we excised the monologues, we tried the first night without an intermission, and I hated it. I'm an intermission type of guy. I love intervals. I just love them. I love them as a theatregoer, and I love them as a person who does theatre. Back it went."
Sadoski, for one, was sad to see the monologues go: "They're actually very, very expressive pieces of writing — really well-written — and I do miss them, but they are published, and I think that the show will be done in the future with them in it.
"It was an artistic decision. We'd kinda been banging around with the idea for a while. Even downtown, we were talking about it. And we got into previews and said, 'Look, we're either going to do it now or we're never going to do it. So let's take a look at it and see what happens.' We did it, and it felt like we kept the pressure on. We didn't allow anybody a chance to get contemplative. I must say, Neil did an amazing job of massaging a lot of the stuff in the monologues into the dialogue."
The actor realized his character is a point of considerable audience identification — for him, as well. "I relate to Greg because he is somewhat autodidactic like myself. I didn't go to college or any of that stuff, so there's a humanity in him that's searching for a way to make it all right — that's something that really gets me."
[flipbook] Perabo, who is indeed named after Piper Laurie and, like Sadoski, originated the role Off-Broadway, marks her Broadway debut with that performance. "It's very exciting, lots of flowers," she said. She doesn't entirely share Sadoski's take on the monologues. "It's not like I miss it because I feel like when they took them out we worked really hard on making sure that part of them was still in the play."
The character of Steph, trying to balance pregnancy and her husband's infidelity, presented a real challenge to Perabo, and it affected how she approached the part.
"I like that she's instinctually smart. As an actress, I think sometimes what's really going on in the character is the thing that you're afraid of because she figures things out sorta from her guts, and that's a really fun thing to play. It makes you listen and see how you feel about everyone and sorta what you need to say about them."
Pasquale, who has a history of "earnest, honest, do-gooder" roles, glories a bit in the grossness of Kent's bad behavior. The actor even grew a mangy goatee and mutton chop to sleaze himself up to snuff. "I came up with that idea myself," he bragged. Terry Kinney, who's the boss, said, 'Sure, man, whatever.' Kent is just so much fun to play. He does everything but twirl a handle-bar mustache." His favorite moment is a baseball-field fit that he throws. "That's a classic seven-year-old temper tantrum." Does he feel the waves of audience hatred wafting toward him? "Sometimes I do, but on a good night they laugh enough that I feel they enjoy Kent for the most part — till the end of the day when he gets really monstrous. Then they turn on me and clap when I get my ass beat."
You might think coming from the grinding ordeal of Off-Broadway's Blasted would brace Ireland for the LaBute hammering, but she said not. "For me, the thing that I remember learning from the long run of that was, 'You're not going to carry the show with you during the day' and just sort of trust that it's there. You kinda can."
The demands begin with her first words. She arrives in the play in a rage, ready to work. "It's almost like you're jumping into cold water. The more you psych yourself out for it, the more you jam up the works. So you just have to think about anything else, and then just start, without thinking, and trust that it will be."
How does she run this strenuous gamut night after night? Well, she gets a little help: "There's been a team of people who've been helping me. I've been pretty wiped out last few weeks, with previews and everything, and they've been so unbelievably supportive — acupuncturists and massagers, people like that — and also I got some real great advice, which was: After all those big scenes, and after the show, to just like take a minute and stretch it out and do a little pull-down, like an athlete, which I would never have thought to do. I've never been in a show like that. It's like you jump into it and then you jump out of it. It's as if you did a sprint — so it takes time, stretch, hum, cool down — and that actually has been unbelievably helpful."
In real life, screaming matches are messy and smudged, and that's what Kinney tries to pull from LaBute's diatribes. "The way Neil writes," said Ireland, "the overlapping dialogue — it's like it's scored in there. That precision writing gives the illusion, when you're doing it, that it's completely casual and random, but it's actually incredibly precise. I've done musicals before, and it takes so much concentration to do that." Only one previous LaBute beauty was spotted on opening night: Gretchen Mol, who starred in the stage and screen version of LaBute's first Off-Broadway offering, The Shape of Things. It began a LaBute trilogy about how our lives are governed by physical appearance. The two others are Fat Pig and reasons to be pretty.
Numbering among the first-nighters were Shrek's director and composer, Jason Moore and Jeanine Tesori, actor Frank Whaley (who's "directing another movie I wrote, called 'Like Sunday, Like Rain,' which goes into production in the fall"), TV icon Barbara Walters, producer Dasha Epstein with The Shubert's Phil Smith, Interpol Bass player Carlos Dengler, "SNL"-ex Rachel Dratch (Broadway-bound in Minsky's), Kieran and Rory Culkin (who play brothers, not-so-funnily, in the new film, "Lymetime"), Rory Kennedy, The Public's Jenny Gersten, stageFARM artistic director Alex Kilgore, Parisian publicist Yanou Collart (who takes credit for putting Sean Connery's money together with Yasmina Reza's Art and making them both very rich), comediennes Caroline Rhea and Jamie de Roy, book-writer Joe DiPietro (launching his latest creation, The Toxic Avenger, April 6 at New World Stages), writer/director Bryan Singer of "The Usual Suspects" and "Valkyrie," Jackie Hoffman and Bobby Cannavale (not exactly "together again," but they're currently rehearsing the same show, The Gingerbread House, for the Rattlestick), Brian F. O'Byrne and Anson Mount.
Edie Falco was with her faux hubby on "Nurse Jackie," Dominic Fumusa, and her real beau, Bill Sage. "We're done for a season, and now we're waiting," she said, but she won't be idle. "The publicity end of it is almost as grueling as the shooting."
Julie White, who got a Tony as an artist's representative (The Little Dog Laughed), was quick to point out to the press that the "daughter" with her (from From Up Here), Aoia Cash, would be toiling in Ethan Coen's Atlantic Offices, starting May 7, and she [White] can be found, come September, in The Understudy at the Laura Pels.
Another faux mother-daughter act surfaced after Broadway shows let out. Tovah Feldshuh was helping Jeannie Opdyke Smith sample some New York nightlife after Feldshuh had finished playing Smith's heroic mom in Irena's Vow — and Smith had wrapped up the Q&As that followed that. "I dragged her to the opening," 'fessed up Feldshuh. "We got the car and drove right over after the show. You know what Golda says: 'Some people love you, and some people love you and show up.' I decided to show up for my friends [Jeffrey Richards and Steven Pasquale, in this particular case]."
"Is Tovah here?" exclaimed Matt Cavenaugh when he bounded in from all that West Side Story rumbling. "Tovah is doing a show at The Tovah. That's what Arthur [Laurents] calls it. The theatre's no longer the Walter Kerr. It's the Tovah."
Turns out, Cavenaugh was rendezvousing there with Jenny Powers, herself fresh from Happiness at Lincoln Center. "We got engaged in Italy in September, and we're getting married in my home town, Boston, Aug. 23," Powers declared. "One of my best friends and one of my bridesmaids — Erica Lynn Schwartz — is making her Broadway-producing debut with this show, and that's the reason we are here."
By the time Laura Benanti arrived from The Public, where she starts asking Christopher Durang's non-musical question Why Torture Is Wrong, and the People Who Love Them on April 6, hubby Pasquale was just finishing up his interviews, and they could party in peace. Till then, the most conspicuous marrieds around were the Rent couple, Taye Diggs and Idina Menzel, and they were busy all night accepting congratulations for their upcoming date with the stork.
Naked Angels kingpin Geoffrey Nauffts couldn't say if he liked the play more as an actor or as a writer (he's both): "I was thrilled by all of it, as actor and writer. I wanted to jump on stage with everyone and play, and I admired it from a writing perspective as well." He'll next be hitting the stage as a writer: "My play, The Gospel According to Adam, is finally coming up. We go into rehearsals in three weeks and will open upstairs at Playwrights Horizons on June 1. Sheryl Kaller, who directed Adrift in Macao two years ago, will direct. We're still in the process of casting, but we've got Patrick Breen, Cotter Smith, Sean Dugan and offers out to the others."
"The Unusuals" were there in spades: Amber Tamblyn, Jeremy Renner, Alexis Bledel, Monique Curnen and the creator of that Kinney TV series which bows next week on ABC, Noah Hawley. So, too, were the creators of the new Off-Broadway musical, Coraline (songwriter Stephen Merritt, book-writer David Greenspan and director Leigh Silverman) as well as an inordinate amount of Hairspray alums (Curt Hansen, Marissa Perry and Tony winner Marissa Janet Winokur, who declared she was there "because we have a lot of reasons to be pretty").
Pablo Schreiber, who originated Pasquale's part when Manhattan Class Company premiered the play at the Lortel last year, dropped by. He's prepping for the St. James run of Desire Under the Elms. Alison Pill, who played Ireland's role, was believed to be away filming "Scott Pilgrim vs The World." As for the obvious question, the official line is: "Neil never attends his opening nights." Even, now, Broadway ones.