*
New York is currently enjoying the return of A Christmas Story, The Musical paying a visit, as well as Annie, which takes place during the weeks leading up to Christmas. The latter continues its run through Jan. 5, 2014. This got us thinking: What are the most memorable yuletide scenes in stage history? Playwrights, librettists and composers have long leaned on the holiday season as a dramatic backdrop to their stories. Fraught with both cheer and anxiety as it is, Christmas effortlessly lends a certain amount of drama and moment to any scene. It also gives directors and designers an excuse to pull out all the stops, design-wise.
Here, then, are our Top Ten Christmas Stage Scenes. None, it must be noted, are from the plays of Shakespeare, who — for reasons that historians can only speculate at — wrote eloquently about almost every topic under the sun but Christmas. Also, A Christmas Carol is not on the list. Though this Dickens story is probably the most produced yuletide title of them all, there are countless adaptations out there, and none are so definitive that they could be singled out. So, we chose to leave it out. Those that did make the cut are listed in alphabetical order — really, how can you say one Christmas is better than another?
Photo by Joan Marcus
Annie
"Santa Claus we never see/Santa Claus, what's that? Who's he?" wail the orphans in the 1977 musical's number "It's the Hard Knock Life." Maybe that was true for the moppets in the past, but this year (that is, 1933) Little Orphan Annie becomes the temporary — and later, permanent — guest of Daddy Warbucks in the days preceding Christmas, making the tyke's good fortune all that more magical. The two tour the lushly decorated city in "NYC," and even convince FDR to enact a "New Deal for Christmas" in the show's big finale. Since Warbucks is the richest man in the nation, you know that the President sings that number beneath an enormous tree. Annie's red dress and spiffed-up curls only add to the visual cheer. "It is interesting," observed musical theatre expert and Playbill.com correspondent Steven Suskin, "that nowadays, producers seem to think that they can only run a 'Christmas' show during the Thanksgiving/Christmas season. This was never an issue with Annie, which opened in April and attracted audiences for years." (Even members of the writing team publicly lamented the change of holiday in the 1982 film version, which replaced Christmas with the Fourth of July for the finale. Christmas trumps Independence Day in the minds of kids!) Watch video highlights of the new Broadway production of Annie (including "New Deal for Christmas").
Photo by Joan Marcus
A Doll's House
OK, not exactly a happy story. So much of dire consequence happens in the Helmer household during Henrik Ibsen's 1879 masterpiece that it's easy to forget that Nora's downfall — and subsequent spiritual awakening — all take place during Christmas. The play begins with Nora returning home after an expedition of holiday shopping. Later, Nora, while trying to distract her husband Torvald, desperately dances the tarantella she is rehearsing for a holiday costume party. Torvald himself doesn't like the season much, saying, "Do you think I don't know what a lot is wanted for housekeeping at Christmas-time?" Certainly, by the time Nora has slammed her famous door, Christmas is the last thing on the couple's mind.
The Long Christmas Dinner
First produced in 1931, Thornton Wilder's play has grown in reputation ever since. Set over 90 years, it depicts several generations of the Bayard family as they sit around the Christmas table. As characters arrive and depart, Wilder depicts what changes with the years — and what remains the same. "The characters think that they're merely sharing a mundane holiday meal, and chatting about their humdrum lives," said Jeremy McCarter, former drama critic of New York magazine and the curator of the Public Theater's Public Forum Lecture Series. "But as successive generations come and go, Wilder allows the audience to see what they can't: that life consists almost entirely of family dinners and pedestrian conversations, and it goes by much, much faster than any of us can realize. It's formally inventive and almost unbearably poignant — a little masterpiece of dramatic irony." Wilder himself said of the work, "Of all my plays it is the one that has found the widest variety of receptions. At some performances it has been played to constant laughter; some listeners are deeply moved and shaken by it; some find it cruel and cynical." (This may explain why it's never been a regular choice for holiday programming.) "Wilder's play shows us how family continues to resonate throughout the years," said playwright Paula Vogel, whose work has been influenced by Wilder. (Her own Christmas play — a personal favorite of this reporter — is titled The Long Christmas Ride Home.) "It is a wonderful ghost play, a portent of Emily [in Our Town] to come. It is incredibly poignant in the recognition of how ephemeral human life is, how brief our mortality." The Brave New World Repertory Theatre in Brooklyn produces the play annually in historic homes, this year with two separate casts.
Mame
This 1966 Jerry Herman musical actually doesn't take place during the holiday, but it contains one of the greatest manufactured Christmas moments in theatre history. The ebullient Auntie Mame has lost her fortune in the Crash of 1929. It's still November, but the indomitable dame decides that she and her young nephew Patrick "need a little Christmas now." Hence, the show-stopping number, "We Need a Little Christmas," which has since become a holiday radio favorite. Sample lyric: "It hasn't snowed a single flurry/But Santa, dear, we're in a hurry." "This is the perfect Christmas number because it is decidedly not about Christmas," said Steven Suskin. "It's about the need for Christmas, and Christmas spirit. The magic in the original number was not only from the song and the sterling performers; it also came in the arrangement and orchestrations, which were exuberant and lit up the theatre." Here's a clip from the film version that starred Lucille Ball.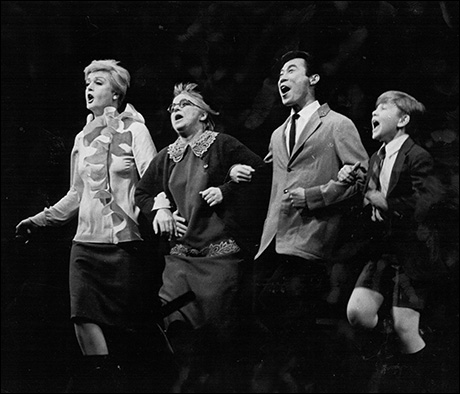 photo by Friedman-Abeles
The Man Who Came to Dinner
The man who came to dinner in Kaufman and Hart's 1939 comedy is Sheridan Whiteside, a figure based on acerbic columnist and radio personality Alexander Woollcott. And the place he came to was the Stanley family home in Mesalia, OH, where the great man had been invited to dine during a visit to the town. But he slips on a patch of ice outside the house, and is laid up there for the weeks preceding the Christmas holiday. The imperious and obnoxious Whiteside takes over the household — and Christmas along with it — receiving visitors who include characters modeled on Noel Coward, Tallulah Bankhead and Harpo Marx. Playwright Douglas Carter Beane, a great fan of Kaufman, says it's impossible not to love the irony of the play's homey midwestern Christmas setting. "All that urbane, senseless and amusing treachery in front of the American yuletide hearth?" he said. "To show the facade we all put on in our lives to be successful, Sheridan Whiteside and his snide personae have to stop and let us see him do his syrupy radio program complete with boys choir singing 'Silent Night.' Years later George S. Kaufman got in trouble on television when they asked him why he was looking forward to the holidays being over. He responded that for another year he wouldn't have to hear 'Silent Night.' Religious groups were furious, the Jewish man had made an anti-Christian statement! It was a war on Christmas!! Thank God, nothing silly like that would happen now. But if the joy of Man Who Came To Dinner has any tiny message, it's that every perfect family has a little something imperfect and fascinating underneath."
Photo by Joan Marcus
Meet Me in St. Louis
This title began as a 1944 Judy Garland movie and was converted into a Broadway stage vehicle in 1989. This gave theatre audiences the chance to experience live the much-loved score by Hugh Martin and Ralph Blane, which included "The Trolley Song" and "The Boy Next Door." Like Mame, only a small section of the plot takes place at Christmastime. But that segment features the classic ode to Yuletide melancholia, "Have Yourself a Merry Little Christmas." Esther Smith sings it to cheer up her little sister Tootie (as well as herself), who is upset over an impending move from wonderful St. Louis to mean old New York. The lyrics were originally more mournful than they are now, but Garland objected, forcing Martin to alter them. Still, it remains one of the more measured, and touching, expressions of Christmas cheer ever composed. "This is the all-time great Christmas song, as far as I'm concerned," stated Suskin. He added, however, that when the tune was delivered in the stage version of the story, "it didn't really come across; it was lost." Here's the famous clip from the M-G-M movie:
Promises, Promises
This Burt Bacharach-Hal David musical about urban heartbreak is set against a backdrop of holiday merriment. The star-crossed hero and heroine of the story — ladder-climbing junior exec C.C. Baxter and elevator girl Fran Kubelik — aren't having a particularly good time at the office Christmas party, or at the Greenwich Village dive where C.C. retreats directly afterwards. But the songs featured in those scenes— "Turkey Lurkey Time" and "A Fact Can Be a Beautiful Thing" — are a hoot. And you could find worse Christmas Eve company that barfly floozy Marge MacDougall.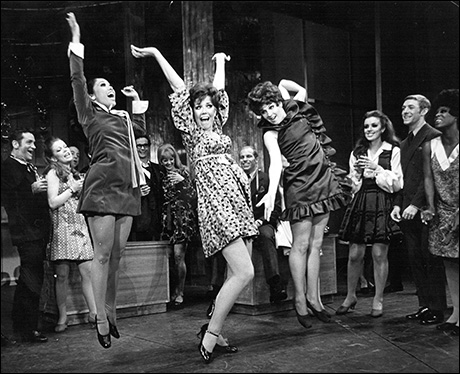 photo by Friedman-Abeles
Photo by Joan Marcus
Rent
The action of Jonathan Larson's 1996 musical opens at 9 PM on Christmas Eve. (The exact time is provided to us by the filmmaker character Mark in the opening lyrics.) The various characters are preparing for the presentation of a piece of "protest" performance-art by actress Maureen in an empty lot in the East Village. The homeless who occupy the lot are being ejected by the landlord, Benny, a former friend of the bohemians, and sardonically sing "Christmas bells are ringing" throughout the first act. The evening's activities end at The Life Cafe (with the rousing "La Vie Boheme." Though some of the characters have families, none of them apparently want to spend Christmas with them, preferring the company of their friends. In that respect, they sound like average New Yorkers.
She Loves Me
A sour response to the increased commercialization of Christmas is nothing new. It was already an ingrained attitude in 1963, when Jerry Bock, Sheldon Harnick and Joe Masteroff wrote She Loves Me, a musical based on the play Parfumerie by Hungarian playwright Miklos Laszlo. The action takes place at Maraczek's Parfumerie in Budapest. The story concludes at Christmas, when the shop's harried clerks attempt to help the frenzied holiday shoppers, singing the sardonic "Twelve Days to Christmas." The lyrics begin tamely, with "Twelve days to Christmas/Plenty of time to do your Christmas shopping/These are the people who shop in time, shop in time." Soon enough, however, the employees are complaining, "Four days to Christmas/Just enough time to do your Christmas shopping/These are the people who shop in time, just in time, barely in time/These are the people who calculate…AND THEY'RE THE WORST OF ALL!" Christmas Eve ends well, though. Amalia and Georg — the employees who love to hate one another, but have unknowingly been secretly corresponding as "Dear Friend" — discover the truth about one another, and go off to spend Christmas dinner with Amalia's mother.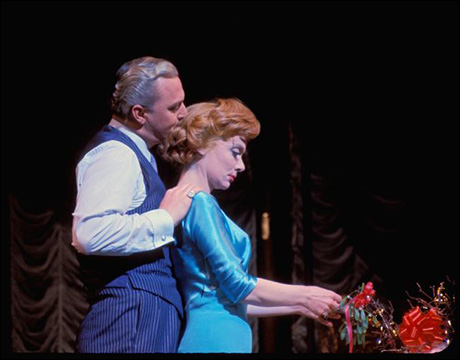 Subways Are for Sleeping
This oddball 1961 Betty Comden, Adolph Green, and Jule Styne musical is best remembered the beneficiary of a particularly inspired bit of David Merrick chicanery (he invited citizens with the same names at the major theatre critics to come of review the show), than for its quality. The fairly ludicrous plot involves a group of homeless people who live on the subway, and the undercover reporter who infiltrates their numbers. But it contains one memorable yuletide tune, called "Be a Santa," in which the homeless ringleader, Tom Bailey, encourages everyone to be like Kris Kringle and thus contribute to the world's general happiness. Even by Comden and Green standards, the lyrics are pretty giddy and goofy, but the song can bring a smile to your lips. (Listen to it here.) Phyllis Newman, who won a Tony Award for her work in the show, said of the number, "I think what made it work so well was, first of all, visually, there was a stage full of Santas. It was a witty song teaching people how to be a Santa, and then an inventive, genuinely jolly, dance choreographed by Michael Kidd."
*
What are your favorite theatrical moments set at yuletide? Let us know on our Facebook page or on Twitter @Playbill.