*
It was an interesting theatre year, 2012 was. One in which some of the biggest theatre news happened on screens, both big and small. A year when the machinations going on behind the scenes were sometimes more dramatic than what was happening on stage. A year when many of the big stage stories were about venues in which shows happen. Playbill.com staffers put their heads together and looked back at the events of 2012 to choose significant events, people and trends that made headlines.
Read the earlier roundup of Playbill contributors' favorite individual memories of the 2012 year in theatre. Read Diva Talk columnist Andrew Gans' picks for The Best of 2012.
And, now, Playbill Picks the Top Theatre Stories of 2012:



Photo by Will Hart/NBC
SMASH IT UP
: The theatre, so long neglected by the greater cultural world, got its own television drama this year:
"Smash."
The unlikely project — born of a new world that had embraced the theatre-geek world of "Glee" — was the creation of seasoned theatre and film folk, including producers
Steven Spielberg
,
Neil Meron
and
Craig Zadan
(the latter two produced the film versions of
Chicago
and
Hairspray
and Broadway's
Promises, Promises
and
How to Succeed…
),
Mauritius
and
Dead Accounts
playwright
Theresa Rebeck
(the series creator),
Hairspray
songwriters
Marc Shaiman
and
Scott Wittman
(who wrote music for the series' fictional musical) and
Michael Mayer
(who directed the pilot and a handful of episodes, and consulted on musical sequences). It featured a mixed cast of theatre pros and film and TV stars (with savvy cameos of actual theatre people like producer
Emanuel Azenberg
and
Jordan Roth
). NBC threw a lot of money into promotion. Prior to the Feb. 6 premiere, you couldn't escape the marketing push. And people
did
watch. Well, the pilot anyway. And, then, they didn't. The show lost viewers every week, and critical reaction cooled. But it slowly climbed out of the hole, and the show was renewed for a second season (it begins in February 2013). However, in a shake-up, Rebeck "stepped down" (as they say) as showrunner of the musical drama. Admitted musical-theatre geek Joshua Safran ("Gossip Girl") is now in charge of story elements. That's show business, kid.
Read Playbill's "Smash Report" series of columns recapping Season One, beginning with the season finale
.
MANDERLEY ON FIRE
: The annals of New York theatre history have plenty of chapters devoted to outrageous backstage chicanery. But it would be hard to beat the incredible, surreal yarn that brought down the Broadway-hopeful
Rebecca
. It was a tale of fraud, death and mystery investors. A hard-luck project from the very day it was announced as a Broadway prospect a few years ago,
Rebecca
's future was never assured. It was on, it was off; the money was there, the money wasn't; the marquee was up, the marquee came down; it was due for this season, it was coming next season. Finally, on Sept. 30, producer
Ben Sprecher
announced the show would
not
open this fall as scheduled; the capitalization had failed to materialize. In early August, the press was told that one Paul Abrams — a South African businessman and a major investor who, with three other colleagues, was supposed to cough up $4.5 million of the show's $12 budget — had suddenly died. In London. From malaria. (Ahem.) Soon enough, the bloodhounds of Broadway began looking into this Abrams, but they could find no trace of him, no death notice, nothing. Sprecher admitted he had never met the man, but had been connected to him by a middle party. The press found this middleman. He was
Mark C. Hotton
, a Long Island businessman who been previously sued for fraud in federal court in New York and Florida, and been accused of running a Ponzi scheme. Now the U.S. Attorney's Office and the FBI were interested, and charged Hotton with defrauding the producers. Hotton was arrested Oct. 15. Producers of
Rebecca
said they are planning to file a $100 million lawsuit in Manhattan Supreme Court against Hotton, charging he took tens of thousands of dollars in advances on commissions for bringing in non-existent backers. It may be the only way that Sprecher & Co. will ever make money off the show. (At last word, Sprecher was still seeking a future commercial production for the pop musical based on the 1938
Daphne du Maurier
novel. And why not? Much of the set is built.)



Photo by Nathan Johnson
ONE PULITZER, NO PRODUCER
: Second only to
Rebecca
in Broadway scandaldom this year was the will-it-come-in-or-not melodrama of
Bruce Norris
' Pulitzer Prize-winning play
Clybourne Park
. The drama was scheduled to enjoy a prestigious Broadway berth courtesy of the experienced and wealthy hands of producer
Scott Rudin
. But the show's future was cast in doubt after a spat between the writer and producer led Rudin to abandon the show. (Something about Norris, who's also actor, suddenly pulling out of a Rudin television mini-series he had promised to be part of.) Norris and the cast were blindsided by the producer's vengeful exit. But
Jordan Roth
, the youthful president of
Jujamcyn Theaters
, quickly stepped in to make sure he wouldn't lose the booking at his Walter Kerr Theatre.
Park
went on to twice extend its limited 16-week engagement, and win the Tony for Best Play.
LAND BOOM: We may still be in the thick of a lingering recession, but don't tell the New York nonprofits that. They spent most of 2012 opening swell-looking, lavishly appointed, new stomping grounds. The Atlantic Theater Company unveiled its $8.3 renovation of its landmarked mainstage Chelsea home. Lincoln Center Theater joined New York's three-venue club with the opening of its latest space, the rooftop aerie christened the Claire Tow Theater. The Public Theater took the tarp off the newly renovated space on Lafayette Street in the East Village, complete with new bar and welcoming outdoor stoop. None, however, beat, for roominess and grandeur, of the Signature Theatre Company's sprawling new Pershing Square Signature Center on West 42nd Street in Manhattan, which officially opened on Jan. 31 with a ribbon-cutting (read the Playbill walk-through feature). Three new theatres, plenty of rehearsal and office space, a book store, a spacious lobby, and a design by Frank Gehry. The feature equally touted by all four groups? Get a load of those new bathrooms!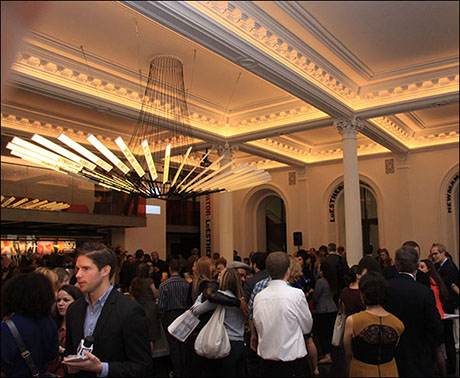 photo by Carol Rosegg



Photo by Joseph Marzullo/WENN
SANDY SHUTDOWN
: Broadway again showed its resiliency in the face of adversity. Hurricane Sandy slammed into New York and New Jersey Oct. 29, knocking out power in much of the city, and flooding a variety of neighborhoods. Cleanup continues in beleaguered, hurting neighborhoods like Breezy Point, Queens, and Red Hook, Brooklyn.
But Broadway turned off its lights for only two days before getting up and going again
. (It helped that Broadway venues did not lose power.) The Off-Broadway story, as is often the case in such catastrophes, was much grimmer. Below 38th Street, where power was out for four days, theatre companies and productions remained dormant, losing money with every passing sunset. Several shows delayed their openings. No major damage to venues was reported. The storm created personal hardship for many in the city and in the Northeast, and claimed the lives of hundreds on its path from the tropics to New England.
Here's how New York City theatre people faced the storm that week
.



Photo by Joan Marcus
MAMET MISCHANCE
: It wasn't playwright
David Mamet
's best fall ever. His new two-hander,
The Anarchist
, couldn't find a fan among the New York critics, even with a cast that included
Debra Winger
and
Patti LuPone
. (
Read the Playbill Brief Encounter interview with LuPone, in which she talks about Mamet and the play
.) Producer
Jeffrey Richards
announced a closing date two days after its opening. Richards' and Mamet's slam dunk down the street, the
Al Pacino
revival of
Glengarry Glen Ross
, fared better — how could it not with the box office clout of Big Al? — but not as much as one might expect. Broadwayites groused about the month-long-and-more preview period, which producers chalked up to the rehearsal time lost because of Hurricane Sandy (an excuse that raised some eyebrows). And reviews were tepid or only mildly positive. Mamet's response to it all was his usual: no comment. Richards' retort came on Dec. 19:
Glengarry
recouped its investment, and with one month of performances yet to go. As Al might say, "Booyah!"



Photo by Ken Howard
REVIVALS OF THE RECENTLY REVIVED
: Didn't I just see that show on Broadway a few years ago? Yes you did! Broadway this year was full of titles that were not just revivals, but revivals of shows that had been staged on Broadway what seemed like yesterday.
Cat on a Hot Tin Roof, A Streetcar Named Desire, Who's Afraid of Virginia Woolf?, The Best Man, Death of a Salesman, Glengarry Glen Ross
all visited after an absence of only 5 to 12 years.
Cat
alone has been produced on Broadway three times in the last ten seasons. Critics griped about the shrinking of the American dramatic canon, as well as the producers' dearth of imagination and adventure. But the producers know what they are doing. Nearly every gold-standard title named above made money — or probably will. (If
Scarlett Johansson
in a slip doesn't bring home the bacon for
Cat
, I'll eat Big Daddy's birthday cake.)
Read the Playbill Picks feature about Tennessee Williams' five most memorable divas.



Photo by Carol Rosegg
WE GOT A LOT OF CHRISTMAS:
One could get a holiday cheer overdose hanging around Times Squares these days. Limited-run, Christmas-themed musicals have become a regular sight on New York in recent seasons. But this year we may have reached the saturation point.
Elf
and
Dr. Seuss' How the Grinch Stole Christmas
returned. They were joined by the new regional favorite
A Christmas Story, The Musical
, based on the popular film of the same name. And, though not strictly a holiday show,
Annie
, now in revival at the Palace,
does
take place entirely during the Christmas season. Result: For perhaps the first time in history, department stores weren't New York's biggest employer of Santa impersonators.
Have you read the Playbill Picks feature about the theatre's greatest Christmas scenes?



Photo by Joan Marcus
FAITH TAKES A STAND
: The New York theatre community isn't generally thought of as the most religious bunch around. (Comparisons to Sodom and Gomorrah are more common.) But you wouldn't know that from the properties producers chose to stage this season on Broadway. Among them: revivals of
Godspell
and
Jesus Christ Superstar
; two shows about evangelists,
Leap of Faith
and
Scandalous
; and
Grace
, a play about a wide-eyed young couple with big plans to open a chain of Gospel-themed motels. Of course, it should be noted that the first three of these didn't last much longer than a Mitt Romney campaign stance. I guess Broadway audiences like their religion served up nicely roasted, a la
The Book of Mormon
.
Read the Playbill.com feature about the link between faith and musical theatre.



Photo by Universal Pictures
NOT SO MISERABLE
: The year began with theatre being celebrated in the new television series "Smash." And it ends with theatre getting a big cinematic shot in the arm. The movie version of
Les Misérables
is looking to become the biggest theatre film since "Chicago" a decade ago. Directed by
Tom Hooper
, the cast includes Tony winner
Hugh Jackman
as Jean Valjean;
Russell Crowe
as Javert;
Anne Hathaway
as Fantine;
Helena Bonham Carter
as Madame Thenardier;
Amanda Seyfried
as Cosette;
Red
Tony winner
Eddie Redmayne
as Marius;
Samantha Barks
as Eponine; and
Catch Me If You Can
's
Aaron Tveit
as Enjolras. The flick is set to make a big splash on Christmas Day, when it opens wide. The movie has already earned four Golden Globe nominations, including Best Motion Picture — Musical or Comedy, and nods for Jackman and Hathaway.
Check out the Playbill Stage to Screens column about the film, with notes, comments and spoilers.
*
What major theatre headlines captured your attention in 2012? Let us know on Twitter and Facebook.