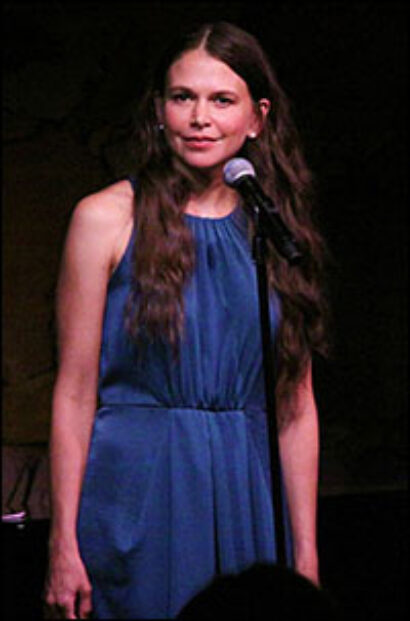 Playbill.com polled our readers via Facebook and Twitter to see who they would like to play the role, voiced on screen by Tony winner Idina Menzel, and why.
*
Kristin Thomas: Sutton Foster. No need for explanation
Tyler Craig Smith: Definitely Sutton Foster
Madeleine Kate: Sutton Foster as Elsa and Laura Osnes as Anna. SOMEONE PLEASE MAKE IT HAPPEN!
Jared Hadley: Sutton foster!
Tom Anderson: Sutton Foster for either role. She's probably better suited for Anna though.
@KristinLasVegas: Sutton Foster!! You need a Broadway powerhouse for that role!!
Two-time Tony Award winner Sutton Foster, who originated the role of Princess Fiona in the Broadway musical Shrek, was among our readers' top choice for Elsa, the Snow Queen of Arendelle. The actress, who received Tonys for her performances in Thoroughly Modern Millie and Anything Goes, will return to Broadway in the spring in Roundabout Theatre Company's Violet. She is currently playing the Café Carlyle through Jan. 24. Read Playbill.com's recap of Foster's recent Carlyle engagement.
Steph Hersh
: IDINA MENZEL.... DUHHH
Lisa Rangnow
: Um... Idina... She's already a Broadway star, and originated Elsa... Why would you pick anyone else?
Elizabeth Goodz Martin
: Idina
Faye Aguda Udan
: Idina, of course
Jonathan Gaby
: Idina for the win
Camila Barboza
: Idina, because she's the best!
Olivia Hammock
: Definitely Idina Menzel!!!! She is beautiful and would be awesome- plus, how cool would it be to have the voice of Elsa actually playing Elsa on Broadway?!?
@Jessiefallow
: Obviously Idina. She's the only one who can sing it the way it should be sung. @idinamenzel #idinarules
@RBhockey16
: Idina Menzel, hands down. Or is that too obvious?
Tony Award winner Idina Menzel, who will return to Broadway this season in the
Tom Kitt
-
Brian Yorkey
musical
If/Then
— which recently concluded its out-of-town engagement in D.C. — voiced Elsa in the film "Frozen," which features her on the hit song "Let It Go," written by Tony Award winner
Robert Lopez
and his wife, Kristen Anderson-Lopez. Fans of the film are eager to see her repeat her work when the musical makes its way to the stage. Menzel is a Tony Award winner for her performance as Elphaba in
Wicked
.
| | | |
| --- | --- | --- |
| | | |
| | | |
| Photo by Joseph Marzullo/WENN | | |
Skylar Phillips
: Lindsay Mendez!!
Tiffany Pin
: Lindsay Mendez!! She would flawlessly pull off Let It Go and can be just as sassy as Elsa...come on she does play the sassy witch on broadway right now!
Kelley Squires
: Lindsay Mendez!
Austin Jon Satinsky
:
Ariana Grande
as Anna, and Lindsay Mendez as Elsa
@saraheliya
: I vote @LindsayMendez!! She totally has the powerhouse voice for it
@LishaLove1
: @LindsayMendez of course.. Although she could do either.. She's simply amazing.. Lindsay Mendez, who currently stars as Elphaba (the role originated by "Frozen" actress Idina Menzel) in the hit musical
Wicked
, has also been seen on Broadway in
Godspell, Everyday Rapture
and
Grease
. The actress received critical praise for her performance as Rose in the Off-Broadway musical
Dogfight
. Read about her performance at
Wicked
's
tenth anniversary here
.
| | | |
| --- | --- | --- |
| | | |
| | | |
| Photo by Joseph Marzullo/WENN | | |
Carlos Iriarte Estrella
: Kendra Kassebaum! Her lookalike and her amazing vocals! Kendra Kassebaum, who was recently seen in
Benj Pasek
and
Justin Paul
's re-tooled version of
James and the Giant Peach
in Seattle, has been seen on Broadway in
Leap of Faith, Assassins, Wicked
and
Rent
. Read more about the
repolished version of James here
.
Preven Prev Reddy
: Annaleigh Ashford Annaleigh Ashford, who currently stars as Lauren in the Tony-winning musical
Kinky Boots
— receiving her first Tony nomination for her performance — has also been seen on Broadway in
Hair, Legally Blonde
and
Wicked
. The actress, who was also seen in the Off-Broadway productions of
Rent
and
Dogfight
, recently released a single
entitled "Another Time," written by Will Van Dyke
.
Jen Sandler
: Taylor Louderman Taylor Louderman made her Broadway debut in last season's Tony Award-nominated Best Musical
Bring It On: The Musical
. She played cheerleading captain Campbell.
Valerie Caniglia
: Eden Espinosa would be an amazing Elsa. She could bring a real rawness to the character.... Eden Espinosa, who originated the title role in Broadway's
Brooklyn
, has been seen in
Wicked
and the closing company of
Rent
.
Desmond Thomas
: Megan Hilty!!
@Swangela3
: Megan Hilty! Who else can do "Let it Go" justice?!?! Megan Hilty, who starred as Ivy Lynn on the NBC musical drama "Smash," has been seen on Broadway in
Wicked
and
9 to 5
.
Judy Muller
: Krysta Rodriguez for sure! Her pipes are ridiculous and I believe she will be able to pull Elsa off very well. I feel that Krysta can pull off Elsa's anxious and emotional character. And she would sound amazing singing "Let it Go."
Lindsey Mary Minarchi
: Krysta Rodriguez would be an amazing Elsa!!!
@JennRobinson101
: Krysta Rodriguez!!!!!! Krysta Rodriguez, also from the NBC series "Smash," recently concluded a starring turn in the Broadway comedy
First Date
. She has also been seen on Broadway in
The Addams Family, In the Heights, Spring Awakening, A Chorus Line
and
Good Vibrations
.
Gable Roelofsen
: Betsy Wolfe
Ali Schmitz
: Betsy Wolfe looks the part and could work wonders with that score.
@beccacnachman
: Betsy Wolfe has the perfect voice and look! Betsy Wolfe, who will be seen in the upcoming Broadway production of
Bullets Over Broadway
, has also been seen in
The Mystery of Edwin Drood, Everyday Rapture, 110 in the Shade
and the Off-Broadway revival of
The Last Five Years
.
| | | |
| --- | --- | --- |
| | | |
| | | |
| Photo by Nathan Johnson Photography | | |
Jessica Davies
: Laura Osnes!!!!!!!
Kimberly Rose Roeten
: Idina Menzel, or Laura Osnes!
@MaryJDavis007
: Laura Osnes.
Anika Larsen
#Frozen Laura Osnes, a two-time Tony Award nominee for her performances in
Cinderella
and
Bonnie & Clyde
, has also been seen on Broadway in
South Pacific, Anything Goes
and
Grease
, in which she originated the role of Sandy after winning the reality show competition "Grease: You're the One That I Want!"
Mia Restrepo
: Other than Idina herself, Demi Lovato? She sings the pop version rather well.. She has the acting to boot. Singer-songwriter Demi Lovato, who sings the "Frozen" anthem "Let It Go" on the film's soundtrack, recently released her fourth album "Demi" and rose to fame in the Disney television musical "Camp Rock." The singer is also a Disney Channel favorite and starred on the comedy series "Sonny with a Chance."