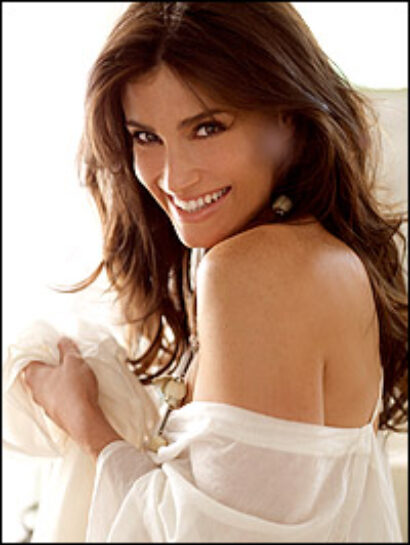 *
Playbill.com polled our readers via Facebook and Twitter asking which them to share their choices for the coveted lead role of Elphaba. Their choices ranges from previous cast members, Broadway stars and Hollywood actors.
Here are some reader responses followed by our own commentary.
Gwion Jones: Idina Menzel all the way!!!
Paris Katherine: That's not a question!!! Elphie IS Idina!
@irishforaday26: @playbill @WICKED_Musical Idina Menzel. For sure.
@alwaysrobyn: @playbill @WICKED_Musical thee original herself: Idina Menzel
@gnucksjr: @playbill @WICKED_Musical who other than @idinamenzel?
Idina Menzel, who won the 2004 Tony Award for her performance as the ambitious green witch in Wicked, was the most popular choice amongst our readers. Menzel received critical acclaim for her performance and continued in the show through January 2005, and was succeeded by Elphaba standby Shoshana Bean. The actress also originated the role of Maureen Johnson in the Tony and Pulitzer Prize-winning musical Rent and later went on to reprise her performance for the 2005 film adaptation. Maybe the Tony winner will follow in the same pattern if Wicked materializes on the big screen.
Tiffani Murphy
: Lea Michele as the younger Elphaba and Idina Menzel as an older Elphaba
Lily Kaufmann
: I agree with Lea Michele as young Elphie and Idina Menzel as grown up Elphaba!
@RachHadley
: @playbill @WICKED_Musical Lea Michele! @msleamichele
Spring Awakening and "Glee" actress Lea Michele was also a popular choice amongst our readers. Michele, who has also been seen on Broadway in Les Misérables, Ragtime and Fiddler on the Roof, plays Rachel Berry on "Glee" and has covered songs from Wicked multiple times on the series. Click here to watch Michele sing "Defying Gravity" and here for her performance of "For Good."
Philip Romano
: Lindsay Mendez!
@singalldaylong
: @playbill @WICKED_Musical it's all about @LindsayMendez
@megrojahn
: @playbill @WICKED_Musical besides Idina Menzel? @LindsayMendez because she's so talented!
@LishaLove1
: @playbill @WICKED_Musical Hands down @LindsayMendez bcuz she's so expressive and phenomenal, her vocals are SICK, but Damn she can Act also
@RaechelMcGhee
: @playbill @WICKED_Musical The only Elphaba is @LindsayMendez -- game over.
Lindsay Mendez, a Drama Desk Award nominee for her performance in the Off-Broadway musical Dogfight, currently stars as Elphaba on Broadway. Although Mendez originally never thought of herself as an Elphaba, her powerhouse vocals and original take on the not-so Wicked Witch made her a popular choice to reprise her performance on screen. Check out the recent Playbill.com feature with Mendez and her co-stars Derek Klena and Katie Rose Clarke.
Derek T. Pickens
: Ana Gasteyer was amazing on stage and I'm sure could translate it with ease to the big screen! Ana Gasteyer, who is known for her on-screen work on "Saturday Night Live" and the ABC sitcom "Suburgatory," was an earlier Elphaba replacement in the hit Broadway musical. Gasteyer also was seen on Broadway in
The Rocky Horror Show, Threepenny Opera
and
The Royal Family
.
Brandon Hughes
: Willemijn Verkaik was fantastic (better than Idina IMO), and she's performed the role all over the place. Putting her in the lead would not only be stellar casting but it'd give the film more international appeal.
@Tettekete
: @playbill @WVerkaik would be a perfect Elphaba in a Wicked film. The only Elphie who makes me forget she's an actress when she runs onstage! Willemijn Verkaik, a recent Elphaba in the Broadway production of
Wicked
, has played the green-faced witch for over 1,000 performances in both Germany (Stuttgart and Oberhausen) and Holland and in three languages: Dutch, German and English. Click
here
to read the Playbill.com Diva Talk column with the actress and
here
for her Playbill "Obsessed!" video with
Seth Rudetsky
.
Photo by Joseph Marzullo/WENN
Patrick Fitzwater
: Anna Kendrick Elphaba would be cool
Jeffrey Shirk
: Anna Kendrick as elphaba. She is so beyond talented. From her performance in the movie "Camp" I was totally hooked as a phan!
Lois Rubin Gross
: At this point, I'm going with Anna Kendrick as Elphaba. Watch "Camp" she has the belt and the range. They'd have to cast around her to find an appropriate Glinda. I saw it for the 4th time on Broadway, a few weeks ago, and Glinda was taller than Elphaba. It threw me a little. I do think it might still be possible to go with the originals, but I don't think they will.
Anna Kendrick, who was Tony-nominated for her performance in High Society, recently wrapped filming on the screen adaptation of Jason Robert Brown's The Last Five Years. The actress is no stranger to the big screen and is also known for her film work in "Pitch Perfect" and "Camp."
Maddison Nielsen
: Sam Barks please!
Jessica Panis
: Samantha Barks!
Maria Redwood
: Samantha Barks. (Seriously, look up her version of Defying Gravity. That was when she was around 18, so it would be even better now.)
@Menxudis
: @playbill @WICKED_Musical Samantha Barks :D She would be gorgeous
Stage and screen actress Samantha Barks, who brought Eponine to life on the big screen in the recent film adaptation of Les Miz, played the role in the London production in 2010 and again in the show's 25th anniversary London concert at the O2 Arena. Barks also appeared in the Hollywood Bowl production of Chicago and the West End productions of Oliver! and Cabaret. We'd love to see her tackle the role of Elphaba. Here is her performance of "Defying Gravity."



Photo by Joseph Marzullo/WENN
Earl Minfield
: Beyonce. Grammy Award winner Beyoncé Knowles starred in the film adaptation of
Dreamgirls
and blew us away with her performance of "Listen," the song added to the score for the film. Can you imagine the end of "Defying Gravity"?
Greg Gibson
: As Elphaba, I see Christina Aguilera....can you hear her belting out DEFYING GRAVITY!!!! It would be awesome! And the flying in the film........ooooh.....goosebumps! lol Grammy Award winner Christina Aguilera has been seen in the movie "Burlesque," which featured multiple musical sequences. We'd love to see her in a full-length musical this time, and her infinite vocal range would be perfect for the role of Elphaba.
Jason Blank
: Jenna Leigh Green as Elphaba!!!! Jenna Leigh Green was seen as Nessarose in the North American tour and Broadway production of
Wicked
and also understudied the role of Elphaba. The actress has also been seen in the original Off-Broadway production of
bare: a pop opera
and on the television series "Sabrina the Teenage Witch."
Andrew Victor Myers
: Dee Roscioli as Elphaba, Dee holds the record for the most Elphaba performances and
Annaleigh Ashford
as Glinda!
Dee Roscioli is a veteran of the Broadway, Chicago, San Francisco and touring productions of Wicked. She holds the distinction of having played Elphaba in more performances than any other actress.



Photo by Jimmy Asnes
@jessahend7
: @playbill @WICKED_Musical I would love to see @ashleybrown9 play Elphaba. I think she would put a new twist on the character
Broadway's original
Mary Poppins
, Ashley Brown, has also starred in Disney's
Beauty and the Beast
, as well as productions of
Show Boat, The Sound of Music
and
The Music Man
.
@eemillyyy
: @playbill @WICKED_Musical @EdenEspinosa without a doubt! Eden Espinosa made her Broadway debut covering the roles of Elphaba and Nessarose in
Stephen Schwartz
's
Wicked
. She eventually assumed the role of Elphaba on Broadway and also opened the sit-down production of
Wicked
in Los Angeles. Espinosa also played the role of Brooklyn — a part she created at the Denver Civic Theatre — in the musical of the same name at the Schoenfeld Theatre. She played Maureen in the final cast of Broadway's
Rent
.
Photo by Laura Marie Duncan
LookOutBroadway
: @playbill @WICKED_Musical Sutton Foster because she can really belt it out!
Sutton Foster, a two-time Tony Award winner for Anything Goes and Thoroughly Modern Millie. Her numerous Broadway credits include Shrek, Little Women, Young Frankenstein and The Drowsy Chaperone. Foster also recording Wicked's stand-out song "Defying Gravity" on her album "An Evening With Sutton Foster - Live At The Cafe Carlyle."
Photo by Scott Kirkland/FOX
Nathan Hinds
: Zooey Deschanel
Zooey Deschanel, the star of the television series "New Girl," previously took a trip to Oz in the 2007 television series "Tin Man." Also a singer-songwriter, Deschanel was tapped by country singer Loretta Lynn to play her in a stage musical adaptation of "Coal Miner's Daughter."



Photo by A.M.P.A.S.
Jason Testa
: Jennifer Lawrence. She is a great singer and would be PERFECT for Elphaba! Academy Award winner Jennifer Lawrence took Hollywood by storm with such films as "Winter's Bone," "The Hunger Games," her Oscar-winning turn in "Silver Lining's Playbook" and the upcoming "X-Men: Days of Future Past."