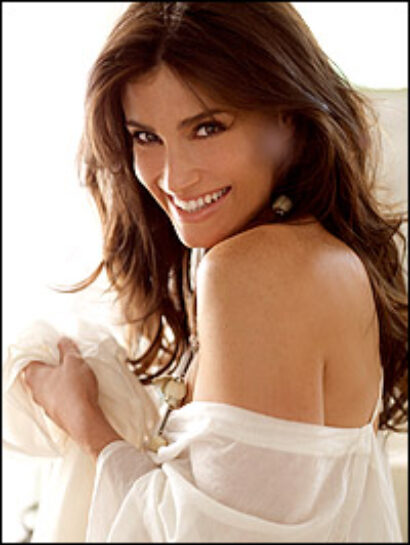 Her vehicle of choice is the rather torturously titled If/Then, the first new musical by the writing team of Tom Kitt and Brian Yorkey since they won the Tony Award and Pulitzer Prize for Next to Normal.
David Stone, who also produced Wicked—the show that made Menzel a star and won her a Tony—and Next to Normal, is shepherding the project about a woman on the cusp of 40 (Oh, no!), who moves to New York City to start fresh. Because, you know, that's what people do, 'cause New York treats middle-aged newcomers really well.
The show marks Menzel's first return to Broadway since Wicked, though she has taken on a single Off-Broadway role since then, the musical See What I Wanna See.
Next to Normal director Michael Greif—who directed Menzel in Rent—will helm the production that will first premiere in an out-of-town engagement at Washington, D.C.'s National Theatre Nov. 5. It officially opens Nov. 24.
If/Then will subsequently begin Broadway previews March 4, 2014, towards a March 27, 2014, opening night at a Nederlander theatre to-be-announced. ***
The producers of the Broadway production of Lyle Kessler's Orphans announced Feb. 28 that, following the recent high-profile cast change, previews will now begin March 26 prior to an official opening April 18 at the Gerald Schoenfeld Theatre. The production was originally scheduled to begin March 19 with an opening April 7.
Last week, film star Shia LaBeouf suddenly left the production. The press reps cited "creative differences," though some news sources said LeBeouf was dismissed. The young actor responded to the crisis the way many young people do these days—by tweeting up a storm, posting private emails between he and director Daniel Sullivan and co-star Alec Baldwin.
Ben Foster has replaced LeBeouf in the play.
***
photo by Sandra Coudert
One likes to imagine
Vanessa Redgrave
's reaction when she was told the host company of her next engagement. "The RAT-tle-stick, did you say?"
Yes, the tiny Greenwich Village space called the Rattlestick Playwrights Theater. Somehow, that company and playwright-actor Jesse Eisenberg lured the woman some call the greatest living stage actress to the Cherry Lane Theatre on Commerce Street.
Maybe, Redgrave would have been better off unconvinced of this golden opportunity. The play, the second by pen-happy film actor Eisenberg, is about an antsy young novelist suffering from writer's block, and seeking refuge at a distant relative's flat in Poland, a Holocaust survivor in her 70s. The Daily News called it a "nonstarter of a drama," adding, "If Eisenberg was trying to create the most obnoxious character to come around in a long while, he has achieved his goal." Newsday pointed out that the premise—a young writer traveling all the way to Poland to visit an elderly cousin he had never met, all to get some work done on his book—made no sense at all. "It seems fair to blame [Eisenberg] for both the appalling behavior of his character and for this enormous waste of opportunity."
Others were content to thank Eisenberg for bringing Redgrave to town, even if they couldn't bring themselves to thank him for his play. "Though I suspect that The Revisionist might seem rather thin and implausible without Ms. Redgrave," wrote the Times, "I would like to extend hearty thanks to Mr. Eisenberg…for giving her the space and material to create her finest, fullest stage performance since she won a Tony for Long Day's Journey Into Night a decade ago."
The Hollywood Reporter was more charitable, saying, "Their two characters are imperfectly balanced, making the play's chamber music less harmonious than it perhaps might have been. But this is nonetheless a rewarding account of cultural collision that yields unexpected reflections on the centrality of family in our lives – whether we idealize them or take them for granted."
The limited engagement was recently extended by three weeks to April 21.
Photo by Joan Marcus
Also opening Off-Broadway this week was a
John Doyle
-directed revival of
Stephen Sondheim
and
James Lapine
's musical
Passion
, at
Classic Stage Company
, with
Judy Kuhn, Melissa Errico
and
Ryan Silverman
in the leads. (Doyle, who has directed several other Sondheim shows, eschewed his usual trick of having the actors play instruments with this production.) The New York Times called it an "exquisite closed hothouse," adding, "Of all the formidable directors who have staged Mr. Sondheim's musicals, no one cuts closer to their heart than Mr. Doyle, a minimalist with a scalpel." The Daily News said "the new production...is just plain gorgeous — a feast for the ears and the eyes." NBC New York said it was "sad, searingly honest."
***
Finally, The Living Theatre is dead.
The experimental theatre company, founded in 1947, has tenaciously held on to live for more than six decades, weathering countless evictions and arrests, all the while witnessing the exits of the companies with which it once shared New York's avant garde stage universe.
But it couldn't survive the retirement of its surviving founder, Judith Malina. This week, Malina moved to the Lillian Booth home for retired artists in New Jersey, having been forced to give up the lease on The Living Theatre's Clinton Street space, the company's home for the past eight years. Malina had fallen four months behind in her rent. She lived in a small apartment above the theatre. The Clinton Street theatre was the company's first permanent home since the closing of The Living Theatre on Third Street at Avenue C in 1993. But, the revival was short-lived. Shortly after it opened, Malina's partner, Hanon Reznikov suddenly died.
Matters grew bleak last year when the company was suddenly faced with having to gather tens of thousands of dollars together in order to stop city marshals from evicting them. Donations were called for through a local crowd-funding site called Lucky Ant. Just hours before its deadline, it met its goal of raising $24,000.
Malina, of course, isn't happy how things have turned out. "It's a nice place. It's beautiful," she told The Daily News of the Booth home. "But I don't want a nice place that's beautiful."