*
Fraser — also known for Hollywood's "Dudley Do-Right," "Encino Man" and "Bedazzled" — played Brick in Cat on Hot Tin Roof in London in 2001; talk of that staging coming to New York City never turned into action. But here comes Fraser, finally, popping up at the Ethel Barrymore Theatre in Simon Bent's Elling, playing a "wildly enthusiastic gentle giant" named Kjell in the comedy about mismatched roommates. Kjell lives with the obsessive-compulsive title character played by Tony Award winner Denis O'Hare. Based on novels by Ingvar Ambjørnsen, and adapted first for the Oscar-nominated film and then for the stage, Elling played the West End and was nominated for the Lawrence Olivier Award for Comedy of the Year. We spoke to Fraser in between rehearsals.
Congratulations on your Broadway debut. This must be something you've wanted for a long time.
Brendan Fraser: Yeah, for sure. I guess it's taken me about 30 years to get here. [Laughs.] I tell you, I was seven years old the first time I saw New York City. My family was moving from America, and my father's work was taking us to travel and live in Europe. And we caught a steam liner — that sounds like the old days, or maybe it was the Cunard line. It was the QE2. Anyway, it was the year of the Democratic National Convention. Every hotel was booked, and Jimmy Carter was in town, and we got the last room in some little hotel on the outskirts. Long story short, I wound up getting separated from my brothers, who were watching over me, and I found myself in the Broadway district, and I didn't even know what that was. I just saw all these marquees and names, posters and pictures, and I remember it just really caught my attention, and it's stayed with me ever since.
photo by Joseph Marzullo/WENN
And then when we traveled through Europe, I would always go to London as a kid during holidays, school breaks, that kind of thing, and see shows on the West End. I guess maybe on or thereabouts during those [formative] years, that's when I had the germination of, "Hey, I want to do that. I want to be up there, too." And coming to Broadway is the fulfillment of a life's aspiration for me. I'm very excited. I'm appropriately panicked at the same time [Laughs] and I feel like it's time for me to have a run and [take] the risk that goes along with being lucky enough to have a well-rounded actor's career. You did Cat on a Hot Tin Roof in the West End, and from what people know about Elling and your role in it, it kind of relates to the film career that you've had, which is full of off-center, great comic characters. Does this bring it full circle for you a little bit?
BF: I guess you could say that. I hadn't thought of it that way; that's interesting. Well, my character's called Kjell Bjarne. When we find him, he and his new best friend, Elling, are just being released from an institution to see if they can make it in the real world, in an apartment of their very own. And they need one another. They're really a doubles act. They are a pair in the tradition of Mutt and Jeff — The Odd Couple. Our director, Doug Hughes, is directing this production, as he describes it — "children's theatre for adults." There's a sense of wonder to it, and it harkens back to the way that I trained when I was a kid, about 20 years ago when I was in college, working in black box theatres, just pushing chairs and tables around. Lights up, lights down in certain areas, and if you say that you're in a train station, you're in a train station. [Laughs.] If you say you're in an apartment, that's where you are. The audience just goes along with it, or they must.
It's a wonderful play and one that really touched me… This is the stage production of what was, in my view, a very popular and interesting, offbeat, life-affirming film from 2001, which I believe was also nominated for an Academy Award for Best Foreign Film. It's great material.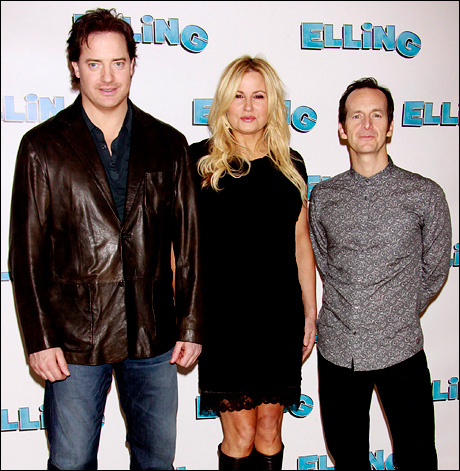 photo by Joseph Marzullo/WENN
photo by Joseph Marzullo/WENN
Did you take a look at the original source novels?
BF: Sure, oh, yeah. Oh, yeah.
Were they a help?
BF: Yeah, they are. They are and they aren't. Like, for instance, Denis has stayed away from the film. He's never seen it, doesn't want to yet. I didn't even know it was a play, and I was enamored of the film itself, and probably saw it six or seven times just for pleasure. [Laughs.] And of course, the source materials are important, but that's just all part of your research. You take it, you don't, you find new things in the rehearsal process, which certainly I know I am doing. Everyone is. Now that we're getting into…run-throughs — there's less value placed on all the choices that you're making and you really learn that it's about burning calories [Laughs] and picking up your cues, and just get out of your head and stop acting and get on with the work. It's really very exciting.
Being primarily a film actor, it's got to be pretty unique when you start previews and have an immediate reaction from an audience.
BF: Well, I'm interested to see what happens, because, look, it's billed as a comedy, but if you play a comedy as a comedy — and I do know this to be true — it's not funny. [Laughs.] It's just not. If you treat comedy like a straight-ahead drama, then if your aim is to succeed in making people laugh, I think that you probably will get that one across a lot better. So I think that the preview period is really going to be interesting because it's going to teach me a lot about what I need to do in order to get it right. And then, of course, I'm looking forward to the whole run of it, for having had the experience of the arc of a performance over an entire run. We have 20 weeks, so that's a lot of time for me to learn how to get my job done right. [Laughs.] By closing night, I'll have it down!