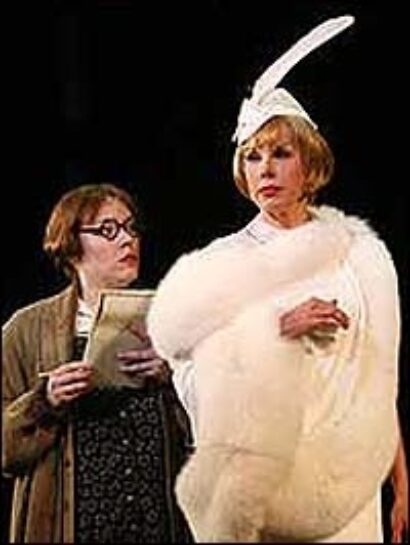 PLAYBILL.COM: What made the Kennedy Center the right place to revive Mame?
Eric Schaeffer: We've got a cast of 36 and an orchestra of 24. You can see an old musical really done up the way it originally was. It's a rarity, but you have the overture start and people start applauding. It's not just about recognizing the tunes, but just hearing that sound. That's really, really exciting.
PLAYBILL.COM: As of the present moment, do you think that it will move to Broadway?
ES: I have no idea. People are talking, but I have absolutely no idea. That would be great to cross that bridge. I don't know. It's basically sold out in D.C. at this point. The cast loves performing it. I've never seen a cast so happy to come to work every night. They'd love to come to New York.
PLAYBILL.COM: While planning the show, did you ever expect it to play New York?
ES: There were no plans ever. It was always to just do it at the Kennedy Center. Four years ago, I did Sweeney Todd with Christine (Baranski). She had such a great time. Then Michael (Kaiser) asked if I could do something else, what would I do? And Christine brought up Mame. That's how the whole thing got rolling. He asked if I wanted to do it with her. Then we went to town on it. We got the rights, put the whole production team together and cast it. We had a five-week rehearsal period and then put it up.
PLAYBILL.COM: What do you think makes Christine the right actress for the role?
ES: I think Christine has a great comedic flair. She has a great sense of style about her as well. She's also so out in front. She's always a little edgier than other people in a great way and those qualities show onstage. She brings all of that and more to the part. She also took singing lessons and her voice is in amazing shape. People, I think, are thrilled when they hear her belting out those songs. I don't know if they've ever seen her do anything like that.
PLAYBILL.COM: Is there another show that you would like to direct her in?
ES: I don't know. We're still working on this one. We had a fantastic time working together. It's been pure joy.
PLAYBILL.COM: What about Gypsy?
ES: I know! We were actually talking about that. Do the whole Angela Lansbury canon!
PLAYBILL.COM: Before directing Mame, had you ever seen Angela Lansbury in the show?
ES: I was a year old when she first did it. There's no way that could have worked. And then I missed the revival.
PLAYBILL.COM: Have you ever seen Mame performed at all?
ES: I've never seen it before in my life! So the first I saw it was when I actually did it. I had seen the film Auntie Mame and made it halfway through the Lucille Ball movie.
PLAYBILL.COM: Did you not like the film?
ES: No, I did not. Does anybody?
PLAYBILL.COM: Do you know the other Jerry Herman musicals?
ES: I know a bunch of the others. I've never directed any of them. I did a concert of Mack and Mabel three years ago at Signature. I was in Hello, Dolly! in high school. I played Barnaby Tucker. That I'd love to direct. I think it's a great show. It would be fun to get your hands on.
PLAYBILL.COM: Would you consider directing a full production of Mack and Mabel at Signature Theatre Company?
ES: I would! We were talking about that when we rehearsed it.
PLAYBILL.COM: If you didn't know Mame beforehand, what made you want to direct it?
ES: Well, I've always wanted to do a Jerry Herman musical. His stuff is much more emotional and there's a lot more character in it than people think or remember. There was also the thought of taking something like Mame and then saying how are we going to reinvent this thing so that it feels new and fresh. That's what we tried to do. The challenge of that was exciting.
PLAYBILL.COM: What would you say is the central idea or theme of the show?
ES: Literally, it's what she says: 'Life's a banquet and most poor sons of bitches are starving to death.' That's her mantra. It's all about living. A woman is creating a family and surviving. She creates it through her nephew Patrick and Ito. Her relationship with Ito was not just this servant, but a real friend and someone she could depend on. Ito is her pet way of calling him.
PLAYBILL.COM: What were your initial ideas about how to convey that?
ES: I wanted it all to live in the world of New York. When Patrick enters the city, all of a sudden he's like a kid in a new zoo. It's got to be like he's come to an amusement park. Every scene, he's on a new ride. In the set itself, we have these towers working as the wings and the borders. We also have that present even in her house. And though it goes through so many scene changes, I didn't want it to be about that but the characters. So we kept it simple. There's only a drop that changes as wallpaper, as well as some furniture and the staircase. We wanted it to be cinematic. Once you get on the ride, it just keeps going.
PLAYBILL.COM: And how do you think the audience responds to Mame's attitude about life?
Well, what I find interesting is when Christine delivers the line "You gotta live," it gets applause. Nowadays, we're not living. We're afraid. The country's being run by people who are afraid and not saying that this is what life is about. I mean, why can't we do this or that? Too many people are saying why not, not why. Mame is a trailblazer. Maybe a lot of us want to be those trailblazers. That's what's great so great. People can just connect with her and understand why she does what she does.
PLAYBILL.COM: Is there a contemporary celebrity who could compare to Mame?
ES: Susan Sarandon. She and Tim Robbins say what they really believe and they're out there fighting for those causes. That's great. Maybe it's not the most popular thing, but they do it.
PLAYBILL.COM: What was the casting process like?
ES: Well, it was actually kind of great, because so many people wanted to do the show. I worked closely with Tara Rubin. We thought of Emily Skinner right away. I know her, but never got a chance to work with her. We talked about Harriet Harris. Her "Desperate Housewives" gig was up so she could do the role. And then we auditioned the kids and found Harrison Chad. It was exciting because we had great people who wanted to work on the show because it hadn't received a revival in 20- years. A lot of people go and say wow, the score is really good.
PLAYBILL.COM: How much of the original choreography was used?
ES: None of it was used. It's all original stuff. We were so fortunate to have (Wayne) Carlyle on the show. We started and we reinvented every number. We have a lot more dancing than the original. That's what everyone's telling us. Christine really wanted to dance the part. She's kicking, doing somersaults over the dancers' heads, and a split.
PLAYBILL.COM: Were any changes made to the book?
ES: There were some very minimal edits. That's all we did.
PLAYBILL.COM: How involved was Jerry Herman in the production process?
ES: I made sure he knew what we were doing visually. We went through the sets and costumes in L.A. Then he was here from the fifteenth of May through the opening, which was great. He could see it come together. He was thrilled, absolutely thrilled, and so complimentary about the entire thing. He seemed very happy with the production.
PLAYBILL.COM: What musicals will be done at Signature Theatre Company next season, where you are artistic director?
ES: We're doing My Fair Lady and then we're moving into a new building. Into the Woods will open that theatre. We're doing Saving Amy, Kathy Lee Gifford's new musical. And we're doing the American premiere of Witches of Eastwick. It hasn't been done in America yet. It was about finding the right time and place. Cameron thought it was a great idea. So we'll watch it here and see what happens.
PLAYBILL.COM: How will this revival of Witches of Eastwick compare to the first production in London, which you also directed?
ES: For one, it'll be smaller. This isn't the Drury Lane. And two, it's such an American show. I think audiences will really respond and connect to it. That's going to be good. And we're putting a few tweaks into the show. We'll see. It'll be much more of a black comedy, which I think will be the biggest challenge.
PLAYBILL.COM: You're so well known for your Sondheim revivals at Signature. How did directing a Jerry Herman musical compare to one by Sondheim?
ES: For every show you do, you use a different part of your brain and some creative stuff you didn't use before. For me, any time I do a show, it all goes back to storytelling and letting the characters tell the story. I approached this in the same way that I would with a Sondheim show. It's just that sometimes this show is told through dance as well. It was really no different in that sense.
PLAYBILL.COM: Are there any Sondheim shows left that you have not directed?
ES: I've never directed A Little Night Music and Anyone Can Whistle. And Bounce.
PLAYBILL.COM: What did you think of John Doyle's Broadway revival of Sweeney Todd?
ES: Oh, it's fantastic. Michael [Cerveris] and Patti [Lupone] were amazing. It's great to see someone totally reinvent it. It's what we do a lot of times at Signature, so you can stuff you've never noticed before in the piece.
PLAYBILL.COM: Would you consider asking him to direct a show at Signature?
ES: Absolutely.