*
Perhaps best known to American audiences for her iconic role as the chain-smoking, vodka-guzzling fashion monster Patsy Stone on the BBC series "Absolutely Fabulous," the U.K. favorite is an accomplished actress whose career has taken her from a Bond girl in "Her Majesty's Secret Service," to roles on "The New Avengers," "Sapphire & Steel," "Clatteford," "Shirley Valentine" and the mystery series "Miss Marple." On stage, she has tackled such playwrights as Chekhov (The Cherry Orchard), Ibsen (Hedda Gabler) and Coward (Blithe Spirit). Playwright Hirson revisited La Bête (1991) for its latest outing (which arrived on Broadway following a London run last summer) and changed the gender of the interfering monarch who sponsors a theatre company. The onetime Prince has become the Princess, and Lumley brings a hard-edged, delicious comic capriciousness to the proceedings. It is only fitting that her first Broadway entrance should be preceded by musical fanfare and a brilliant storm of gold confetti (a fresh touch from director Matthew Warchus). Lumley spoke with Playbill.com about her work on stage in La Bête and her fruitful collaboration with Jennifer Saunders on "Ab Fab."
You started your career as a model and have revealed before that you transitioned into acting without any formal training.
Joanna Lumley: I had no acting training, and I didn't aim to be a model. I just fell into it, because in the '60s in London, it was quite easy. The standards were very low, as you can see looking at me. They'd have to be. [Laughs.] But it was a very enthusiastic time, and great new designers were coming up. Great rock 'n' roll bands, [a] great kind of buzzy feeling. And for three years I was a photographic model, as if I'd got slightly sidetracked. But when I was 21, I thought, "I've got to make the break," otherwise I'll get caught in this modeling lark, which although good fun, wasn't at all what I wanted to do. And I managed to get an Equity card — in those days, it was [harder]. Now it's an open shop in London … but now … you don't have to belong. But in those days, you had to belong to the union. And it was the chicken and egg – you couldn't belong to Equity until you'd done 42 weeks' work, but you couldn't work until you had an Equity card, so I never knew how to get in, particularly as I hadn't been to drama school. So I fudged it. I met somebody who said, "Well, I'm gonna film. If I get you the part in a film and you say a line, then you have an Equity card." So my line was, "Yes, Mr. Robinson." [Laughs.] And that got me my Equity card.
So you were training on the job.
JL: The university of life. Learning as I went.
photo by Patrick Lichfield
Tell me about that.
JL: What I did, because I was curious and because I loved acting — I watched everything. I watched how men rigged the lights, what kind of lenses they used on the cameras, because I started off on film, and then went into television and entered the stage at the end of it, you see. Usually, it's the other way round. And I noticed how important it was to hit your marks, particularly on film, because if you're slightly off, it doesn't work, so the accuracy of that. I noticed how, for instance, in the theatre, people could draw focus from other actors, which is wrong. Or shine their lamps on somebody, i.e. pull focus onto them, which is right when they're talking, and how to upstage or downstage people, which is ghastly. How, if you're sprinting, you have to run slower than a flat-out sprint, because the cameras can't catch it. I mean, I learnt everything, and about acting, I just looked at people who I admired and stole what I could. Actors are thieves. Do you find yourself terribly precious about acting?
JL: No, not at all. You either can or can't do it and then you can get a bit better at it, okay? But you can't teach somebody how to act. You can teach somebody how to be better, but the star quality is born in people, and the most surprising people. Not always beautiful or fine-looking [people] — [it's] not predictable at all, but sometimes when they come, when you find you're looking at nobody else and you can't think what that is, it's a sort of magnetism. But also, you've got to learn the tricks of the trade. You've got to learn how to do things. You're talking to a 2,000-seater audience, and in Britain, you never use microphones. I understand they do here; we never do. You've got to be able to fill that auditorium [with] 2,000 souls listening to you, as though I'm speaking to you now in a microphone a foot away. So these are tricks that you have to learn.
Is La Bete miked here?
JL: No. Nor in London. Also in Britain, it's expected of you [to project]. You're just expected to be able to do it, so go away and bloody well learn how to do it, even if you've been shouting across a football pitch or doing something. Learn how to make your voice strong but not shouty, so that you can sustain a quiet [speech] or sometimes even a whisper in an immense auditorium. It's a skill, and I hate to lose it. I can't bare the thought of people being miked. For a start, there's a kind of energy which comes from producing a voice, which if you've got a microphone at your throat, you necessarily use less power, and that power drains from your performance. And I've seen it in screen performances, too — people apparently making speeches to a crowded room, but they're throat-miked, and they give out no energy, because they know they can be heard. Sounds awful, looks awful. They have no power, and no passion. The passion doesn't come across.
An audience is then forced to engage when actors aren't miked, because they have to actively listen.
JL: That's right.
photo by Carol Rosegg
Do you think that the way the language is metered in La Bête, that it keeps a musicality about it which also aids in maintaining your connection with an audience?
JL: Yes, I do, and the way we break it down and sometimes use it bewitches the audience, as well, because sometimes they think that you must be not speaking the verse and maybe you've made things up. The only important thing about plays is that the audience gets it, so you don't put anything in the way. ... But I think that the intricacy and the beauty of the language and the meter and the musicality, as you said, enriches this show, so that people come out absolutely as though they've been eating thick fruitcake or something. And often people have come again, and some people have come three or four times. My friend Jennifer Saunders, from "Absolutely Fabulous" — she came twice in the same week because of getting it. Do you know what I mean? You [don't] miss [anything on one viewing], because most people are only going to see it once, but it's so rich that you could enjoy it again and again and again.
You mention Jennifer Saunders. I'm a die-hard fan. In the U.K., you're known for such an illustrious stage and screen career, but in the States, you're really known as Patsy from "Ab Fab." Do you find it haunts you?
JL: Oh, I love it. I love it. Luckily, I've done an awful lot of other stuff [so] it doesn't matter. In the States, I'm apt to be haunted by anything, because over here, the world is big and turns fast, so to be remembered for anything is a sensation. And to be remembered for Patsy — well, fabulous! But over in Britain, I do so much work that people, if they meet me in the street, call me Joanna rather than Patsy, because they've known me A.) for 120 years and B.) for all the other things I've done and continue to do.
It was really like nothing else that had been on television before. I watch it repeatedly because it remains fresh and viciously funny.
JL: Hysterical. You see, we inherited an audience from French and Saunders, which was Jennifer [Saunders] and Dawn French. So the first audiences came and got it in a heartbeat, and then it just built and built and built and England was crazy mad about it, as you can imagine. And so was everywhere else. But gay New York was the first to get it, 'cause they're usually ahead of the game in everything, in taste and perception and new fashions and trends. It was just so thrilling, and the fact that Edina's gay son Serge came to live in New York — well, it was just too funny, because it gave us the great excuse for coming over once, twice, three times a year.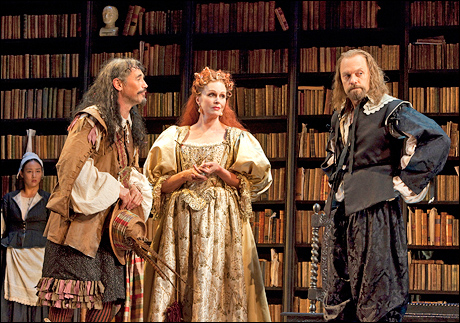 photo by Joan Marcus
photo courtesy BBC
How did working with Jennifer Saunders come about for you?
JL: I was sent a script through the post called "Absolutely Fabulous." My agent at the time said [it was from] Jennifer [Saunders], of French and Saunders, who I knew and admired hugely, but I'd never met. I looked at it and I thought, "This is exceptional!" Went along to meet her, we read through a scene together, and she just sat and didn't seem remotely amused, and I thought, "Oh, God." And one of the producers was there and kept saying, "Well, maybe she'd be like that." I couldn't understand quite [what they wanted], because Patsy wasn't written like [how I played it] at all. She was just a friend, an encouraging friend. And I couldn't get how she wanted it played. I couldn't sort of see the way through. I went back to my agent and said, "Actually, can you pull me out of this? I don't know how to do it and it's going to be hell." My agent said, "It's a pilot. Please! Just do it. You don't know. What's half an hour of your life, or one week's work?" I thought, "All right, I'll just do it." But of course, we taped that pilot in front of all the gods of comedy, Jennifer's friends who came in to watch it. And by about 20 minutes in, I knew — well, we all knew — it would go and go. It was hysterical. It was so different. Why? Because at the time, there were a lot of happy family shows. All family shows were happy. Cute mum, exasperated, silly dad, ridiculous children, but hey, it's okay. You know, and suddenly, this piece of sheer acid came slicing. Two of the most revolting women on God's earth, and therefore, too funny for words. Obsessed with fashion, which at the time made and still makes me laugh, having been a model. Fashion is gorgeous but ridiculous at the same time, and you've got to always know that. And, of course, the fashion world knows that. Although they are deadly earnest, they can see its own ridiculous qualities. The whole notion of PR, which is pumping up, pumping up press and attention for things that really aren't worth it, and the venal attitude of life, which is "me, me, me." And they were close friends, which was the touching part of it in some way. They actually were best friends, stuck through thick and thin.
You also displayed your skill for tremendous physical comedy throughout the series. Patsy eating potato chips and running along the luggage belt in the airport are some of my favorites. It seems as though it must come naturally for you. Did you plan much of it out?
JL: No, you just sort of do it. It's got to be funny, it's got to be truthful, it's got to kind of be acceptable. Just doing funny stuff doesn't really work. But Jennifer is also, physically, a fabulous comedian. I mean, she can fall off the side of anything just like a sack. You can't imagine. She could have been a stuntwoman. She's very daring. She keeps it sort of hidden, but she's very good, and we just like making each other laugh and I think that helped a lot, seeing the absurdity. Very little of it's written down, because in a room, in a set, I would always wait to see what it offered before you think of what you're gonna do. I mean, when they went to Marrakesh and Patsy began to scrabble down the [luggage belt] that didn't occur to me until I saw this gorgeous thing and I realized that to talk to her I'd have to run backwards up this thing but probably wouldn't be able to keep my balance. But you just do those things as they come along, you know what I mean? It's not written in.
You played Mrs. Lovett in a non-musical dramatic film version of the "Sweeney Todd" legend. Would you be interested in tackling the stage musical?
JL: Do you know, strangely not. I have been asked. It's formidably hard, Mrs. Lovett. I mean, my husband's conducted Maria Friedman and Bryn Terfel doing it at the Royal Festival Hall in London, and so I went along out of real interest, and I'd seen Julia McKenzie sing it. It's a stinker to sing, and you're a fool if you think you can do it and you can't. And I think that, being married to an exceptional musician, I don't want to lower the tone in his life and play a rather tragic Mrs. Lovett. [Laughs.] But I did love playing with Ben Kingsley [in the film] and, again, finding the truth there. It was lovely.
Watch highlights from La Bête: