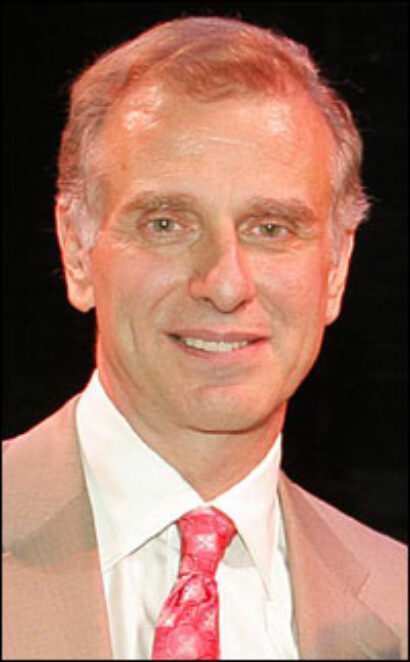 As perhaps the theatre's leading legal eagle, his clients include everyone from Stephen Sondheim and Andrew Lloyd Webber to the estates of Michael Bennett and August Wilson. Over the last year, he has moved from a backstage role to one front and center, as the single producer of the first ever Broadway revival of Bennett's signature show, A Chorus Line. Those who thought the veteran attorney might stumble in his new role as virgin producer were disappointed. The show received fairly positive notices; more importantly, it recouped its investment in a lightning-fast 19 weeks. In addition, a tour will kick off in April 2008. Playbill.com caught Breglio in his office at the law firm of Paul, Weiss and asked what will come next for the power broker.
Playbill.com: Last year at this time, you were a prospective Broadway producer. This year, you're not only a Broadway producer, but a successful one. Do you think of yourself as a producer now, or as a lawyer who produced a Broadway show?
John Breglio: (Laughs) That's the question of the day for me. I did this because I felt I had no real choice, given my history with the show and my connection with Michael [Bennett]. More than anything, to have Michael's craft and talent and legacy exposed to a new generation, that was really what drove me more than anything else. I did it with an enormous amount of trepidation and nothing in life is a slam-dunk, never. I'm really very happy with the results. I've always been one of the people who admire fine producers. Now I have even more of an appreciation for that now because I realize how hard it is. It's not an easy role at all. Many people asked me now if I'll continue. I think if I found something in the future gave me the sense of passion and commitment that I have with [A Chorus Line], I might try my hand at it again, because I really love the theatre. I guess I'm just very schizophrenic right now because I do have the practice. In many ways, the two things complement each other in many ways. But it's hugely difficult to keep going this way.
Playbill.com: It's hard to balance your duties at Paul, Weiss and as a producer.
JB: Yes, it's not so much how to balance; it's the sheer amount of work. I'm committed to my clients and I'm wholly committed to A Chorus Line. As a producer, maintenance is just amazing. I work on this show every single day. Some days five or six hours, some days one or two, some days the whole day. We're starting to cast again; all the contracts are up in July and we're not sure who will want to stay.
Playbill.com: And you have the national tour coming up in 2008.
JB: Yes. So, I'm starting all over again. My commitment is so deep that I won't compromise anything. I won't. And it's all on my shoulders, having decided to produce it myself, on my own.
Playbill.com: Have you considered taking the full leap and leaving your law practice?
JB: It's been something I've thought about, sure. I've thought about all the alternatives. I think I'll know in the next year. But the one thing I don't want to do is just to produce for producing's sake. That's something I'll never do. I'll only do things that I have great passion for, that I have to do or want to do more than anything else. I often see so many things getting done because inexorably people produce certain things that keep [them] going and keep their expenses paid. I'm never going to do something like that. It's doesn't mean you're always going to have a success. I know that with A Chorus Line I was blessed with a very unique situation. Michael was so generous that he should have entrusted me [with his work], and it's one of the great works of the musical theatre. I know that's never going to come again, that set of circumstances. I hope I can produce something as fresh and original as A Chorus Line was in 1975, ideally something that's not based on something else, something that's truly generated of three or four people's minds, people writing books, lyrics, music. Playbill.com: As far as something else that classic and established, Dreamgirls, another Bennett show, would seem to fall into that category. There were reports that that might be your next show.
JB: We've really put that on hold. We can't, at this point, really sort out how we'd do it if we did it at all. It's a massive project, very expensive. We want to think very carefully how the show will be done now, after the movie. It's one thing before the movie to have done it. After the movie, perceptions of the show and what it is are very different. Dreamgirls, almost throughout the entire score, there is sung recitative. The movie virtually eliminated all of that. I don't know whether Dreamgirls without some star quotient would really work today, be big enough. Broadway is a very different creature now. Unless you have some kind of element—a huge title, a star, or some other element—it's very hard to do a show that's going to cost $11 or $12 million, and do it right. So, we're thinking. But right now [composer] Henry Krieger and I have decided for the moment to let it lie.
Playbill.com: Since A Chorus Line opened and did so well, have other clients you represent come forward asking you to produce their shows?
JB: It's funny. What they do is, I guess, take one step beyond what they've always done. The clients I represent look to me for a lot more than legal advice. I help them put the show together. That's what I do. They take a little step further now. They ask if I would do a little more, and yes, they sometimes ask "Will you join us?" For the time being, I've had to table all those things, because I don't have the time. It would be irresponsible.
Playbill.com: The Tonys ruled that A Chorus Line is ineligible for nomination in the Best Director, Best Choreography, Best Costume Design, Best Lighting Design and Best Scenic Design categories because the work is a re-creation of the original. Was that ruling disappointing to you?
JB: I'll tell you what I was surprised by. I was surprised that the Administration Committee made the aesthetic judgment, the creative judgment. I would have thought that the Nominating Committee would have made the judgment whether or not Bob Avian did enough to warrant a nomination. I find it peculiar that the Administration Committee would make a ruling that says, "Well, it's a recreation. Therefore it's not eligible." A director does more than just copy steps. You'll see if you went back to the tape that he made a lot of changes. But it's not just that. He directs the cast, he works with the lighting designer, with Natasha Katz. So much of the lighting was changed. I've been involved in hundreds of shows. Bob Avian spent as much time if not more than any director I know has spent on a show. A director's job is not simply taking something that was done before and recreating it. In many ways, trying to do what Bob did is as difficult as anything else. You're trying to achieve the importance of what was done originally, while at the same time not making it deadening or a museum piece… In the future, is the Administration Committee going to look at every revival and decide to what degree is it a recreation? How do you make that decision. The final thing that disappointed me was, I would have thought before they made the ruling they would have called either Bob or me and said, "Look. This is an issue for us. We'd like to talk to you about what indeed was done." To that degree it was disappointing or surprising.
Playbill.com: I guess you really are a producer now, since you've been upset by a Tony decision.
JB: (Laughs) I suppose that's one of the hallmarks, huh?