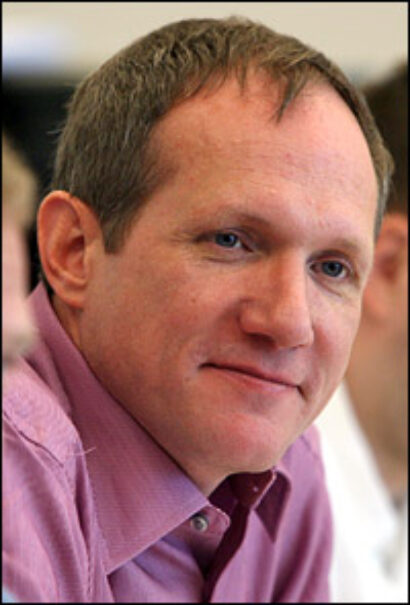 Not only is the director staging the new Broadway musical Cry-Baby, a stage adaptation of the John Waters film about a rebel from the wrong side of the tracks. He's also, well, directing a musical. Brokaw has certainly done that before; he piloted the once- (and perhaps still-) Broadway-bound singing Marty in Boston. Brokaw's usual stock and trade has been the straight play — a form he has often executed to perfection. Past credits include the original landmark productions of As Bees in Honey Drown, How I Learned to Drive, The Dying Gaul, The Long Christmas Ride Home, Lobby Hero, 2.5 Minute Ride and The Good Times Are Killing Me. This will be his third Broadway credit and his first Broadway musical. The busy director paused to discuss the show, what it's like being the mayor of a small town and his search for his inner rebel.
Playbill.com: When you were asked to direct the stage version of Cry-Baby, what was your previous experience with the film?
Mark Brokaw: I actually hadn't seen the movie. That was one John Waters film that I was unfamiliar with when they first approached me.
Playbill.com: Was the first thing you did is go see the movie?
MB: Yeah. The first thing you think about, when you hear they're doing another John Waters musical, is Hairspray. So the great thing in watching the film is that Cry-Baby is so different. Hairspray is very much about race. And this story is told through a prism of class. In their DNA, the two stories are very different. The movie is a gentle satire of 1950s, Eisenhower-era America — the Restless Years. Like all of Waters' work, it has its heart with the outsiders. The story that we're telling, also, is about the celebration of being an outsider, a celebration of nonconformity.
Playbill.com: Are comparisons to Hairspray something you've had to contend with, with critics and audiences — a certain kind of forced connection to that show?
MB: I suppose it's inevitable. In La Jolla, I don't think it was really an issue. I think the tone is very different. This one is a little more of a satire than was Hairspray. It's really a Romeo and Juliet from the wrong side of the tracks.
Playbill.com: Have you turned to John Waters from time to time for input?
MB: I have. What I've enjoyed so much about him is he is totally pragmatic. He's not precious about his work. He knows what it takes to make something that was a screen play into a stage play. Playbill.com: You and choreographer Rob Ashford are making changes during previews. What exactly are you working on?
MB: A lot of the work we've been doing has been in the first 20 minutes of the story: the introduction of those two worlds and how they collide; how the conflict is introduced; how Wade "Cry-Baby" Walker is introduced; how "Cry-Baby" and Allison — our Romeo and Juliet — are introduced; and how they end up together. All in that first 20 minutes. There are three new songs in the first three scenes. It's been all about honing that. It's always been clear, but it needed even more clarity.
Playbill.com: Are there any challenges you've encountered on this show that you haven't during your previous forays onto Broadway?
MB: Well, always with musicals, there's just more people. It's a much more expansive canvas. And your number of collaborators is not just the playwright. You have the bookwriters, the composer and lyricist, the choreographer, the music director, the orchestrator. I feel like I'm the mayor of a small city every day.
Playbill.com: Do you know what you are doing after this?
MB: Yeah. I'm doing an Eric Bogosian play, One Plus One, this summer at New York Stage and Film. It's a new play. Then there's a play with the New Group in the fall, and then a play with the Roundabout in winter. The New Group play is called Mouth to Mouth; it's a Kevin Elyot play. The Roundabout play is Distracted by Lisa Loomer. And there are still plans to get the musical Marty up with John C. Reilly.
Playbill.com: Really? That show is still alive?
MB: It's still alive. I am determined that show is going to get on. I can't really say specifics right now, but there is interest in it coming up.
Playbill.com: When people see Cry-Baby, what is the one thing that you think they're going to come away with more than anything else, be it a song or performance or whatever?
MB: Oh, there are a number of things. But the thing I really hope people come out feeling is being able to celebrate the rebel in themselves a little bit.
Playbill.com: Have you found the rebel in yourself?
MB: I'm trying on a daily basis. It's a little bit every day.