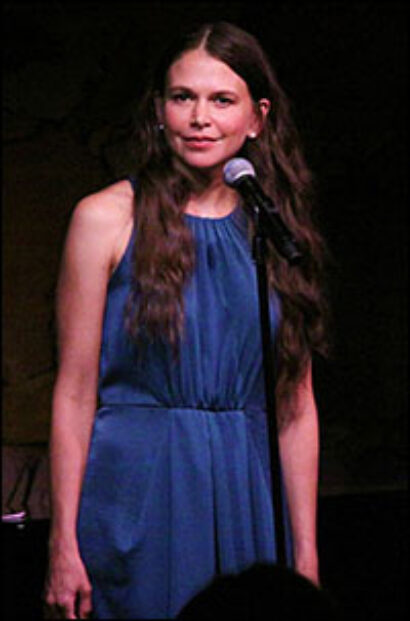 *
When Violet's bus rolls into the American Airlines Theatre, Sutton Foster can say, "I told you so."
The two-time Tony Award winner, who plays the title role in Jeanine Tesori and Brian Crawley's musical, had previously starred in a one-night-only concert presentation as part of City Center's Encores! Off-Center season in July 2013. The sold-out concert earned rave reviews and immediately sparked rumors of a Broadway transfer. But Foster had a feeling, before the concert even began, that her journey with Violet would continue beyond the one-night event.
Directed by Leigh Silverman and featuring music by Tesori and book and lyrics by Crawley, Violet, which is based on Doris Betts' short story "The Ugliest Pilgrim," began previews March 29 and will officially open on Broadway April 20 at the American Airlines Theatre. The story follows Violet, a young woman disfigured from a childhood accident, who embarks on a long bus trip seeking a TV evangelist she believes can heal her. Joining Foster are Colin Donnell (Anything Goes) and Tony Award nominee Joshua Henry (The Scottsboro Boys, Porgy and Bess).
Foster has starred on Broadway in Anything Goes, Shrek the Musical, Young Frankenstein, Little Women, The Drowsy Chaperone and Thoroughly Modern Millie. Her TV work has included "Bunheads," "Psych" and "Flight of the Conchords." Foster talked with Playbill.com about her history with the show, her thoughts on physical beauty and how she knew that it wasn't time to say goodbye to Violet just yet.
*
When you did the concert last summer, did you predict Violet would make its Broadway debut?
Sutton Foster: We knew when we were rehearsing it, we were like, "Oh, this is really special," and Leigh Silverman, our director, just had a great handle on the material, especially with Jeanine and Brian. It was just all kind of amazing. I remember the day of the concert. I said to Leigh, "I'm not done! This can't be it! Something else has to happen." Shortly after, things started percolating that it could possibly have a run. And when Roundabout became interested, it just felt like the perfect fit.
How does it feel to be bringing Violet to Broadway at last?
SF: This is an incredibly special show loved by so many people. We were talking earlier about how people are either obsessed with it or it's something they've heard of but they're not familiar with. I think it's a great time to bring it to Broadway, and I think Jeanine's score is incredible and I'm just excited that it will have its day in the sun.
Were you familiar with the show before starring in the concert?
SF: The cast recording is one of my favorites, and I've had it for years. I recorded "On My Way" on my album "Wish" and I've actually sung "Lay Down Your Head" in some concerts, but I never thought I would have the opportunity to play the character. I was obsessed with the cast recording and "Promise Me, Violet" — that song! I was like, "Wouldn't that be so great to have someone sing that to me?" "Promise Me, Sutton" — maybe? (Laughs.) I couldn't ask for two better guys to gaze lovingly into their eyes. It's pretty fun.



photo by Joan Marcus
What is it about Violet that inspires its passionate fans? SF:
There are a couple major themes... She was hit as a teenager with an ax by her father. She has this physical scar. She truly believes she is ugly. Disfigured. It has destroyed her life. But we all have scars. Some you just can't see; so we have emotional scars. It's a story about how we deal with them, how we refuse to let things go. It's about faith, believing in something bigger than yourself. It's about love. It's about forgiveness. And it's truly about coming into your own and moving forward and sort of accepting yourself wholly, flaws and all, scars and all, and knowing that even scars can be beautiful. It's true. I think it's really about coming of age in so many ways. I think a lot of people can relate to that.
The show is like a twofold love story — her love of herself as well as the romantic love in the plot.
SF: I think ultimately she has to find love of herself first before she's allowed to let love in. But isn't that true of all of us? Before we can really find love, I think we have to love ourselves first.
It's so refreshing to see a show focusing on inner beauty. What do you think the message of Violet is?
SF: The obsession with beauty and how we look — it's intense! I feel lucky because... one of the things my mom and dad instilled in me was about the beauty on the inside, and not physical appearance, and I'm so grateful for that. I'm lucky if I put a hairbrush through my hair or put on a stitch of make up. It is amazing. And especially for young women, I think, "Oh my goodness." You look at the women at the Oscars. There was a team of people. It's an entire industry, beauty. I truly believe there are many ways to be beautiful. The most beautiful person, once you get to know them, they can sometimes become quite ugly.
You recently shot a pilot with Darren Star. Can you tell me a little about the show?
SF: I play a 40-year-old mom who had given up her career in publishing to have a child. Her husband leaves her with debt, and she's forced to go back into the workforce and can't get hired because she's too old. So she reinvents herself as a 26 year old and it's like "Tootsie" but with age. She looks young for her age. She and her best friend get drunk one night and she's like, "You know what? If you can't get hired because they think you're too old, tell them you're 26." It's kind of fun. I get to relive my youth.
(Carey Purcell is the Features Editor of Playbill.com. Her work appears in the news, feature and video sections of Playbill.com. Follow her on Twitter @PlaybillCarey.)
PHOTO ARCHIVE: Two-Time Tony Award Winner Sutton Foster on the Musical Stage