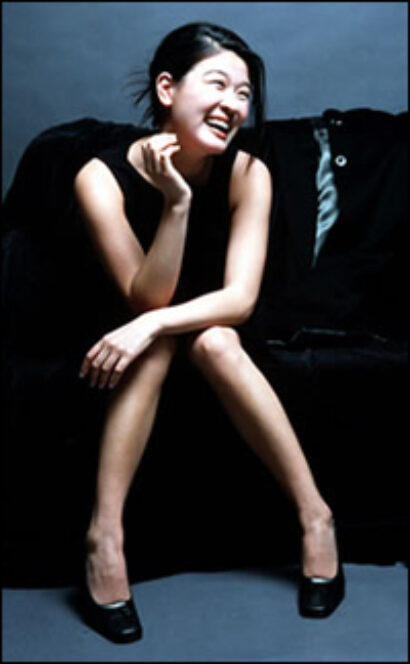 Lim has appeared onstage in Ching Chong Chinaman (Pan Asian Rep), Songs of the Dragons Flying to Heaven (HERE Arts Center/int'l tour), Vengeance Can Wait (P.S. 122) YokastaS Redux (La MaMa), This Isn't Romance in London and The Medea in Turkey.
Screen work includes "The Savages," "27 Dresses," "The Good Wife," "Blue Bloods," "Law & Order" (all three), "Royal Pains" and "Dirty Sexy Money."
Full given name:
Jennifer Chen Hua Lim
Where you were born/where you were raised:
Hong Kong
Zodiac Sign:
Aquarius
Chinese zodiac: Year of the Horse
What your parents did/do for a living:
My father works in finance and my mother runs two very successful Korean restaurants in Hong Kong.
Special skills:
Kung Fu*
Something you're REALLY bad at:
Watching horror movies. To provide some perspective: "Labyrinth" scared the crap out of me.
First Broadway show you ever saw:
My aunt and uncle took me to see Cats when I was 13.
If you could go back in time and catch any performance, what would it be?
Thomas Ostermeier's Nora (A Doll's House), 2004 Next Wave Festival at BAM. I saw his Hedda Gabler in 2006 and it changed my life.
Current show other than your own you have been recommending to friends:
Fiasco Theater's Cymbeline at the Barrow Street Theatre. Storytelling at its best.
Some favorite musicals:
Films: "Easter Parade," "Summer Stock" and "Can Can." Theatre: Avenue Q, Adding Machine, Bloody Bloody Andrew Jackson and Book of Mormon
Some favorite plays:
Three Days of Rain
To You
The Birdie! (Phedre)
The Real Thing
The Pitmen Painters
Circle Mirror Transformation

And most recently, Edith Can Shoot Things and Hit Them Too.
Some favorite playwrights:
Shakespeare, Wilde, Chekhov, Pinter, Miller, Stoppard, Sarah Kane, Sarah Ruhl, Young Jean Lee... and my current absolute favorite - David Henry Hwang.
Stage or screen star of the past you would most have loved to perform with:
No-brainer: Humphrey Bogart
Your personal acting idols, living or dead:
The great Brit dames of acting: Judi Dench, Helen Mirren and, though not a Brit but every bit as fabulous and fierce, Fiona Shaw.
The one performance – attended - that you will never forget:
Judi Dench in A Little Night Music at the National Theatre in London.
Music that makes you cry, any genre:
Classical Cello. In particular the Elgar Concerto and Rachmaninoff Vocalise.
MAC or PC?
MAC. Definitely MAC. They're way more user-friendly for the technologically inept (I have a lifelong membership).
Most played song on your iPod:
"I Put a Spell On You" by Nina Simone
Most-visited website:
Facebook and AnimeSeason.com (more on this later).
Last book you read:
"China Modernizes - Threat to the West or Model for the Rest?" by Randall Peerenboom
Must-see TV shows:
"Game of Thrones" - chomping at the bit for Season 2
Last good movie you saw:
"Take Shelter"
Michael Shannon was out of control. What phenomenal acting.
Some films you consider classics:
"Singin' in the Rain"
"The Princess Bride"
"Ghostbusters"
Performer you would drop everything to go see:
Eddie Izzard doing stand-up
Pop culture guilty pleasure:
Japanese anime. I follow "Naruto" and "Bleach" like they owe me money.
Favorite cities:
London. Paris. And of course, Hong Kong.
Favorite sport/team/player:
Whoever is losing (soft spot for underdogs).
Favorite Chinese food spots in NY:
Roast duck over noodles in soup (xiao e lai fen) at Big Wong King Restaurant on Mott Street, and the soup dumplings (xiao long bao) at Grand Sichuan on 24th and 9th Ave.
First CD/Tape/LP you owned:
"Make It Big" by WHAM! But I got it thinking it had "Last Christmas" on it. Which it didn't.
First stage kiss:
Senior year of high school in Hong Kong. I played Alison in Look Back in Anger.
Favorite or most memorable onstage role as a child/teenager:
Titania in A Midsummer Night's Dream.
Moment you knew you wanted to perform for a living:
When I got my acceptance letter to Yale and decided to go.
How you got your Equity card:
Do you have 2 hours?
Favorite pre-/post- show meal:
Before the show, something annoyingly healthy. Afterward it's just a disaster.
Favorite liquid refreshment:
Böoze. With a capital B and an umlaut. I should probably be cagier about this.
Pre-show rituals or warm-ups:
I listen to "I Am What I Am" by Douglas Hodge from La Cage Aux Folles. I started listening to it in Chicago to get me in the right head space for Chinglish. By coincidence, when we moved into the Longacre, I discovered that my dressing room had been previously occupied by Mr. Hodge himself.
Most challenging role you have ever played:
Richard III
Who have you played on "Law & Order"? What editions?
A teacher on "SVU," a Tiger-Mom-resistant punk bartender on "CI" and a very dead body in the original.
Leading lady role you've been dying to play:
A toss up between Chekhov's Masha and Yelena
Leading man role you wish you could play:
Henry V
Something about you that surprises people:
That I'm nothing like the character I play in Chinglish, i.e. that I don't speak English with an accent!
Something you are incredibly proud of:
Seeing Chinglish will help you understand why someone else has to answer this question for me.
Something you're embarrassed to admit:
I'm terrible at remembering proper nouns that aren't written in scripts.
Career you would want if not a performer:
A member of the Tanztheater Wuppertal Pina Bausch
Three things you can't live without:
Perspective, a sense of humor and company that has both.
Words of advice for aspiring performers:
Say "Yes." Always say "Yes."
*
I had you. For a moment there, I had you. It's fine for you to be able to admit that.