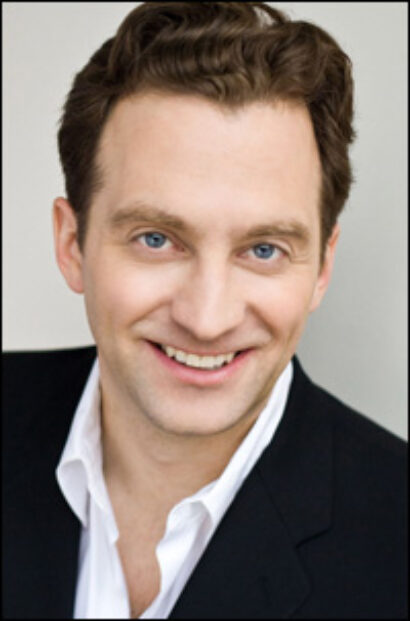 Rowat's Broadway credits include Guys and Dolls, LoveMusik, Dracula the Musical and Disney's Beauty and the Beast.
Other theatrical credits include The Blue Flower (Second Stage), The Boys in the Band (Transport Group), The Minister's Wife (Lincoln Center Theater), The Game (Barrington Stage), Saved (Kansas City Rep), A Funny Thing Happened...Forum (Williamstown Theatre Festival), Irving Berlin's White Christmas (San Francisco, Detroit, Toronto) and Les Misérables (national tour, China). He is married to actress Kate Baldwin. They live in Brooklyn with their 16-month-old son Colin.
Full given name:
Graham Gavin Rowat
Where you were born/where you were raised:
Peterborough, Ontario, Canada, 80 miles north-east of Toronto. Peterborough is home to the tallest hydraulic boat lift in the world.
Zodiac Sign:
Gemini. Also Gemini.
What your parents did/do for a living:
My father was a vice principal and my mother was a palliative care nurse.
Siblings:
My brother Chris is a graphic designer living in Nelson, British Columbia. Fun fact: The film "Roxanne" was shot in Nelson. This fact is really only fun to me since I memorized the movie in high school.
Current audition song/monologue:
"There's Always Someone Cooler Than You" by Ben Folds
Special skills:
I can fix your PC.
Something you're REALLY bad at:
I cannot fix your MAC.
First Broadway show you ever saw:
Gypsy with Tyne Daly. I was on a class trip and accosted Ken Olin in the lobby with questions about becoming an actor.
Did you have any particular mentors or inspirations when first starting out?
There were a lot of brilliant actors in Toronto whose work reaffirmed my desire to perform, particularly Colm Feore, Stephen Ouimette, Tom McCamus, R.H. Thomson and Stuart Hughes.
If you could go back in time and catch any show, what would it be?
Sunday in the Park with George
Current or recent show you recommended to friends:
Peter and the Starcatcher and Once. Also Twice, and Three Times a Lady.
Favorite showtune(s) of all time:
"Soliloquy" from Carousel and "Epiphany" from Sweeney Todd
Some favorite musicals:
Parade, The Light in the Piazza, Sweeney Todd, She Loves Me, A Little Night Music, The Music Man, Kiss Me Kate
Your personal vocal idols, living or dead:
Len Cariou, Ron Raines, Brent Barrett, Brian d'Arcy James
The one performance – attended - that you will never forget:
Heath Lamberts as Cyrano de Bergerac at the Royal Alex in Toronto.
Music that makes you cry, any genre:
The love themes from "Love Actually"
MAC or PC?
PC, but my portable devices are iOS.
Most played song on your iPod:
"Ever After You" by The Gabe Dixon Band
Most-visited websites:
TheVerge.com, GamersWithJobs.com, io9.com, xkcd.com
Favorite Tweeters:
Justin McElroy (@JustinMcElroy), Merlin Mann (@HotDogsLadies), Tim Siedell (@BadBanana), Paula Pell (@PerlaPell), Rob Delaney (@RobDelaney)
Last book you read:
"Bringing Up Bebe: One American Mother Discovers the Wisdom of French Parenting"

I thought it'd be best to list the parenting book I'm half-way through rather than the fantasy novel I just finished ("The Name of the Wind").
Must-see TV show(s):
"Children's Hospital"
"Parks and Recreation"
"Veep"
"Sherlock"
"Doctor Who"
"Fringe"
"Homeland"
"Futurama"
You're a tech fan. What's the coolest gadget you've acquired this year?
My wife bought me a PS Vita for my birthday. If you've heard of it, let me say that it's a pretty great device with a slowly growing list of strong titles. If you haven't heard of it, you're not a nerd and probably better off.
Last good movie you saw:
"Sleepwalk With Me"
Some films you consider classics:
"His Girl Friday"
"Singing in the Rain"
"North by Northwest"
"Rear Window"
"Star Wars"
"Blade Runner"
"The Thing"
Performer you would drop everything to go see:
Prince
Pop culture guilty pleasure:
"Call Me Maybe"
Favorite cities:
Nelson, BC, Toronto, Las Vegas
First CD/Tape/LP you owned:
My first CD was of Bach sonatas featured in the film "Truly, Madly, Deeply." I was in college and wanted to appear classy and deep. I then won a copy of Prince's "Diamonds and Pearls" through a radio call-in contest. Thankfully, diamonds and pearls are also classy.
When you first realized you could sing:
My teacher told me to sing my song ("Stranded at the Drive-In") like an opera singer. Out came a rich, resonant sound I never knew I had. My class finally understood Danny's angst.
First stage kiss:
With Sandy in my high-school production of Grease. She was my teen crush so there were a lot of layers there.
Favorite or most memorable onstage role as a child/teenager:
I shared a stage with my Dad in the Peterborough Theater Guild production of The Foreigner.
Moment you knew you wanted to perform for a living:
Singing "Dentist!" in my high-school run of Little Shop of Horrors.
How you got your Equity card:
Through a reciprocal agreement with Canadian Equity when I joined the Broadway company of Beauty and the Beast in 1997.
Favorite liquid refreshment:
Iced Americano, Manhattans.
Pre-show rituals or warm-ups:
I have a stretching routine I've kept since theater school. I've let the green half-tights go though. Actually, they walked away.
Most challenging role you have ever played:
I had the occasion to go on as the title role in Dracula, the Musical. The number of technical elements for the part were dizzying: automation, prosthetics, flying harnesses, glow-in-the-dark contact lenses, palmed blood vials, stage jumps to crash pads, a mid-air somersault with an articulated cape that had to snap wide on the button of the act. Managing to sing and act in addition to juggling all those elements was the hardest thing I've ever done.
| | |
| --- | --- |
| Worst flubbed line/missed cue/onstage mishap: | I was on as Javert while touring with Les Miserables and forgot half my lyrics during my entrance to "Fantine's Arrest." I had another ten minutes onstage before I could exit so I got to witness the entire cast corpsing around me. My guards took turns spinning upstage while Fantine begged for mercy. |
| Worst costume ever: | No contest: the egg beater in Beauty and the Beast |
| Worst job you ever had: | I worked on a "win-back" team for Bell Canada. I'd call existing customers to check on their service (at the time, Bell was the only local phone service provider) and then feign surprise when I learned they'd switched long-distance carriers. Take it from an egg beater, this was not acting to be proud of. |
| Were you a big ABBA fan prior to this gig? | ABBA was very big in my house. I would make mix tapes of their music by holding a portable cassette recorder up to the record player. It was all about the "Waterloo." |
| If you could trade roles with anyone in the cast for a week, who would it be? | I'd like to play Sam for a week. Who doesn't want a crack at getting the girl? |
| How do you and your fellow Mamma Mia! dads kill time together while offstage? | Lately we've been competing for dominance in the video game Mortal Kombat |
| How do you wind down after the curtain call MegaMix? | I stick with the hits and crank some synth-friendly 70's/80's music. Last night it was "Did it in a Minute" by Hall and Oates and "What A Fool Believes" by the Doobie Brothers. |
| What's the one song from the show you just can't get out of your head? | "Super Trooper." Aaaand it's back, thanks. |
| Leading man role you've been dying to play: | Sweeney Todd. Not a typical "leading man" but, um...a real lady killer? |
| Some shows you would love to perform in with your bride, Kate Baldwin | Private Lives, She Loves Me, The Music Man, Kiss Me Kate, On the Twentieth Century, Sweeney Todd, Guys and Dolls |
| Something about you that surprises people: | My hair is comprised of sleeping squirrels. |
| Something you are incredibly proud of: | Being a father |
| Something you're embarrassed to admit: | How closely I follow the video game industry |
| Career you would want if not a performer: | Technology reporter |
| Three things you can't live without: | My family, laughter, the Internet |
| "I'll never understand why…" | ... someone presses the button to call the elevator when I've been waiting since before they walked up. |
| Words of advice for aspiring performers: | Say yes to everything you can. You never know what relationships you'll make that will come calling in the future. |