This autumn's Broadway line-up is made almost entirely of straight plays. You know, those under-funded, often-ignored things that shiver in the enormous shadows cast by the blockbuster musicals. Over the next four months, a baker's dozen of dramas and comedies are poised to steal the thunder of the mere four musicals that are shuffling into town. Of course, two of those songfests are Mel Brooks' Young Frankenstein and Disney's The Little Mermaid — a couple of thunder-hoarders if there ever were ones. But the plays include new ones by David Mamet and Tom Stoppard, and the overdue Broadway premieres of such long-serving playwrights as Theresa Rebeck and Tracy Letts, as well as Chazz Palminteri and — better late than never! — Mark Twain. (And no, Mark Twain Tonight! and the many stage works inspired by or adapted from the great author's work do not count. Is He Dead? was written by Twain specifically as a play.)
So, it seems only fitting that we kick off this fall preview with a rundowns of the plays. The Mark Twain work is as good a place as any to begin. The story of how it came to be found and produced is an entertainment in itself. Is He Dead? was written in 1898, but escaped notice until 2003, when a scholar named Shelley Fisher Fishkin unearthed it while looking in an archive of Twain's papers at the University of California. She contacted a journalist in Washington and asked for advice. The journalist put her in touch with producer Bob Boyett. Boyett took it to playwright David Ives to do an adaptation job. And, suddenly, Samuel Clemens was getting a 21st-century Broadway show. (Surely, the most unlikely road a show has taken to Broadway, since Harry Rigby attended a lecture by Prof. Ralph G. Allen on burlesque and hatched the idea for Sugar Babies.) Michael Blakemore directs the comedy, which begins Nov. 8 at the Lyceum — a theatre that was built while Twain was still alive.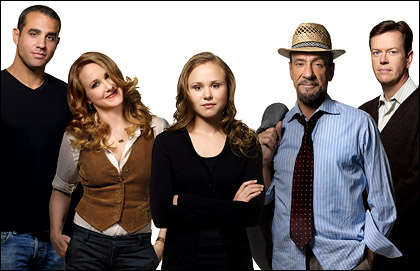 photo by Henry Leutwyler
The other playwrights who are getting their Broadway debuts are still around and kicking. More than any of them, perhaps,
Theresa Rebeck
has been waiting for this moment for a long time. The productive dramatist has been banging out scripts on a steady basis since the early nineties, all while working extensively in television. Her hard-won status is arguably shown in the cast that has been assembled for
Mauritius
, a "sinister comedy" about two half sisters, a dead mother and a stamp collection.
F. Murray Abraham, Katie Finneran
and
Dylan Baker
are among the actors.
Manhattan Theatre Club
produces the play, which will begin at the Biltmore Sept. 13.
photo by Michael Brosilow
Broadway is even more of a foreign land to Tracy Letts, whose August: Osage County will land at the Imperial. Letts is an Off-Broadway brat if there ever was one. His high-voltage, trailer-trash dramas Bug and Killer Joe had long, praised runs way, way downtown. But it only took a few praised weeks at Chicago's Steppenwolf Theatre Company and a positive review in the Times for the sprawling, large-cast play to find Broadway producers for August. Critics are comparing the piece to the work of O'Neill, Albee, Shepard and Sophocles. Well, not the last one. But you get the idea; they like it and think it's important. Broadway will see for itself beginning Oct. 30.
The fourth Broadway newbie scribe, Chazz Palminteri, did not write a large-cast play. His A Bronx Tale requires only one actor, and Palminteri will be doing the honors himself.
It was this play that long ago launched his acting career when he performed it in Los Angeles and Off-Broadway in the late eighties. (It inspired the 1993 film of the same name.) He will portray 18 figures in the semi-autobiographical show about one kid's rough childhood in the Bronx streets. Previews begin Oct. 4 at the Walter Kerr.
Broadway audiences may not have yet heard of the likes of Rebeck and Letts. But they've been doing too much woodworking in the basement if they haven't heard of some of the other playwrights who will be bringing new work to Times Square this fall. David Mamet, Tom Stoppard, Aaron Sorkin and Conor McPherson all have new wares to sell.
Stoppard — last season's champ for Tony Awards and press coverage due to his marathon trilogy The Coast of Utopia — cuts himself back down to size this time around, offering Rock 'n' Roll, a play that can be seen in its entirety in one evening. The scope, however, is of typically Stoppardian dimensions; the plot spans the years from 1968-1990, and is set simultaneously in Prague and Cambridge. Brian Cox, Rufus Sewell and Sinead Cusack are among the cast. Trevor Nunn directs beginning Oct. 19 at the Jacobs Theatre.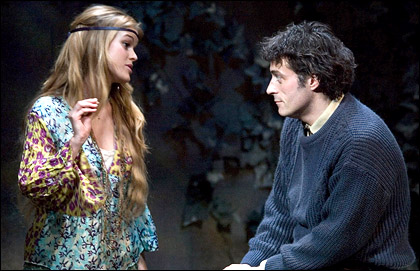 photo by Johan Persson
Mamet, meanwhile, looks no further than the present day for his inspiration. In
November
— beginning Dec. 20 at the Barrymore —
Nathan Lane
(it's simply not a Broadway season without Lane) will play President Charles Smith, who undergoes an avalanche of traumas a few days before an election. What sort of traumas? Well, "civil marriage, gambling casinos, lesbians, American Indians, presidential libraries, questionable pardons and campaign contributions." Audiences who saw Mamet's recent legal circus, Romance, might have an idea what to expect. Joe Mantello directs.
Irishman Conor McPherson will be making his third trip to Broadway with The Seafarer, beginning, under the playwright's own direction, Oct. 30 at the Booth. The dramatic stakes will be the usual McPhersonian mix of seemingly sleepy Ireland life, arriving strangers, the creeping past and some chilling plot turns. Ciaran Hinds, David Morse and Jim Norton are in the cast. As for Aaron Sorkin, Broadway hasn't seen hide nor hair of this golden boy since he made a name for himself in 1989 with the original A Few Good Men. He's created a few good television series since then, including "Sports Night," "The West Wing" and the recent "Studio 60 on the Sunset Strip." The new play, called The Farnsworth Invention, is about a couple pivotal figures in the birth of that medium that has treated Sorkin so well: Philo T. Farnsworth, who came up with the idea for TV as a high school student, and David Sarnoff, the head of the Radio Corporation of America (RCA). Previews begin Oct. 15 at the Music Box. Farnsworth will also be the first Broadway effort by a new producer named Stephen Spielberg.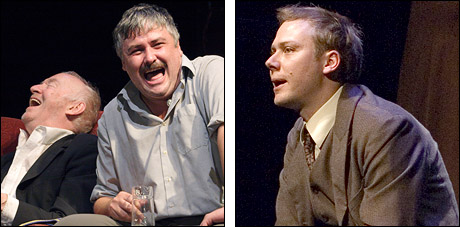 Jim Norton and Conleth Hill (left) and Jimmi Simpson (right) reprise their roles in The Seafarer and The Farnsworth Invention, respectively.
photos by Catherine Ashmore and JT Macmillan

That's all for the new plays. As for new looks at old ones, Broadway will have a little to offer from the 17th, 19th and 20th centuries. Coming first are a couple of very different offerings from the Roundabout Theatre Company. One is a new go-round with Shaw's evergreen Pygmalion. The David Grindley-directed revival will offer Tony winner Jefferson Mays his first leading role since I Am My Own Wife. Playing Eliza to his Henry Higgins will be film star Claire Danes — her first leading Broadway role ever. Boyd Gaines, who apparently has developed a taste for supporting characters roles, and for that moustache he grew for Journey's End, will be Colonel Pickering. Previews begin Sept. 21 at the American Airlines Theatre.
The second Roundabout play is a reminder that playwright Terrence McNally used to be something of a farceur. His comedy The Ritz, about misunderstandings at a gay bath house, will be mounted by the busy Joe Mantello at Studio 54 starting Sept. 14. The recently much-missed stage actor Kevin Chamberlin and Rosie Perez will lead the cast.
Next up is Edmond Rostand's romantic classic Cyrano de Bergerac. How does such a play get revived on Broadway these days? When the likes of Kevin Kline and Jennifer Garner show interest in the leading roles. David Leveaux will direct the Richard Rodgers Theatre production beginning Oct. 12. For the record, this will be Kline's first Broadway turn in a commercial outing (i.e., not nonprofit) in more than a couple decades.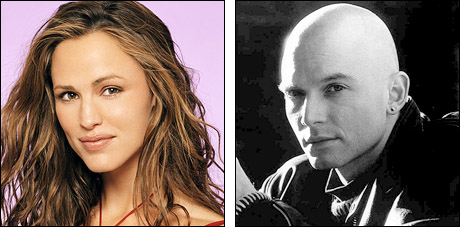 Jennifer Garner will star in Cyrano, while Michael Cerveris stars in Lincoln Center's Cymbeline.

Shakespeare will not go unrepresented this autumn, thanks to Lincoln Center Theater. Director Mark Lamos will stage Cymbeline at the Beaumont beginning Nov. 1, using a cast that includes John Cullum, Martha Plimpton, Michael Cerveris and Phylicia Rashad.
On Nov. 23 the increasingly busy producer Jeffrey Richards (Talk Radio, Glengarry Glen Ross, The Caine Mutiny Court-Martial) will again display his talent for surprising the public with plays no one was expecting to see — at least as a commercial enterprise on Broadway — by bringing back Harold Pinter's sinister The Homecoming. The interesting cast at the Cort includes Ian McShane, Raúl Esparza and Michael McKean, under Daniel Sullivan's guidance. Previews begin Nov. 23. (Richards is also a producer of August: Osage County.)
photo by Michael Brosilow
And now for the musicals. There aren't many, but among them are a couple heavy hitters. It is a toss-up between The Little Mermaid and Young Frankenstein as to which show is most hotly anticipated. The latter is Mel Brooks' follow-up to his hugely successful The Producers. He took a similar creative route creating this work: raiding an old film of his for material; teaming with writing partner Thomas Meehan; and marshalling the talents of director-choreographer Susan Stroman. The story is familiar to anyone who saw the classic 1974 film comedy, and the cast is familiar to anyone who attends Broadway on a regular basis: Roger Bart (as the good doctor), Sutton Foster, Shuler Hensley and Andrea Martin (Tony winners all), with the redoubtable Megan Mullally thrown in for television fans. Reports from Seattle say the "Puttin' on the Ritz" number could top the comic mania Stroman and Brooks created for the famous "Springtime for Hitler" number in The Producers. Performances begin Oct. 11 at the Hilton.
The Little Mermaid is the fourth stage show Disney has adapted from one of its animated films. Two of those past efforts, Beauty and the Beast and Tarzan, recently exited Broadway, leaving only The Lion King behind. The underwater tale returns Disney to the dependably popular work of composer Alan Menken and his late collaborator Howard Ashman. Glenn Slater is on board to lend some additional lyrics, and first-time Broadway director (but experienced opera hand) Francesa Zambello is at the helm. Out of town reviews commented much on George Tsypin's otherworldly set design and newcomer Sierra Boggess' fetching work as Ariel. Mermaid will make its splash at the Lunt-Fontanne on Nov. 3.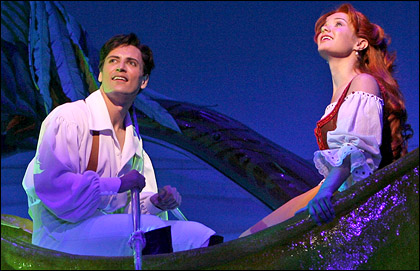 photo by Joan Marcus
photo by May Parton
Doing its best to grab a little spotlight in between the openings of those two monsters will be Lone Star Love, a western-flavored musical retelling of Shakespeare's Merry Wives of Windsor, which did decently Off-Broadway a while back and will now take a shot at Broadway, beginning Nov. 1 at the Belasco. The show is quietly ushering in Randy Skinner's Broadway debut as a solo director-choreographer. (He co-directed and choreographed State Fair in 1996.) Randy Quaid, seen 100 times on the big screen but not once on Broadway until now, will be Falstaff.
Last but not least is the return of last season's surprise box-office champ, the seasonal attraction Dr. Seuss' How the Grinch Stole Christmas. I'll go out on a limb here and say this show will celebrate Christmas by recouping its investment. As for the others, well, let me paraphrase Mr. Twain: "October: This is one of the peculiarly dangerous months to speculate on Broadway shows. The others are July, January, September, April, November, May, March, June, December, August and February."