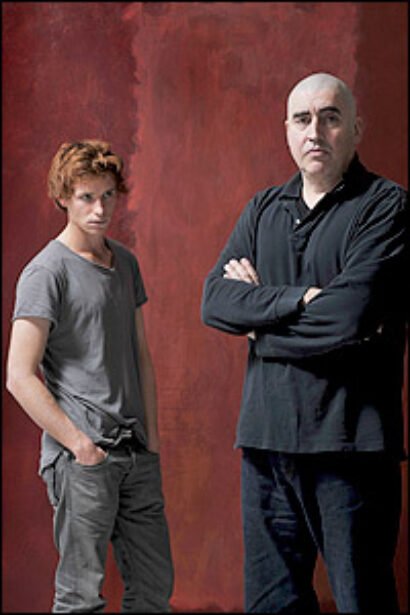 Molina (Art, Fiddler on the Roof) plays Rothko in the two-man play, which also features Eddie Redmayne as his assistant. Red will open on Broadway on April 1; this is a limited 15-week engagement.
Redmayne and Molina created their roles in the world premiere production in late 2009 at the Donmar in London. The production is directed by Donmar artistic director Michael Grandage. Red marks the Broadway debut of playwright Logan (Never the Sinner and the films "The Aviator" and "Sweeney Todd").
Red is set in 1958 as New York artist Mark Rothko (Alfred Molina) has received the art world's largest commission to create a series of murals for The Four Seasons restaurant in the new Seagram building on Park Avenue. According to production notes, "Under the watchful gaze of his young assistant, Ken (Eddie Redmayne) and the threatening presence of a new generation of artists, Rothko faces his greatest challenge yet: to create a definitive work for an extraordinary setting. Red is a moving and compelling account of one of the greatest artists of the 20th century, whose struggle to accept his growing riches and praise became his ultimate undoing."
*
"Following the wonderful response to Hamlet earlier this season, I am delighted the Donmar will be returning to Broadway to present John Logan's brilliant new play," stated director Grandage. "With two outstanding performances from Alfred Molina and Eddie Redmayne, this thrilling 90-minute piece about the great New York artist Mark Rothko now has an opportunity to engage with a wider audience." "I am so honored to continue a wonderful partnership with the Donmar, under Michael Grandage's brilliant leadership," stated producer Arielle Tepper Madover. "This is the fourth Donmar production I've moved to Broadway, following Frost/Nixon, Mary Stuart and Hamlet, but it's a special thrill to be presenting the Donmar's electrifying production of this great new American play on Broadway."
As part of the Donmar's commitment to greater accessibility, producer Madover announced that more than 60 tickets priced at $25 will be available at every performance through Telecharge.com and the Golden Theatre box office.
The production is designed by Christopher Oram, with lighting design by Neil Austin. Composer and sound designer is Adam Cork.
The Golden Theatre is at 252 W. 45th Street. Tickets ($116.50-$25) are available through Telecharge.com by phone at (212) 239-6200 or online at www.telecharge.com.
Performances are Tuesday–Saturday at 8 PM with matinees Wednesday and Saturday at 2 PM, Sunday at 3 PM. Beginning the week of April 12, Tuesday performances are at 7 PM.
Visit www.RedOnBroadway.com.