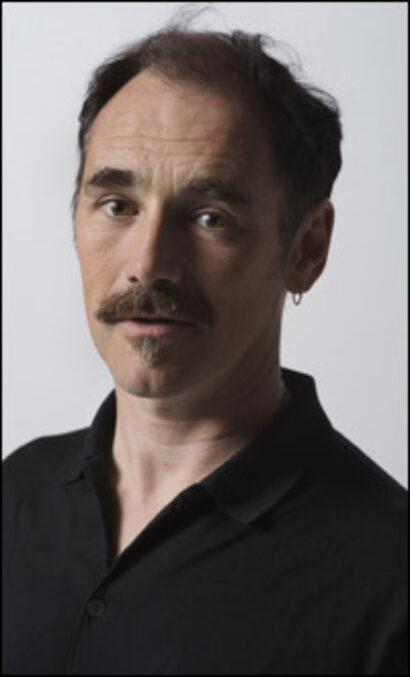 *
Mark Rylance has moved from the winter of his discontent to the spring of his recognition.
The two-time Tony Award winner made history April 29 when he became the first male actor to receive two Tony nominations for acting in the same season.
Rylance was nominated for both Best Actor and Best Featured Actor, for his performances in the Shakespeare's Globe productions of Richard III and Twelfth Night, respectively, which were performed in repertory by an all-male cast wearing traditional Elizabethan costumes.
Rylance joins the ranks of same-season nominees Amanda Plummer, who was nominated for Best Actress in a Play for A Taste of Honey and Best Featured Actress in a Play for Agnes of God; Dana Ivey, who was nominated as Best Featured Actress in a Play for Heartbreak House and Best Featured Actress in a Musical for Sunday in the Park with George; Kate Burton, who was nominated for Best Actress in a Play for Hedda Gabler and Best Featured Actress in a Play in The Elephant Man; and Jan Maxwell, for Best Actress in a Play in The Royal Family and Best Featured Actress in a Play in Lend Me a Tenor. Rylance, who is currently filming the British costume drama "Wolf Hall," in which he plays Thomas Cromwell, was notified of his nominations during his lunch break, when his wife called to tell him.
"I was delighted. I was just delighted, particularly by the nomination for Tim Carroll, who's just my favorite Shakespeare director, and for my fellow actors, four of whom have been nominated," he said. "But, of course, if the thing's nominated for Best Revival, I hope all the actors take pride in that because I think it's a collective ensemble achievement."
When asked about his historical recognition, Rylance said he was overwhelmed, adding, "My experience of being an actor in New York City is one of meeting the most generous folk. Whether it's people on the street who stop you and appreciate what they've seen or people standing at the door afterward... The producers are always very generous — really generous. The stage doormen and the crew at the Belasco and the Music Box and the Longacre have become lifelong friends of mine and have been so supportive and encouraging."



Photo by Joan Marcus
"I'm particularly pleased that I've been nominated for Richard," he continued. "That's a very hard part to play, and I was always very nervous before doing it. It's very hard to play a part when you have to begin right from the blocks — you don't get any run up. You come out and you have to say a rather famous speech. "
Rylance said he was surprised by how enthusiastically the two productions, which recouped on Broadway and went on to receive a total of eight Tony nominations, were received.
"I'm never sure of how things will go at all," he said. "I think Twelfth Night has always been celebrated as a production; it's always been a very blessed piece of work. We were all less certain of how Richard III would go down on Broadway, and so it was only scheduled for two shows a week, and when those sold out and it became a very popular production in itself, that was a surprise to me."
Rylance spoke highly of the audiences at the plays, crediting them with inspiring stronger performances from him.
photo by Joan Marcus
"I must say I found the wit and the attention of the audience and often the very wonderful actors who came to see the show [inspiring]... When they were sitting there, I would think, 'How would he do it? Oh, he'd do it like this. She'd do it like this.' The part really developed and grew, and I felt I really got more of a measure of the part in New York, thanks to the audiences, than I had managed before." Rylance received Tony Awards for his performances in
Boeing-Boeing
and
Jerusalem,
respectively, in 2008 and 2011, and he has become known for reciting poetry as acceptance speeches, rather than thanking people or talking about the productions. Laughing while reminiscing about the awards, Rylance described "getting up on the stage and seeing that huge auditorium and the big sign basically flashing, 'Get off.' I'd never spoken in front of such a sign before and holding my nerve and just remembering the things I wanted to say... It flashes really rude messages at you.
"It's a long event – the Tony event – so I understand," he added. "They're just trying to make sure the speeches don't go on too long."
When asked if he had poetry in mind for this year's ceremony, Rylance said, "I usually have two or three options for what I might say, and then I see how the evening's going and what feels the right thing to do."
His dedication to his craft is apparent. When asked if he would celebrate his nominations, Rylance quickly replied, "No, I have lines to learn for tomorrow."
(Carey Purcell is the Features Editor of Playbill.com. Her work appears in the news, feature and video sections of Playbill.com. Follow her on Twitter @PlaybillCarey.)