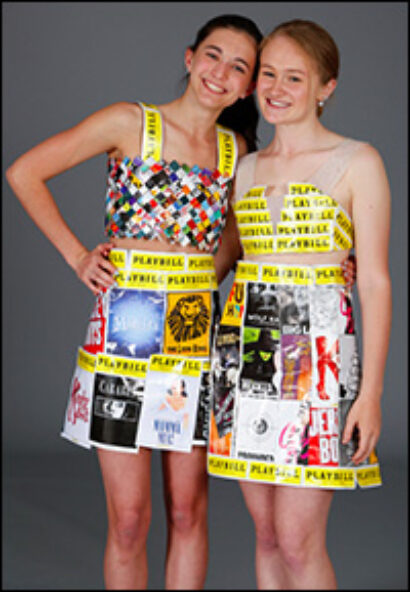 "We went down to Times Square and saw how many theatres had extra Playbills to give us, and we ended up acquiring [approximately] 75," explained 15-year-old Fieldston freshman Eliza Epstein, "and then we made the dresses."
Epstein and fellow freshman Zoe Antell, 14, just recently became friends when Epstein transferred this year from Rodeph Sholom School (Antell had been at Fieldston, a private school in the city and a member of the Ivy Preparatory School League, since 6th grade).
When it was time to sign up for the annual fashion show at Fieldston, they decided they'd go in on it together.
Nancy Fried, the school's sculpture teacher, created the concept over a decade ago. While students in her art class are expected to take part, many teenagers enlist themselves for fun (Epstein is enrolled in Fried's class, but Antell is not).
The duo began putting their dresses together in the beginning of March, allowing two months of planning before they hit the runway May 5. They worked separately, but called each other to check in and to get ideas — and even had help from their parents (some Playbills from years past surfaced throughout the creation process when more material was needed for their dresses). So, how did they design them?
"I don't know if you have ever seen the bags that some kids use that are made out of magazines — that are weaved together…" said Antell. "That's where I got the idea for the top of my dress. It was actually weaved together, if you saw the little squares. That's what inspired me."
As for Epstein, "I cut out the yellow parts of the Playbills because I thought that would be the most florescent and cool to look at," she said. "I actually had a finished dress the week before [the show, but] decided that I didn't like it, so I took it completely apart. That weekend, I then thought of the idea of making straps and a bow in the back out of hot glue, so that was [made with] a hot-glue gun, but my dress was completely remade!"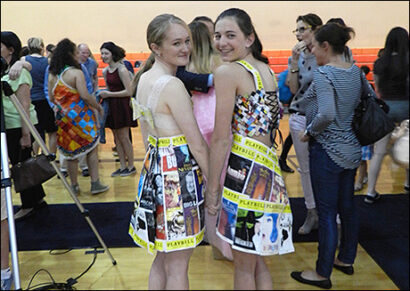 Although neither Epstein nor Antell is an actress, they both love going to the theatre and said that Broadway has been a big part of their growing up in New York City.
"Living in New York, it's sort of been a part of our lives," said Antell. "Our families have always loved theatre. It's been tradition, I think, for both us to go to the theatre with our families or even with our friends."
Epstein added, "And, my sister is an actress. She's in college, but she's always loved acting, so growing up, I was always watching my sister's shows. I was used to seeing different shows, and I learned to appreciate different things from different shows. And, when I was younger, I would spend most of the show looking through the photos of the Playbills, and that's when I started to appreciate how cool Playbills were, so I think that's partly how I thought of the idea."
For the record, Epstein said she's obsessed with the musical Legally Blonde, and Antell has seen Mamma Mia! on Broadway four times — it's one of her favorites.
And, as for fashion, Antell's family has a history in the business. Her mom was in the fashion industry and inspired her to take part in this year's fashion show.
"People liked them!" said Epstein of their designs.
Antell added, "When they saw it, they really appreciated the vibrant colors."
They haven't even thought about how to top their Playbill-chic style for next year's show. Antell admitted, "It's going to be pretty hard."
(Playbill.com features manager Michael Gioia's work appears in the news, feature and video sections of Playbill.com as well as in the pages of Playbill magazine. Follow him on Twitter at @PlaybillMichael.)