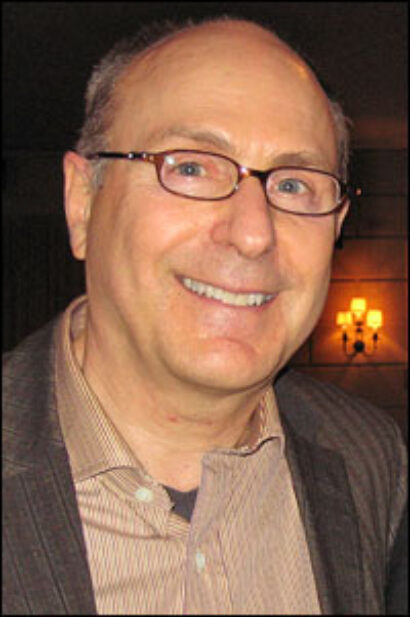 *
The sheets listing the settings that are taped to the wall of the Lincoln Center Theater rehearsal room read like a history of the American theatre in the early 20th century: "Jed Harris' hotel," "Sam Harris' office," "Kaufman house." What play could include scenes in so many dens of theatrical power?
The play version of "Act One," the classic theatrical memoir by playwright Moss Hart, that's what. Sixty-five years after it was published, Hart's memoir has been converted into a play by writer-director James Lapine. It seems only a natural destiny for a book considered by many to be one of the greatest books ever written about the ways and manners of the theatre, written by a man whose greatest desire, since a tender age, was to become a member of the business called show.
"I actually thought it would be a great movie," said Lapine on his original thinking upon reading the tome. "I kept it in the back of my mind." But when the opportunity arose to translate the work to the stage, he seized it. "I read it in my 40s. It's an old book. Twentysomethings don't really know the book anymore. The nice thing about this is it may introduce the book to a new generation."
When it was pointed out that it perhaps ironic that it had taken this long for "Act One" to be theatricalized, Lapine could only comment, "Lucky me." The notion of crafting a play out of the memoir had, however, occurred long ago to Christopher Hart, one of Moss' children.
"I had been interested in getting a play version of my father's book for many years," he said. "I was looking around for the right guy." Following a lunch with Lapine, he knew he had found that man. "His relationship with Sondheim and his early success, having worked with his idol and mentor, mimicked my father's relationship with Kaufman. It seemed like a perfect fit."
In rehearsal, a three-hour, three-act play had been whittled down to two-and-a-half hours and two acts. Still, there was room in the drama for not one, but three Moss Harts: Matthew Schechter, who plays "Mossy" as a young boy; Santino Fontana, who portrays Hart as a striving young man; and Tony Shalhoub, as the elder Hart who wrote "Act One," looking back on his earlier life.
The play is novel-like in its breadth. Aside from Fontana, each of the actor plays multiple roles. In most cases, those characters include historical figures still familiar to theatre aficionados.
Chuck Cooper
plays poet
Langston Hughes
and producer Max Siegel.
Andrea Martin
plays
George S. Kaufman
's wife Beatrice, as well as Hart's agent Frieda Fishbein.
Will LeBow
plays director-producer Jed Harris, while
Bob Stillman
is producer Sam Harris. (Or, "Bad Harris" and "Good Harris," as Stillman put it.)
Schechter, too, does double duty, essaying both Moss and his brother Bernie. "The brothers are completely different," he said. "Young Moss Hart is completely passionate about the theatre, he's passionate about school. Bernie's more of a sports person. He likes to go outside and play baseball, play gin rummy."
Shalhoub has the most titanic and singular task. Not only does he play Hart, but also Hart's frequent writing partner, the eccentric, acerbic, wild-haired dynamo Kaufman. Thus, Shalhoub is, in one person, both halves of one of the greatest writing teams in theatre history.
In several cases, being cast in the play has caused the actors to bone up on the source material — a book that was once a de facto must-read in theatre circles. "I was completely unfamiliar with the book," laughed Cooper. "I'm not the most well-read person on the planet. I leave that to my smart wife."
"I read it many many years ago as a course in college," Martin said. Once cast, she picked it up again. "I read it with many years of experience behind me and it had a much different meaning." If Lapine is intimidated by the responsibility of adapted a beloved theatrical text, he isn't letting on. "The only thing daunting about it is when I think about people coming to see it, because there's an expectation that they've read it, and they have certain scenes in their head, and they had certain expectations," he said. "I think if you read it as a young person it is very resonant in a way it isn't for older people."
The Hart children, at least, are satisfied.
"What he's done to illustrate to the arc of my father's life as a piece of theatre is just fantastic," said Catherine Hart.
That people are able to hear how Moss Hart spoke and thought — not how he created fictional characters, but how he talked as himself — was very important to Christopher Hart. "He was able to use his own voice in this one instance," he said.