*
Sitting in a far corner of the second-floor bar at Sardi's, wearing a low-crowned straw hat and the goatee he'd grown for his role in the new Broadway revival of La Bête, actor David Hyde Pierce looks like Paul Gauguin might have 130 years ago. That's partly fitting, since the character he plays in David Hirson's modern verse play, Elomire, is French, albeit a playwright of the 17th century, not a painter of the 19th.
"In London, I was looking for a hat because I thought it was time to move on from baseball caps," said Pierce, talking of the summer West End run La Bête had prior to its Broadway move. He didn't find a hat. But his co-star Stephen Ouimette, who plays Bejart, had bought one in Chicago which didn't fit him. "So he gave me this and I love it. So it's my new look."
Pierce did not order an absinthe, as Gauguin surely would have. A Stoli Martini with four olives was his choice. He ordered it after learning of his interviewer's intention to order a (gin) Martini. "That's very interesting," he said, rubbing his chin. And he did indeed seem to find it sincerely interesting. Pierce has a gift for sincerity. When he says he loves being a part of the theatre — and he says it fairly often— you believe him.
Pierce has a caricature on a Sardi's wall somewhere. He received it while starring in Spamalot in 2005. Told that current Sardi's caricaturist Richard Baratz had to make six stabs at drawing actor Gene Barry before he got it right, Pierce recalled, "We did a 'Frasier' episode like that, about a Sardi's-type place in Seattle. And Frasier got the great honor of having his caricature done and hated it. And they got them to redo it and he hated it again. And tragedy ensues." Spamalot marked Pierce's return to the New York theatre. His last play in Manhattan prior to that had been Jules Feiffer's Elliot Loves at 1990 Off-Broadway, back when he was billed simply as David Pierce. After that he went to Hollywood, did 11 seasons at Frasier Crane's supercilious yet soulful brother Niles, and became famous and wealthy. He's done a flurry of stage work since Spamalot — Accent on Youth, Curtains, for which he won a Tony Award, and now La Bête. But that shouldn't necessarily be interpreted as the reaction of a stage creature finally freed from the yoke of weekly television.
photo by Joseph Marzullo/WENN
"The writing was very play-like," on "Frasier," said Pierce, "and the cast was almost all theatre people. And the guest cast was everyone from Broadway. I never missed the theatre at the time, but I knew I was heading back to the theatre as it was ending."
Pierce's first professional job, and his Broadway debut, was in Christopher Durang's Beyond Therapy. It opened in May 1982, and the memory is very much tangled up with Sardi's. "The opening-night party was at the Milford Plaza," recalled Pierce. "But first I came here. I was having dinner. My mom and dad had come to the show. Somehow there was a group from the theatre at Sardi's. This was back when the review came out at 11 PM. Two things happened. I met my agent. She came up to me at Sardi's, introduced herself and said, 'Hi, I'd like to represent you.' I didn't know who the hell she was. Her name is Marilyn Szatmary. She's been my agent since then. The second thing was the New York Times review came out, and it was not good. We read it and I thought, 'I should get to the party.' It was half a block away. I walked in and the lobby where the party was was empty. Chris Durang was there with one friend. That was my introduction to the Broadway theatre."
Beyond Therapy disappeared in two weeks. "It was a great introduction to the Broadway theatre," said Pierce, "because you got everything all at once."
That review was by Frank Rich, the same man who failed to rave about Hirson's La Bête — surely the only modern verse play to hit Broadway in the last quarter century — when it first debuted on Broadway in 1991. Bizarrely enough, Pierce says Rich and his wife, journalist Alex Witchel, are partially responsible for his joining the revival of La Bête.
"Since Frank started writing Op-Ed pieces for the Times — most of which I fervently agree with — we've become sort of friends," explained Pierce, who seems to approach even the most unpleasant aspects of his profession with a certain equanimity of mind. "We see each other at parties. I was at a party with them. I'd been offered the show. I'd read it like five times. I was seriously considering it. I was very drawn to the character. I was dealing with the issue of it being a complicated play, and was also dealing with the issue that, having reached a certain point of being the lead, in Curtains and such, that really Mark Rylance has the title role in this show. I was wondering, 'Is that a mistake? Is that that wrong thing career-wise.' That was roiling in my head at this party and I looked at Frank and I thought, 'Oh my God. I can actually talk to you about this.' This man, who was so intimately involved in the fate of this play. They both said, for different reasons, 'You should do it.' Frank said — interestingly, since he had dismissed it in print — 'I think it's a play that's worth investigating.'"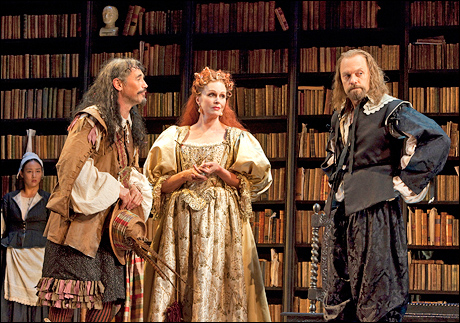 photo by Joan Marcus
photo by Joseph Marzullo/WENN
In La Bête, Pierce plays a high-strung and high-minded court playwright, whose patron is a certain Princess. His plays are very serious, and he is affronted when he's forced by a royal writ to accept into his troupe a vulgar, and vainglorious, clown named Valere — the beast of the title. For 30 of the play's first 40 minutes, Elomire and his colleague Bejert must endure a monologue from the unctuous Valere of unsurpassed solipsism and vacuity. After that, they must battle with Valere for the Princess' affections, even to the point of having to perform in one of the intruder's primitive plays.
Pierce was not unfamiliar with the play, which, despite having flopping in a month's time in 1991, was something of a cause célèbre at the time. "It was one of the last things I auditioned for," he told. "I did not remember. The playwright reminded me. It was for the Dylan Baker part. At that time, the part that Joanna Lumley plays now was a Prince." (Dylan Baker was nominated for a Tony for his work as the outrageously fey royal.)
"It's interesting it got such a quick demise on Broadway, since everyone I talked to remembers it as one of the most memorable theatre experiences they've ever had," he continued. "It's a play that demands creativity. You don't just do this play. You have to step up to the plate."
The actor is at ease with verse. Moliere is among his stage credits, so he's comfortable with the language in La Bête. "It's finding that balance of the rhythms of a Shakespeare play, but with words which are not as arcane to modern ears. So it's a little bit easier."
And though he says he's never gone up on his lines, the producers can be comforted by the fact that, if forced, he can create rhyming couplets on the spot. "I was at the Guthrie Theater doing Tartuffe. I was so busy overacting, I kicked my foot and my shoe came off and went sailing into the audience. I while I was finishing my speech, the audience was busy passing the shoe hand over hand. I got to the end of the speech and they tossed it on stage. And I picked it up and said, 'Now look and what you've gone and made me do/You got me so upset I tossed a shoe.'" (Robert Simonson is a special correspondent for Playbill.com whose work is also seen in the pages of Playbill magazine. His most recent book, "The Gentleman Press Agent," was published by Applause Books in June. Write him at rsimonson@playbill.com.)
Highlights from La Bête: