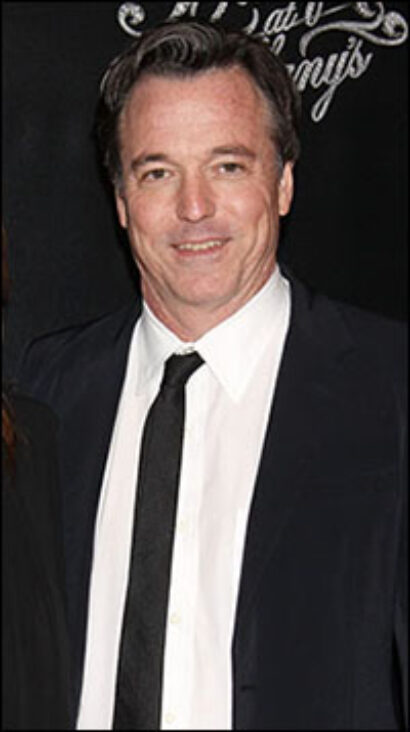 *
As audiences entered the Walter Kerr Theatre this fall, they were invited to the grand and opulent home of Dr. Austin Sloper and his daughter Catherine in Broadway's The Heiress.
"My inspiration for The Heiress was that I wanted to tell a story about the wealth of the Sloper family, but also, at the same time, try to convey the sense of restraint that also exists in that family," said McLane about the recent Broadway revival that starred Oscar winner Jessica Chastain as the play's title character. "The house has to exude enough wealth and enough grandeur that Morris [played by Dan Steven] sort of immediately responds to it. It's not only a place he wants to be because it was nice, it's a place he aspires to live [in]… For me, that was a subtle balance — trying to achieve both of those things at the same time."
Augustus Goetz and Ruth Goetz's 1947 drama sets the Sloper family in 1850s Washington Square, New York City. The action takes place at the Doctor's (David Strathairn) home, an object of desire for Morris Townsend, the middle-class young man who courts Catherine, the heiress.
"I did a lot of research looking at houses of that period, both in photographs and going around Washington Square. I went to Merchant's House, which is near Washington Square," said McLane. "It was useful in terms of seeing the layout of the architecture, but, in fact, I ended up adding a lot more detail than were in those real houses."
Details at the Sloper home included walls made of lace ("We had the lace milled in Scotland, by a mill in Scotland," added McLane.), period furniture and a majestic staircase — a character, in itself, in Broadway's
The Heiress
— that protruded into the center of the stage.
"The combination of red and black seems very wealthy. That's just kind of a powerful, classical combination," added McLane on his choice of color.
About the famous staircase, he said, "I don't know that very many people are aware of this: That staircase moved very, very slowly in the last scene — so slow that it was imperceptible, but it came forward into the room before Catherine Sloper ascended the staircase. It moved about four or five feet during that last scene… When [director] Moisés Kaufman and I were studying the model, we were looking at where to place the staircase during the last scene so that it was fully in view for every single seat in the audience and that it felt as important as we wanted it to feel."
As the play ends, Catherine famously exits by ascending the staircase. "There couldn't be anything that was left too plain," said McLane of the Broadway revival.
McLane talks about the set of The Heiress:
The Off-Broadway revival of
Jason Robert Brown
's
The Last Five Years
, housed at Second Stage's Tony Kiser Theatre, proves to be timeless — with the assistance of McLane's chic and contemporary set design — although its characters live in 1990s New York City.
"We kept it in the 90s without trying to make too fine a point of that," admitted McLane. "I really wanted it to feel fresh and as much like a new piece as we could. There were a couple of interesting challenges about that design. One of them was featuring musicians on stage, which is something that Jason and I talked about doing very early on. He made a very strong argument for that, which I thought was very compelling. The piece is sung through almost entirely, and, except for one scene, it is one person on stage at a time. It is so much about them singing the music that he felt like seeing the musicians would be a beautiful part of that picture, and I totally agreed."
McLane, who displaces the orchestra in various spots against the back wall of the theatre — creating a musical backdrop for the characters of struggling actress Cathy Hyatt (Betsy Wolfe) and on-the-rise Jewish novelist Jamie Wellerstein (Adam Kantor) — pointed out that, because of Brown's specific vision, the musicians were faced with memorizing the entirety of the 90-minute, intermissionless piece.
In front of the musicians, McLane placed floating window frames that dropped from the theatre's fly space above. Why windows? "The most obvious reason is [that] I was trying to create a cityscape — a New York cityscape. [Also, there is] something about glimps[ing] into other people's lives — you know that this is one of a million stories going on in the city…behind every one of those windows is potentially another relationship or another life."
In some scenes McLane accents the windows with various projections — snow during Christmastime, a pond in Central Park and a highway full of cars. "[The projections in the windows] seemed like a way of introducing [the outside world] without it ruining the vocabulary of the rest of the piece — it was contained enough that they seemed like glimpses," said McLane. "You weren't seeing much digital imagery there because they're contained by the frames… Your mind sort of fills in the rest of it." In The Last Five Years, creator, composer and director Brown asks the audience to fill in multiple gaps, piecing together the beginning, middle and end of a couple's failed, yet beautiful, relationship.
Watch highlights from The Last Five Years:
In
Breakfast at Tiffany's
, McLane's latest Broadway project, the audience is transported to the smoky streets of 1940s New York City.
"Not only is the story a love affair with Holly Golightly [played by Emilia Clarke] for Fred [played by Cory Michael Smith], the writer, but it's also [a love affair] with New York City," said McLane. "To me, a big component of [Breakfast at Tiffany's] is a love letter to Manhattan and that era… That period is so embodied by the photographs of Andreas Feininger. He was this great photographer of New York City in the 40s. His photos were black and white. He was the son of an immigrant painter. And, if you look at Feininger's photographs, he clearly has a love affair with NYC also. He's not a writer — he's a painter — but he seemed like a great visual corollary to [novelist] Truman Capote. We got the rights from the Feininger estate to use his photographs, so those scrim panels that tracked across the stage — and also, there's this big translucent drop upstage — they were all printed with collaged versions of Feininger's photographs… A lot of the time they were obliterated by projections that went on top of them, but when the projections were gone — what we were left with — was this kind of cityscape that's very romantic, I think. It was this nighttime cityscape — romantic and hazy and spooky and gauzy and a little faint because it's sort of recollected. It's a memory."
Like The Last Five Years, McLane's slight use of projections make New York City come alive.
"There's a fabulous booked called 'New York in the Forties'…and a huge number of photographs in there are by Feininger," McLane continued about his inspirations for the piece. "What led me to it is [the question] of, 'What captures that feeling of New York more than anything?' And, it's those photographs."
Watch highlights from Breakfast at Tiffany's:
"It was an enormous thrill and honor to be asked to do it," said McLane about designing the set for this year's
85th Annual Academy Awards
. "It was somewhat terrifying at first because I was well aware that the Oscars are watched by some ridiculous number of people — like a billion — but it's also a show that people enjoy critiquing. That's something of an American sport — to sit around and critique the Oscars. So to be entering that arena was nerve-wracking at first, but it was really exciting."
How did he get the job? Neil Meron and Craig Zadan, who produced this year's award ceremony as well as the recent Broadway revival of How to Succeed in Business Without Really Trying, which McLane designed the set for, enlisted the Tony-winning Broadway designer.
"They were quite inspiring in the beginning because they said to me that they really wanted me to do work that looked like my own work — work that I wanted to do," said McLane on working with the duo. "They didn't want me to design this to look like some other Oscar show. They wanted it to look like my own Oscar show, and that was an enormously liberating thing for [them] to say."
This year's Academy Awards honored music in film, and "how that translated visually," said McLane, "is pretty abstract in a lot of ways." The proscenium was made of approximately 1,000 Oscars, and "each one was individually lit," he added.
Watch highlights from the 2013 Academy Awards:
The world premiere of Bunty Berman Presents… is McLane's current project. Set in a 1950s Bollywood studio and incorporating music inspired by the Golden Age of Hollywood, the New Group production began previews April 12 for a run through June 1. Opening night is set for May 9.
"It's really a funny comedy about a Bollywood producer in the 1950s in Bombay whose movie studio is failing, and he's trying to create a hit," said McLane. "He's trying to rescue his movie studio from bankruptcy… It's a pretty funny piece, and it's a totally unusual world for a musical — India in the 1950s. The [show is] set in his studio — the Bunty Berman soundstage — and it has to become a zillion different places through the course of the show, which is a challenge at The New Group because the theatre's tiny."
McLane pulled from his earlier days, when he lived in India, to design the Off-Broadway show. "I've actually been to India a lot, and I lived in India when I was a child," he said. "I couldn't find very many good photographs of movie studios from that era, and the movie studios in India now look pretty much like the movie studios here in Hollywood… So some of that [design] is really imagined. But one of my memories from childhood is that my parents used to take me to a carnival in Calcutta, and I would ride on the Ferris wheel, [which] was made entirely of bamboo that was lashed together… My memory of the bamboo Ferris wheel became sort of my inspiration."
The challenges of working in The Acorn Theatre, where the new work plays, included working with no fly space or automation and limited wing space and depth. "We had to embrace that," said McLane. "[The show] has that kind of handmade quality to it."
For more on McLane's new project, visit TheNewGroup.org.