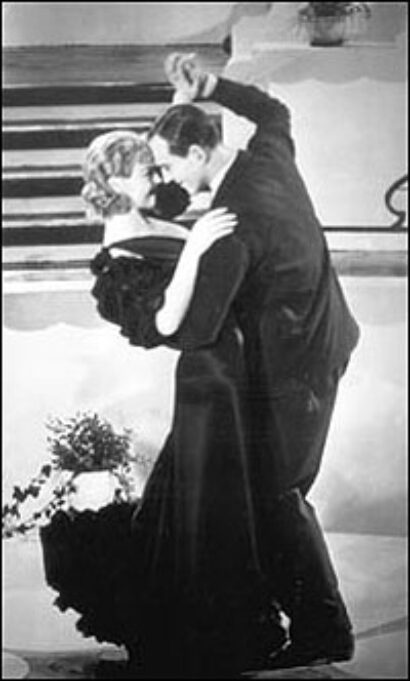 In 2005, the resident theatre company devoted to contemporary plays and musicals had success with Sisters of Swing, helmed by Lynnette Barkley and Christopher McGovern, and invited the pair to create a new musical for audiences in the West Palm Beach area.
Bowing March 23–April 29, 2007, Backwards in High Heels will use original songs by composer McGovern, as well vintage movie musical numbers.
Although billed as "based on the life of Ginger Rogers," the work is a fictionalized account that will be somewhat non-linear, McGovern told Playbill.com.
"We want to give the essence of her life — we're not there to recreate old Fred and Ginger routines," said co-creator Lynnette Barkley, a three-time Carbonell Award winner for her direction and choreography of such Florida shows as Beguiled Again and Puttin' on the Ritz.
Backwards in High Heels is conceived and developed by Lynnette Barkley and Christopher McGovern, with book, musical arrangements and original songs by McGovern, who co-wrote the musical Lizzie Borden, and directed and choreographed by Barkley. McGovern admits that the challenge of writing about the late Rogers is that the Academy Award winner ("Kitty Foyle") was notoriously "tight-lipped."
"You have to dig with her," McGovern said. "She was not terribly scandalous…"
Despite five marriages, the juicier conflicts in her life had to do with her relationships with Hollywood producers and how she challenged movie studios to pay women stars fairly.
"I'm attracted to stories about strong women who stand up for what they want," McGovern said. "She was one of the first women to put her foot down and demand equal pay. She stood up to RKO."
"A strong woman in the industry at that time is part of what appealed to me," Barkley echoed, adding that Rogers' relationship with her mother is also central to the show.
McGovern said the musical will use dance to tell the story, and the creators will borrow from the catalog of Kern, Berlin and other songwriters to tell her story. Barkley and McGovern examined lyrics to the famous movie tunes to determine what would best suit the real-life story and move the plot along. This is not a concert musical, McGovern said.
The cast of six will include an actress to play Rogers, an actress to play her mother, a third woman to play various roles, from Katharine Hepburn to Ethel Merman; and three men — one playing dance partner Astaire, one playing Ginger's stepfather and a third playing multiple roles.
Rogers and Astaire were major international stars in the 1930s, lifting Depression weary audiences into a world of impossibly stylish musical fantasy. Their films for the RKO studio included "Flying Down to Rio" (1933), "The Gay Divorcee," "Roberta," "Top Hat," "Follow the Fleet," "Swing Time," "Shall We Dance," "Carefree" and "The Story of Vernon and Irene Castle" (1939). They were reunited for the 1949 M-G-M picture "The Barkleys of Broadway" (their only picture in color). She is also remembered for turns in "42nd Street," "Gold Diggers of 1933," "Roxie Hart" and "Kitty Foyle," for which she won the Academy Award for Best Actress in a Leading Role.
Ginger Rogers was born Virginia Katherine McMath in Independence, MO, in 1911 and died of congestive heart failure in Rancho Mirage, CA., in 1995.
In addition to her film career, Rogers appeared on Broadway in the Gershwins' Girl Crazy in 1930, as well as Top Speed (her Broadway debut in 1929), Love and Let Love (a play in 1951) and as replacement Dolly Levi in the original run of Hello, Dolly! She was also seen in summer stock and on tour, and directed musicals.
In addition to directing and choreographing for resident theatres, Barkley is a partner in the production events company Barkley/Kalpak.
McGovern produced solo CDs featuring Rebecca Luker ("Leaving Home" on the PS Classics label) and Susan Egan ("Coffee House" and "Winter Tracks" on the LML label).
*
Florida Stage's 2006-07 season will also include the Southeastern premiere of Michael Hollinger's Opus; the world premiere of David Wiltse's Hatchetman, an ode "to the best of the screwball comedies, a farcical frolic through the offices of a distinguished golf magazine"; the world premiere of Thomas Gibbons' A House With No Walls; and the Southeastern premiere of Bruce Graham's According to Goldman.
A summer 2007 title will be announced. Florida Stage is in Manalapan, FL. Louis Tyrrell is the producing director. Nancy Barnett is managing director.
Visit www.floridastage.org.