*
Three-time Tony Award nominee, self-called "semi-star" Sherie Rene Scott is a performer like no other. In her somewhat autobiographical Broadway musical, Everyday Rapture, she joked about herself and fellow diva Idina Menzel replacing each other in musicals. It's kind of hard to believe anyone has ever replace Sherie in anything. Her voice is completely unique — a sizeable belt with a high range and a disarming sweetness. There is absolutely zero harshness in Sherie's voice. You would swear she was a soprano when her bright voice makes the pitch-perfect leap to high note, but there's never any air or wobble to her tone. In fact, her tone is often completely straight-tone, only allowing vibrato when she desires it. It's a combination of beauty and conversational effect that makes her singing both moving and gorgeous. The closest comparison I can think of is Christine Ebersole, but where Ebersole connotes jazz and even opera, Sherie is an exciting fusion of pop, rock and Broadway. This has made her an indispensable star in Broadway and Off-Broadway musicals over the last 20 years or so, as well as a force to be reckoned with in her occasional forays into cabaret and solo work.
Click through to read my selections for the Essential Sherie Rene Scott on disc.
Everyday Rapture
Without question, the go-to, desert island disc for a Sherie Rene Scott primer is the 2010 Broadway musical, Everyday Rapture, she co-wrote (with Dick Scanlan) and starred in for 85 performances at the American Airlines Theater. This show (based on her life) premiered in 2009 at Off-Broadway's Second Stage and was immediately a major event on the scene. Sherie had been gaining fans and respect for years and years, but with her singular voice, quirky personality and idiosyncratic sexiness, she remained somewhat undefined as an entity. Was she the leggy blonde? The goofy clown? The tempestuous diva? An unlucky-in-love girl Friday? Everyday Rapture proved she was all those things, as well as a gifted writer and storyteller, capable of carrying an entire evening.
The recording is nothing short of a gift, with Sherie in top vocal form singing flattering and exciting arrangements of a host of effecting dramatic songs that just toe the line of obscurity enough to become all her own, including Harry Nilsson's "I Guess The Lord Must Be In New York City" and "Remember," Tom Waits' "Rainbow Sleeves," George Harrison's "Give Me Love (Give Me Peace On Earth)" and The Supremes' (first post-Diana Ross) hit "Up The Ladder To The Roof," along with the Judy Garland staples, "On The Atchison, Topeka And The Santa Fe," "Get Happy" and "You Made Love You" and even Mr. Rogers's "It's You I Like" and "Won't You Be My Neighbor?" She is richly supported by back-up singers and future stars Lindsay Mendez and Betsy Wolfe, and makes a lasting musical impression. You may find yourself walking around singing Sherie's tunes.
Piece of Meat
Sherie Renee Scott's 2012 follow-up to Everyday Rapture, Piece of Meat, is a more straightforward cabaret act in terms of format — just Sherie and a band, led by the talented composer, arranger and musical director Todd Almond. In terms of content, however, Piece of Meat, is a much darker and more introspective undertaking. Singing sophisticated songs by Paul McCartney, Annie Lennox, Robin Thicke, Pete Townsend and Almond, Sherie explores her vegetarianism and obsession with McCartney, among myriad other evocative, provocative and even esoteric topics in this musical vision quest. Most of that is missing from the studio album version of Piece of Meat, "All Will Be Well," but you won't want to miss these recordings as they stand on their own for repeated listening pleasure.
Women On The Verge
Lincoln Center Theater's 2010 Broadway production of David Yazbek and Jeffrey Lane's musical adaptation Women On The Verge Of A Nervous Breakdown, directed by Bartlett Sher, may not have been as popular as Pedro Almodovar's original (and seminal) film, but the cast recording it yielded is a treasure trove of diva fabulousness provided by its all-star cast including such powerhouse ladies as Patti LuPone, Laura Benanti, de'Adre Aziza, Nikka Graff Lanzarone and Mary Beth Peil, all led by Sherie Rene Scott as Pepa. Sherie shines in all her material and, especially, is undeniably impressive on the intense "Island." You may find yourself wondering why this show failed to catch on.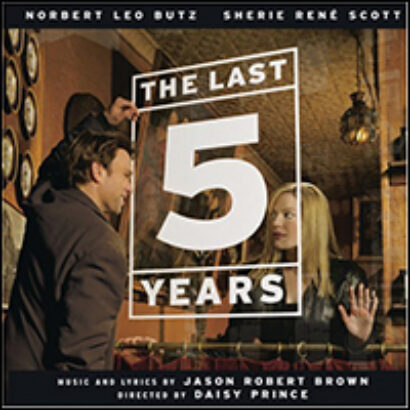 The Last Five Years
I was lucky enough to see an early screening of the film adaptation of Jason Robert Brown's 2002 Off-Broadway musical cult classic, "The Last Five Years," and I was blown away by Richard LaGravanese's deft adaptation for the screen and the stellar performances by Anna Kendrick and Jeremy Jordan. While I was never a huge fan of the show, something I have always loved about the original production is Sherie Rene Scott's shimmering performance as Kathy, a role that established her as a leading lady of depth and beauty. We had loved her belting and comedy, but this put her on the map for her heart.
The show that first put Sherie Rene Scott on the map was her creation of the role of Amneris in 2000's original Broadway production of Elton John and Tim Rice's Aida. Whatever you thought of this spectacle, there was no other reaction of Sherie's performance than adulation. It was a star-making turn, particularly in her showstopping, hilariously funny, belted-to-the-rafters rendition of "My Strongest Suit."
"Men I've Had"
Sherie Rene Scott's debut solo album (like many of her recordings, on the record label she founded with Kurt Deutsch, Sh-K-Boom Records), "Men I've Had" is quite simply a joy to play and replay again and again. Sherie was at the forefront of the contemporary trend of theatre singers taking pop songs and making them their own, and her work here is exemplary, filling out the theme of songs by men she's worked with including Elton John, Randy Newman, Pete Townsend and even Kander and Ebb (she was involved with their adaption of The Skin Of Our Teeth, which has, sadly, never played New York).
Sherie Rene Scott's first collaboration with songwriter David Yazbek was the 2005 Broadway hit Dirty Rotten Scoundrels. She's an absolute delight on the cast album, and you can practically see her scintillating sexiness listening to her tracks. This is the leggy blonde at her best and most compelling. With her heart and voice of gold, Sherie is a leading lady to be reckoned with.
(Ben Rimalower is the author and original star of the critically acclaimed Patti Issues, currently on a worldwide tour. His new solo play, Bad with Money, performs through Nov. 6 at The Duplex in NYC. Read Playbill's coverage of the show here. Visit him at benrimalower.com and follow @benrimalower on Twitter.)