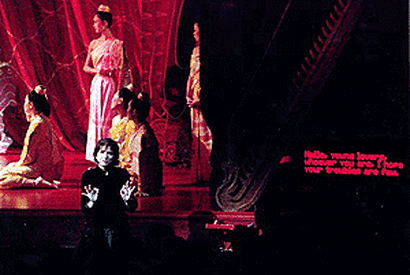 The Theatre Development Fund (TDF) has announced that Rent, and Footloose will give special performances geared for the deaf and hard of hearing.
On Sept. 22 at 8 PM and again on Sept 26 at 2 PM, Rent will present its first open-captioned performances of the Tony and Pulitzer Prize winning musical.
On Oct. 6, 13, 20 and 27, the first simultaneously sign-language interpreted and open-captioned performances of Footloose will be presented at Wednesday matinees for deaf and hard of hearing school children.
These programs are part of TDF's Theatre Access Project (TAP), the 20 year-old award-winning program that provides access to the performing arts for people with disabilities. The Wednesday matinee performances of Footloose are administered as part of the TDF/TAP "Talking Hands" program.
This year marks the twentieth season of American sign-language interpreted performances and the third season of open-captioned performances of Broadway and Off Broadway shows for people who are deaf and hard of hearing. The first sign-interpreted performance of a Broadway play was presented by TDF/TAP in 1980 with the Tony-winning play, The Elephant Man. Since then, hundreds of sign-language-interpreted performances have helped thousands of deaf and hard of hearing individuals to enjoy live theatre. In 1997, TAP initiated the first open-captioned performances of Broadway shows, beginning with Barrymore.
TDF's Lisa Carling , who runs TAP, discussed the priority program just before she was scheduled to attend a demonstration of a captioned performance at the Palace Theatre . Carling believes that captioning offers the best solution for opening theatre to the hearing disabled.
"What's most important now is getting more captioned performances in theatre, not only on Broadway but all around the nation, " Carling told Playbill On-Line.
Carling believes there is an untapped audience for theatre, specifically those people who have stayed away from the theatre for as long as 10 or 20 years, because they simply could not hear the performance.
"A caption unit is very unobtrusive ," Carling explained. "It measures four and a half feet long, is 10" high and 5 " deep. Because it is portable, it can be positioned on house left or right, or hung on the proscenium, or positioned on a stand. It doesn't require the theatre to install supertitles as they have in the New York City Opera.
" I think the theatre community understands what captioning is all about," Carling added, "it's a vital assistive device for a large number of people with hearing loss."
Carling said there are 28 million people in America with hearing loss, and while the level of disability varies from minor to profound, it affects ten percent of the entire population. The TDF program seeks to address the need to trade up from sign language or infrared systems which, while standard in most theatres, are not always helpful to the vast majority of the hearing disabled. In fact, of the 28 million people who suffer impaired hearing, only half a million know and understand how to sign.
"When you have a caption unit in a theatre," Carling explained, "you make theatre accessible to them."
According to TDF, open captioning appears in red letters on a small digital screen which is located in front of one side section of the orchestra. Scrolled manually in synchronization with the dialogue on stage, the script is entered ahead of time by open caption developer and operator, Don DePew, so that the captions appear with no time delays or transcription errors during the performance.
This June the TDF/Juilliard Signing for the Theatre Program offered a week-long summer intensive, Interpreting for the Theatre, which gave signers a valuable course in signing.
For information on how to obtain discounted tickets to open captioned performances, sign language interpreted performance and other TAP services for people with disabilities, please contact Theatre Development Fund at:(212) 221-1103, TTY (212) 719-4537 or e-mail tap@tdf.org.