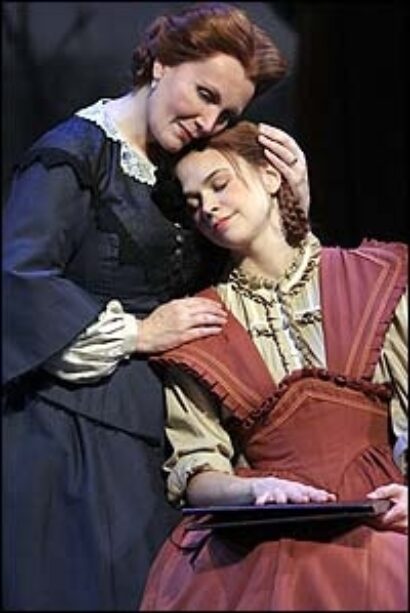 Could it really be that the classic Louisa May Alcott novel, ripe with coming-of-age incidents — romance! artistic yearning! sibling jealousy! — has never been seen as a Broadway musical?
Although the popular 1868 title has been musicalized regionally, but it took the producers Randall Wreghitt, Dani Davis and their partners to bring a musical version of the American tale to Broadway. Allan Knee penned the libretto, Jason Howland the music and Mindi Dickstein the lyrics.
Previews began Dec. 7, 2004, following a fall 2004 tryout at Theatre Previews at Duke in North Carolina.
In Little Women, aspiring writer Jo March — played by Tony Award-winner Sutton Foster — looks to family gatherings of the past for inspiration. The show begins with Jo as a struggling creative writer in a New York City boarding house, where she is a distraction to German-born Prof. Bhaer (John Hickock) and the Irish landlady, Mrs. Kirk (Janet Carroll).
Susan H. Schulman directs a company that includes silken-voiced Maureen McGovern as Jo's mother, Marmee, who struggles and dreams with her daughters during Civil War days in New England. Father is at away war, they are poor — but they have each other. McGovern has brought down the house in recent weeks singing an anthem called "Days of Plenty" as the Act Two 11 o'clock number. In the period 1863-1867, Jo and her three sisters Amy (Amy McAlexander), Beth (Megan McGinnis) and Meg (Jenny Powers) look to the future and come of age in the story that is both sentimental and optimistic.
"I call it a three-hankie musical," Maureen McGovern previously told Playbill On-Line. But it's also got "a lot of laughter," she added.
The cast also features Janet Carroll as Aunt March, Danny Gurwin as Laurie (the boy next door), Robert Stattel as Mr. Laurence and Jim Weitzer as John Brooke. They are joined by understudies Anne Kanengeiser (the standby for Marmee and Aunt March), Julie Foldesi, Christopher Gunn, Larissa Shukis and Andrew Varella.
In the novel for young people, based on the author's own New England family life during the Civil War, boy gets girl, girl spurns boy, friendships shift, siblings are separated, a father is absent due to war, dreams are hatched, and one sister dies.
The musical is based on Allan Knee's Theatreworks/USA play of the novel. Knee reworked the play into the current libretto, itself a reworking of an earlier musical version he had penned with songwriters Kim Oler and Alison Hubbard (The Enchanted Cottage).
After developing the Knee-Oler-Hubbard work, the producers chose to bring in new songwriters (Howland and Dickstein) and not use the earlier score.
According to the opening night Playbill, the Howland-Dickstein score includes the following titles: "An Operatic Tragedy," "Better," "Our Finest Dreams," "Here Alone," "Could You," "I'd Be Delighted," "Take a Chance on Me," "Better" (reprise), "Off to Massachusetts," "Five Forever," "More Than I Am," "Take a Chance on Me" (reprise), "Astonishing," "The Weekly Volcano Press," "Off to Massachusetts" (reprise), "How I Am," "Some Things Are Meant to Be," "The Most Amazing Thing," "Days of Plenty," "The Fire Within Me," "Small Umbrella in the Rain," "Sometimes When You Dream."
*
Echoing the still-contemporary themes of war, parenting and loss, is a score that has a contemporary feel — Howland and Dickstein don't write dainty Stephen Foster pastiche, but a mix of traditional Broadway-style tunes with some flashes of pop arrangements.
"Well, we feel it's a contemporary story, without being overt about it," said Dickstein. "Just as there are contemporary qualities to the music and the characters and story and certainly the lyrics, I'm still conscious when I use a word or a phrase, I look it up and see if it was used at that time. I want to be true to the period. What we always say is that we're honoring its essence — the spirit of the story, yet also trying to bring out what's in it that is modern. [Alcott] was a modern woman."
Composer Jason Howland explained, "We've had people come to presentations in the past two years, and people have said, 'Somebody needs to talk to the composer — it's not period at all.' One of my strong influences is Richard Rodgers, who always managed to have the idea of the world he was operating in without ever being overt. Like with The King and I, he didn't write in the pentatonic scale all day long for that show."
Howland continued, "We have one overtly period number, 'Off to Massachusetts,' but otherwise, Jo is a contemporary heroine, so the contemporary sound of it makes sense. At the same time, there's no overt anthemic pop song from Chess and nothing electric in the pit. I hate synthesizers in the pit."
The 10-actor chamber musical, capitalized at $5.6 million, has 12 musicians and a conductor (Andrew Wilder, the music director and one of the arrangers) in the pit.
*
The musical is slice of Victorian family life that includes hardscrabble days, budding romance, Christmas joys and painful loss.
Sutton Foster won the Tony Award for Best Actress in a Musical for Thoroughly Modern Millie.
McGovern is the actress and recording artist known for everything from "The Morning After" to studio recordings of Let 'Em Eat Cake and Of Thee I Sing, as well as appearances in Broadway shows (The Pirates of Penzance, 3 Penny Opera).
Director Susan H. Schulman is known for Violet, The Secret Garden and The Sound of Music.
Little Women is an American literary title so obvious that it's a surprise that a musical version hasn't hit big on Broadway yet. A search of the internet reveals a number of musical versions of the 1868 property, which is in the public domain and therefore ripe for free picking by playwrights and songwriters.
The Modern Library has reissued the novel, with a new introduction by Susan Cheever and cover art that echoes the logo of the musical.
Michael Lichtefeld is choreographer, orchestrations are by Kim Scharnberg. Vocal arrangements are by Lance Horne. Designers are Derek McLane (set), Catherine Zuber (costume), Kenneth Posner (lighting) and Peter Hylenski (sound).
The producers are Randall Wreghitt, Dani Davis, Ken Gentry, Chase Mishkin, Worldwide Entertainment, Ruben Brache, Lisa Vioni, Jana Robbins, Addiss Duke Associates in association with John & Danita Thomas, Thomas Keegan, Scott Freiman and Theatre Previews at Duke.
The Virginia Theatre is at 245 W. 52nd Street. For more information, visit www.littlewomenonbroadway.com.