* With Broadway production costs higher than ever and budgets soaring upwards of $20 million, it's no wonder producers are eager to do whatever they can to ensure a return on their investments. While the only sure thing in theatre is that there are no sure things, casting a major Hollywood star in a show is about as close to a guarantee as you can get. A play may still fold, but there are a lot of advantages to having a celebrity above the title: a handsome head start at the box office and then some. A show that hits with a big name can make a killing. The sky is essentially the limit in terms of what people will pay for premium seats to a hot, hot, hot ticket. On the other hand, some industry insiders may scoff at transparent attempts to cash in on the fame of seemingly inappropriate casting choices. Even some talented film and television actors may lack the specific skills needed to score on stage — and most recording stars aren't actors! Nonetheless, when it works, there is a great thrill sitting in a packed house and being enthralled by a mega-superstar.
Click through to read my selections for the Top Ten Most Unlikely Celebrities Cast On Broadway
10. Sean Combs
Sean Combs (a.k.a. Puffy, Puff Daddy, Diddy, P. Diddy, Sean John, etc.) is a man of many talents in his various ventures as rapper, mogul, designer, you name it. He really surprised us when he elected to star in the 2004 Broadway revival of Lorraine Hansbury's landmark A Raisin In The Sun, opposite talents no less illustrious than Audra McDonald and Phylicia Rashad, both of whom won Tony Awards for their performances, while Combs (the main ticket-selling attraction) went un-nominated. You're welcome, ladies. No stranger to live performing, Combs was completely at home in front of an audience and brought impressive presence and charisma to the production, no doubt helping bring this important work to many thousands of people who hadn't yet experienced it.
9. Madonna
The international superstar single-name sensation has acted in a number of films, including an impressive Hollywood debut in 1985's "Desperately Seeking Susan" and Golden Globe-winning turn in 1996's big screen adaption "Evita," but, not counting her many concert tours, Madonna has only made a small handful of stage appearances. Her only Broadway performance was in Lincoln Center Theater's 1988 production of David Mamet's Speed The Plow, which was originally set for their Off-Broadway Mitzi Newhouse Theatre but changed course to Broadway's Royale Theatre almost immediately after tickets went on sale, due to heavy demand. Speaking of "Evita," legend has it that original Broadway Eva, Patti LuPone, starring upstairs in Anything Goes at LCT's Vivian Beaumont Theater concurrently with Speed-the-Plow, posted a note on the bulletin board that read, "Ms. LuPone wishes to inform management that only one Sicilian diva at a time is allowed in this theatre." Maybe it was the box-office demand that made Madonna move… or maybe it was Patti!
Scarlett Johansson is a perfect example of the treacheries of acting on stage, particularly on Broadway. An acclaimed and beloved film actress, Johansson was a much buzzed-about choice for the 2010 revival of Arthur Miller's A View From The Bridge. Would she prove stage-worthy or were her talents limited to the screen? Hosannas flew, Johansson triumphed. A starring role in 2013's revival of Tennessee Williams's Cat On A Hot Tin Roof soon followed. It's risky business starring on Broadway, but for the intrepid film actor it can pay off handsomely.
7. Tony Danza
Speaking of A View From The Bridge, beloved TV star Tony Danza been kicking around Broadway doing solid work since his replacement gig in the 1997 revival of that play, as well as in 1999's The Iceman Cometh, and a popular nightclub act. Though a consummate New Yorker, Danza will forever be remembered for his long-running stints on the hit sitcoms "Taxi" and "Who's The Boss?" This season, Danza get the chance to find equal fame as a Broadway star, in Honeymoon In Vegas. We're all pullin' for ya, Tony!
Antonio Banderas is a screen legend for his work in the Spanish films of Pedro Almodovar and with Banderas' easy charm and disarmingly sweet swagger, he has triumphed in Hollywood, earning a place high in the echelons of international celebrity. Perhaps it was his musical work as Che in the movie version of "Evita" that convinced Broadway producers he had what it takes to star in the 2003 revival of Maury Yeston and Arthur Kopit's Nine. He lost the Tony to Harvey Fierstein's juggernaut Edna Turnblad in Hairspray, but he won the hearts of Broadway fans forever.
5. Emma Stone
Silver screen darling Emma Stone has emerged gracefully from the genre of teen comedies to become a full-fledged leading lady in less than ten years. Right now, she is the hottest ticket in town, starring as Sally Bowles opposite Alan Cumming's Emcee in the Roundabout Theatre Company's revival (of its own revival) of Cabaret at Studio 54. Good luck getting in to see her, but word on the street is she's brilliant and we should all start salivating over what her next Broadway venture might be.
The great Susan Blackwell, of [title of show] fame, memorably christened "Harry Potter" star Daniel Radcliffe "Dancebelt Radcakes" in honor of his surprising Broadway musical triple-threat turn as J. Pierrepont Finch in the 2011 revival of How to Succeed in Business Without Really Trying. He has also won acclaim for Broadway performances in revivals of Equus and The Cripple of Inishmaan and we can no doubt look forward to his lasting presence on the boards.
The country singer superstar Reba McEntire made such a splash replacing Bernadette Peters in the 1999 revival of Annie Get Your Gun that her undeniable acting chops were immediately rewarded with a string of assignments including the long-running sitcom, "Reba." Broadway better hope she comes back. McEntire's Annie Oakley was an instantaneous legend, folks claimin' they hadn't seen hide nor tail of a bullseye like that since the great Ethel Merman took her shot at the part.
I didn't allow myself to include Angela Lansbury in this column because, even though she was more known as a film star before she became the toast of Broadway, she already had extensive stage credits here and abroad. While Lauren Bacall did her make her Broadway debut in a bit part before becoming a screen sensation, she didn't do any stage acting of note until after. Of note it certainly was, though, when Bacall, with her husky voice and commanding presence, towered over Broadway in such musicals as Applause and Woman Of The Year.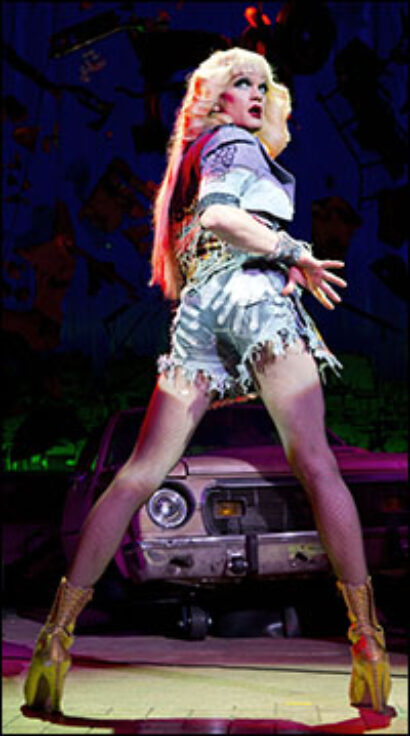 There is no greater example of an unlikely celebrity triumphing on Broadway than Neil Patrick Harris. The child star, long-loved for his "Doogie Howser, M.D.," was a successfully working actor in the late 1990s when he dipped his toes in the waters of stage acting with concert performances of Sweeney Todd and replacement gigs in Cabaret and Proof, before leading the ensemble as the Balladeer (and Lee Harvey Oswald) in the riveting 2004 Broadway production of Assassins. No doubt, these triumphs led him back to even greater television stardom on "How I Met Your Mother" and various celebrated award show hosting roles before his Tony-winning coup in last season's still-running smash, Hedwig And The Angry Inch. What will "NPH" do next?
(Ben Rimalower is the author and original star of the critically acclaimed Patti Issues, currently on a worldwide tour. His new solo play, Bad with Money, performs through Feb. 27 at The Duplex in NYC. Read Playbill's coverage of the show here. Visit him at benrimalower.com and follow @benrimalower on Twitter.)