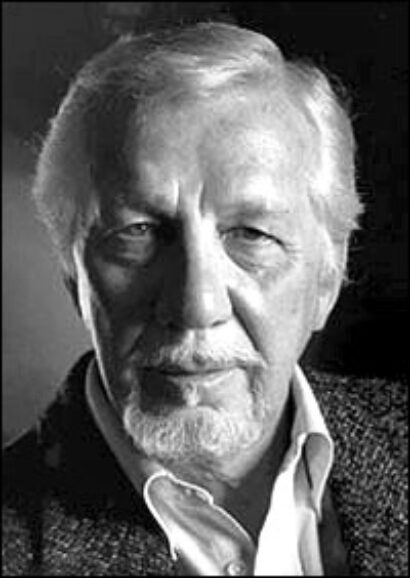 Canadian acting legend William Hutt, who played a cranky acting giant who is dying of cancer in the series' third season, died June 27 after a battle with leukemia in Stratford, Ontario. He was 87 and a force of nature in North American theatre — and at the Stratford Festival, the troupe that serves as inspiration for the iconoclastic series co-created by Bob Martin, the co-writer of Broadway's The Drowsy Chaperone.
In the series, the leonine actor who played King Lear and more than 100 roles at Stratford since 1953, plays an octogenarian actor named Charles Kingman, who is intent on tackling the tragic royal role one last time. Kingman clashes with other members of the "New Burbage Festival" in the series, but Hutt's screen time isn't all about being grumpy backstage: The creators allow him to bite into Lear text, offering flashes of brilliance from the respected craftsman.
The DVD provides extended King Lear scenes not seen on broadcast or cable TV.
*
Acorn Media is releasing the third and final season of the cult-hit Canadian comedy series. The closing chapter of the dramatic comedy about showfolk in a dysfunctional Shakespeare festival was popular on Canada television and on American TV's Sundance Channel. Acorn bills the DVD set as representing "the third and likely final season of the critically acclaimed, hit series starring Paul Gross, Don McKellar, Martha Burns, Sarah Polley and Mark McKinney."
According to Acorn, here's the third season in a nutshell: "Struggling with the unfamiliar burdens of success, the New Burbage Theatre Festival mounts two ambitious productions: King Lear, Shakespeare's epic tragedy, and East Hastings, a debut musical about a heroin-addicted hooker with a heart of gold. Emotionally fragile artistic director Geoffrey Tennant (Paul Gross) coaxes legendary actor Charles Kingman [Canadian theatre legend William Hutt] out of semi-retirement to play Lear. But with plenty of personal baggage, Kingman doesn't so much play the part as live it. Meanwhile, the festival's resident bean-counter (Mark McKinney) joins forces with the musical's flamboyant director (Don McKellar) to create the unlikeliest hit in theatre history. As with the first two seasons, the interwoven storylines take unexpected turns, captivating viewers and building to a satisfying and moving conclusion."
"Slings & Arrows" has won several awards including the Canadian Comedy Award, Directors Guild of Canada, Writers Guild of Canada and six Gemini Awards.
The series is created and written by Susan Coyne, Mark McKinney and Bob Martin.
Along with Don McKellar, Martin won the 2006 Book of a Musical Tony Award for The Drowsy Chaperone.
DVD special features include interviews with Paul Gross and Susan Coyne; extended scenes of King Lear; bloopers; deleted and extra scenes; trailer; production notes; photo gallery, song lyrics, and cast filmographies.
Retail price for the two-disc "Slings & Arrows" is $29.99.
For more information visit www.acornonline.com.