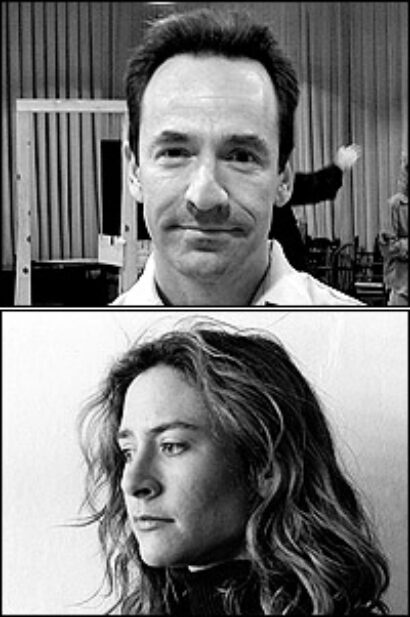 Among the world premieres: An SCR Theatre for Young Audiences commission, Ben and the Magic Paintbrush by Bathsheba Doran, will surface in May 2009; a new TYA adaptation of A Wrinkle in Time will begin in February 2001; Julie Marie Myatt's The Happy Ones will play in fall 2009; and Howard Korder's In a Garden will appear in March 2010.
Two additional world premieres will be presented in spring 2010 in SCR's Pacific Playwrights Festival, which also offers readings of new works.
The South Coast Rep season, under the guidance of co-artistic directors Martin Benson and David Emmes, will open with a new production of Putting It Together, the revue of songs by Tony Award winner (and Pulitzer Prize-honored) composer-lyricist Stephen Sondheim. Nick DeGruccio directs.
Beth Henley's Crimes of the Heart, August Wilson's Fences, Noah Haidle's Saturn Returns and Adam Gwon's musical Ordinary Days were also announced for 2009-10.
The complete 2009-2010 season is as follows:
Putting it Together, words and music by Stephen Sondheim, devised by Stephen Sondheim and Julia McKenzie, Sept. 11–Oct. 11, Segerstrom Stage. The revue that attaches character-types to the songs of Sondheim.
The Happy Ones by Julie Marie Myatt, directed by Martin Benson, Sept. 27-Oct. 18) Julianne Argyros Stage. "A suburban man and a Vietnamese refugee find common ground in this world premiere set in 1970s Orange County, California. SCR commissioned the play, having previously produced the world premiere of Julie Marie Myatt's My Wandering Boy.
Saturn Returns by Noah Haidle, Oct. 23–Nov. 22, Segerstrom Stage. "Noah Haidle's newest play takes the audience through three stages of a man's life, on an inventive journey that bends time and offers surprises at every turn." A West Coast premiere after a Lincoln Center Theater run. SCR presented the world premieres of Haidle's Mr. Marmalade and Princess Marjorie, which was an SCR commission.
Ordinary Days, music and lyrics by Adam Gwon, Jan. 3-24, 2010, Julianne Argyros Stage. "In this acclaimed new musical, four young New Yorkers trying to find their way in the world connect through a series of fortuitous events." Gwon is the latest winner of the Fred Ebb Award for Excellence in Musical Theater Songwriting.
Fences by August Wilson, directed by Seret Scott, Jan. 22-Feb. 21, 2010, Segerstrom Stage. "August Wilson's Pulitzer Prize-winning play is the sixth in his historic ten-play cycle chronicling the African-American experience in the 20th century. Set in the 1950s, the play centers on Troy Maxson, once a famous baseball player in the Negro Leagues who must reconcile his anger at past racial inequities with wanting the best for his family's future."
In a Garden by Howard Korder, March 7-28, 2010, Julianne Argyros Stage. "Howard Korder returns to SCR with the world premiere of In a Garden, a drama about an American architect who plays a game of cat and mouse with the Culture Minister of a Middle Eastern country while the world teeters on the brink of disaster." Prior to the full production, In a Garden will receive a staged reading at SCR's 2009 Pacific Playwrights Festival in May. His play Boys' Life was SCR's first NewSCRipts public reading in 1985 and went on to be nominated for a Pulitzer Prize. SCR has also presented the world premieres of Korder's The Hollow Lands and Search and Destroy."
Crimes of the Heart by Beth Henley, May 7-June 6, 2010, Segerstrom Stage. "SCR welcomes back Beth Henley with a revival of her Pulitzer Prize-winning play, Crimes of the Heart. Henley's humorous and heartwarming story of the Magrath sisters of Hazelhurst, Mississippi has charmed audiences around the world." SCR has previously presented the world premieres of Henley's Abundance and The Debutante Ball, and most recently, the West Coast premiere of Ridiculous Fraud.
Two Works To Be Announced: March 26-April 25, 2010 on the Segerstrom Stage, and April 11-May 2, 2010, on the Julianne Argyros Stage. "Two world premiere productions will debut as part of the 2010 Pacific Playwrights Festival."
A Christmas Carol, celebrating its 30th season — and Hal Landon Jr.'s 30th year as the world's most famous miser — on the Segerstrom Stage Nov. 28-Dec. 26. The SCR Theatre for Young Audiences season on the Julianne Argyros Stage includes:
Junie B. Jones and a Little Monkey Business, based on the books by Barbara Park, book, lyrics and music by Joan Cushing, Nov. 6-22. "A delightful family musical starring Junie B. Jones, the sassy and irrepressible star of Barbara Park's bestselling series of children's books."
A Wrinkle in Time, from the book by Madeleine L'Engle, adapted by John Glore, directed by Shelley Butler, Feb. 5-21, 2010. "The beloved 20th century children's classic comes to life in this world premiere adaptation by SCR's associate artistic director John Glore."
Ben and the Magic Paintbrush by Bathsheba Doran, May 2-June 6, 2010. "In this modern-day fairy tale, Megan earns pennies while painted silver as a human statue and her little brother Ben draws marvelous portraits with only a stubby pencil. When Ben is captured in a scheme to make millions with a magic paintbrush, it's up to Megan to save the day." An SCR commission and world premiere. For information, visit www.scr.org.

*

South Coast Repertory is located at 655 Town Center Drive in Costa Mesa, at the Bristol Street/Avenue of the Arts exit off the San Diego (405) Freeway in the Folino Theatre Center, part of the Segerstrom Center for the Arts.

Tony Award-winning South Coast Repertory, under the artistic direction of David Emmes and Martin Benson, was founded in 1964, and "is committed to theatre that illuminates the compelling personal and social issues of our time, not only on its stages but through its education and outreach programs." In 2002 SCR opened the Folino Theater Center, an expanded three-theatre complex that includes the 507-seat Segerstrom Stage, the 336-seat Julianne Argyros Stage and the 94-seat Nicholas Studio.