*
Audiences, it seems, can not get enough of Into the Woods, Stephen Sondheim and James Lapine's 1987 musical about the down side of fairy-tale endings.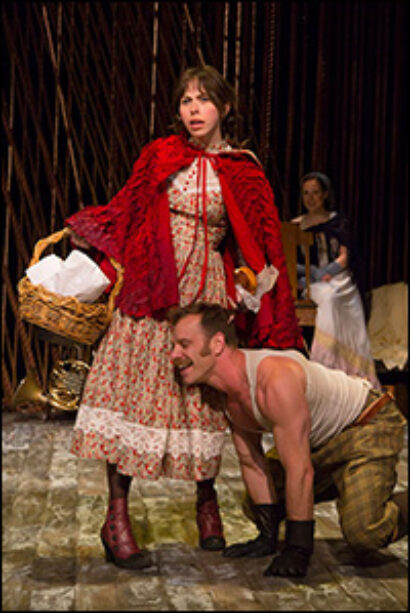 Broadway saw a revival of the piece in 2002. The Delacorte Theater hosted another revival in Central Park in 2012. And then there's that movie version that is flooding cinemas this holiday season. To coincide with that silver screen release, the Roundabout Theatre Company is hosting a new version of the musical by the Fiasco Theater, directed by Noah Brody and Ben Steinfeld. Already in previews, it will open Jan. 22, 2015.
Also always seemingly ripe for revival is O'Neill's The Iceman Cometh. Director Robert Falls and actor Brian Dennehy, who have joined forces on many another O'Neill drama, do so again and have invited Nathan Lane to the party. Performances of the show, which first played Chicago's Goodman Theatre, begin Feb. 5 at BAM.
Though also a classic, Marlowe's Doctor Faustus is rarely revived, except when a big star shows interest in the lead. That's what's happened at Classic Stage Company, where Chris Noth will play the titular sinner. (Mr. Big, indeed!) Previews begin May 29. Another seldom-seen classic, Turgenev's comedy of pastoral, romantic turmoil, A Month in the Country, will also spend a couple of months at CSC. It, too, has a big star in tow: "Game of Thrones"' own Peter Dinklage. Performances start Jan. 9. He wasn't a President — like Andrew Jackson and Herbert Hoover, who have gotten their own Off-Broadway musicals in recent years — but he's getting a show of his own anyway. Hamilton, about Alexander Hamilton (Founding Father, our nation's first Secretary of the Treasury and the world's most famous dueling victim) was written by Lin-Manuel Miranda of In The Heights fame, and will star Miranda, Brian D'Arcy James, Renée Elise Goldsberry, Christopher Jackson, Leslie Odom, Jr. and Phillipa Soo. (Don't expect Aaron Burr to come off well.) Performances begin Jan. 20.
Andy Sandberg has a play of his own, Application Pending, written with Greg Edwards. The comedy, opening Feb. 10 at the Westside Theatre, is about the cutthroat kindergarten admissions process at a New York private school.
Actors continue to do their darndest to render playwrights obsolete, churning out plays themselves left and right. Jesse Eisenberg, arguably the godfather of the movement, is back with a new work, The Spoils, at The New Group. As is his wont, Eisenberg will also star in the piece, about a man who sets out to win back his grade school crush after he finds out she is marrying a straight-laced banker. The production begins in the spring.
The Atlantic Theater Company, meanwhile, will present I'm Gonna Pray for You So Hard, a new play by actress Halley Feiffer about the relationship between a competitive actress and her famous playwright father. (Halley is the daughter of playwright and cartoonist Jules Feiffer.) It will star Reed Birney and Betty Gilpin and open Jan. 20.
Actress Cynthia Nixon hasn't written a play, but she will direct one at The New Group, where she has sometimes starred. She will pilot Rasheeda Speaking, a new work by Joel Drake about once-friendly co-workers who are driven apart by their white boss' machinations. Not a bad cast on this one: Dianne Wiest and Tonya Pinkins star. Opening is Feb. 11.
It's been a while since we've seen a new collection of comic one-acts from David Ives. Primary Stages fixed that by presenting the new Lives of the Saints, which will be director by longtime Ives collaborator, John Rando. Opening is Feb. 24.
Jennifer Haley explores modern digital life in The Nether, her new play about a young female detective who investigates a new online immersive realm. (Don't know what "The Nether" is? Ask a gamer kid. They'll tell you.) Anne Kauffman directs Peter Friedman, Merritt Wever, and Frank Wood, starting Feb. 4 at MCC Theater.
More online-born adventures are depicted in Iowa, a new musical by Jenny Schwartz and Todd Almond about a mother and daughter who move to Iowa when Mom finds her soul mate there on Facebook. (That's gonna work out well, sure.) Playwrights Horizons is the host, beginning March 20.
Another musical with elements of weirdness will be provided by Peter Lerman and Michael Mayer, whose Brooklynite tells the Jonathan Letham-like story of a hardware store clerk who dreams of becoming a superhero. Previews begin at the Vineyard on Jan. 29. Mayer directs.
Keen Company pulls down a big Broadway star, Kate Baldwin, for its new revival of Andrew Lippa's musical John & Jen, about one woman's relationship with her young brother and her son. Opening is Feb. 26.
Whimsical chronicler of modern urban life Melissa James Gibson is back with Placebo, about a woman working on a placebo-controlled study of a new female arousal drug. Previews start at Playwrights Horizons Feb. 20. Also returning with new work is Lucy Thurber, whose The Insurgents, at the Labyrinth Theater Company, starting Feb. 20, is about a woman who travels across the country in search of something to believe in, only to find herself home again.
The coming months will feature plenty of new works by well-established playwrights. The Atlantic Theater Company will present Posterity, the latest by Doug Wright. Beginning Feb. 25, the work is about a commission for Norway's most celebrated sculptor to create the last official portrait of Henrik Ibsen. Wright also directs. Bruce Norris tells the tale of a newly-married couple that attends a party for partner-swapping couples in The Qualms (a title that could really be used for any of Norris' plays). It begins at Playwrights Horizons May 22.
Richard Greenberg will see his new The Swing of the Sea presented at Manhattan Theatre Club from May 26. The new play tells of two sons who reunite with their father's lover after his death. A.R. Gurney reveals What I Did Last Summer at the Signature, starting in May. The story is about a mother who takes her teenage son and daughter to spend the summer on Lake Erie. Finally, in Show For Days, Douglas Carter Beane relates his fond remembrance of his immersion into a life in the theatre. It opens June 29 at LCT. Jerry Zaks directs.
Also on offer in the coming months: Guards of the Taj, Rajiv Joseph's play about two Imperial Guards in 1648 India, who watch the sun rise for the first time on the newly-completely Taj Mahal, starting at the Atlantic May 6; Nice Girl, Melissa Ross' new play about a woman in a dead-end job who begins to take tentative steps toward a new life, at Labyrinth Theater Company in the spring; a new production of Hugh Leonard's memory play Da at Irish Rep, opening Jan. 22; Laith Nakli's new play set in New York during the first weeks of the 2011 Syria civil war, Shesh Yak, at Rattlestick Playwrights Theater, opening Jan. 29; Between Riverside and Crazy, the latest by that chronicler of New York's gritty underside Stephen Adly Guirgis, at Second Stage, premiering Jan. 16; Kate Benson's lengthily-titled Thanksgiving play, A Beautiful Day in November on the Banks of the Greatest of the Lakes, a Women's Project production at New York City Center, beginning Jan. 12; the John Tiffany-directed Jack Thorne's stage adaptation of John Ajvide Lindqvist's vampire novel, Let the Right One In, at St. Ann's Warehouse; Little Children Dream of God, Jeff Augustin's play about a Haitian woman who is determined to forge a better life for herself and her unborn son in America, at Roundabout's Black Box Theatre, opening Feb. 17; Verite, a LCT's Claire Tow Theatre, a world premiere of Nick Jones' play about a stay-at-home mom who is offered a deal for her memoir if she can make her life exciting enough to publish; a new production of Charles Mee's Aeschylus-inspired Big Love, beginning Feb. 3 at Signature Theatre Company; Bathsheba Doran's new play about four individuals' lives that are inextricably intertwined, The Mystery of Love and Sex at LCT's Mitzi E. Newhouse Theatre, opening March 2; Theatre for a New Audience's production of Soho Rep's new rendition of Dion Boucicault's 19th-century staple, The Octoroon, opening March 1; The Liquid Plain, the New York premiere of Naomi Wallace's play about two runaway slaves in 18th-century Rhode Island, at the Signature, beginning Feb. 17; Tracey Scott Wilson's new play, Buzzer, directed by Anne Kauffman, at the Public Theater, opening April 8; a new staging of Hamlet by relentless workaholic Austin Pendleton, starring Peter Sarsgaard at CSC, starting March 22; Toast, Lemon Andersen's new play about a group of inmates during the 1971 Attica Prison riots, at the Public, opening May 5; a new mounting of The Two Gentlemen of Verona, commencing April 24, a Fiasco Theater production of Theatre for a New Audience; Permission, the world premiere of Robert Askins' comedy about a couple that decides to make Christian Domestic Discipline the foundation of their marriage, directed by Alex Timbers at MCC from April 29; the world premiere of the prolific Neil LaBute's play The Way We Get By, about an awkward encounter following a drunken wedding, at Second Stage, from May 12; new stagings of the David Mamet one-acts The Shawl and Prarie du Chien at (where else?) Atlantic Theater Company, starting May 27; Gloria; Or Ambition, the world premiere of Branden Jacobs-Jenkins's play about a group of editorial assistants at a famed Manhattan magazine, beginning in May at the Vineyard Theatre; and a new play by South African dramatist Athol Fugard at the Signature, starting in April.
(Author's note: The Off-Broadway season, like the universe, is vast and unknowable. This listings is by no means meant to be complete or exhaustive.)