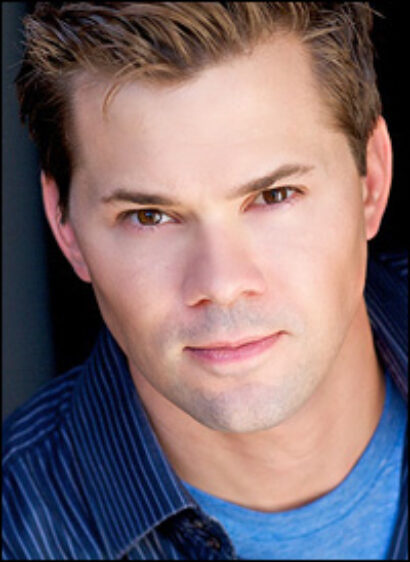 *
Andrew Rannells has been on fire these past few years, thanks to his Tony-nominated breakthrough performance as an earnest Mormon missionary in Broadway's mammoth hit The Book of Mormon, a memorable recurring spot as Hannah's deliciously bitchy gay ex-boyfriend on HBO's hipster sensation "Girls," and a starring role on Ryan Murphy's buzzy new two-gay-dads sitcom "The New Normal," which premieres on Tuesday, Sept. 11 at 9:30 PM ET on NBC (the pilot has been seen On Demand in other formats in recent weeks). But Rannells' red-hot career isn't the only thing burning these days.
Centered on a gay male couple trying to start a family through surrogacy, "The New Normal" has already generated an incendiary reaction in some conservative quarters of the country. An NBC affiliate in Salt Lake City has refused to air the show, and several conservative boycotts have been announced. In response, Rannells' outspoken co-star, Twitter maven Ellen Barkin, further fanned the flames by tweeting a message admonishing the Utah station for airing a show like "Law & Order: SVU" (which depicts "rape and child murder," she wrote), while claiming that a series about "a loving gay couple having a baby is inappropriate."
A 34-year-old Nebraska native, Rannells popped up in Lena Dunham's polarizing "Girls" last season as Elijah, delivering pissy retorts like, "It was nice to see you. Your dad is gay," with a smirking bitch-face that would make Sue Sylvester (of Ryan Murphy's "Glee") proud. Rannells, who will return in season two of "Girls" for several episodes, reveals that Elijah will be moving in as Hannah's new roomie.
With "The New Normal," co-created by Murphy, Rannells is poised for an even bigger breakthrough. He plays the campy, image-obsessed Bryan, loosely based on Murphy himself. A producer on a "Glee"-like television series, Bryan convinces his sports-loving partner David (Justin Bartha), a gynecologist, that they should start a family. After an initially disastrous attempt to find a surrogate, the couple encounter Goldie (Georgia King), a single mom who fled Ohio with her eight-year-old daughter after discovering her boyfriend cheating on her. But Goldie's efforts to start a new life are caustically interrupted by her profane grandmother, Nana (Barkin), an acerbic Archie Bunker-esque bigot. Having tracked down Goldie in LA, she is aghast at her granddaughter's plans to carry a baby for two gay men. Matching her zinger-for-zinger is Rocky, Bryan's equally outspoken personal assistant, played by Real Housewife of Atlanta, NeNe Leakes. We chatted with Rannells over the phone from the set of "The New Normal," where he was on a break from filming the fourth episode.
photo by Trae Patton/NBC
Gay characters are everywhere on television these days, even at the center of major network series like "Modern Family" and "Glee." But "The New Normal" feels trailblazing in a way because it's a broadcast network show specifically about two gay men trying to start a family. Was that one of the things that attracted you to the role when Ryan Murphy first told you about it?
Andrew Rannells: Oh yes, a hundred percent. I really loved the idea that it was going to be the story of this very committed gay couple and all the work it takes to start a family — and that they were going to show two gay men becoming parents from the very beginning. I thought it would be very exciting to be a part of a show that was telling a new story, particularly one that hasn't really been seen on network television. I mean, certainly there's no lack of gay characters on television these days. But it seemed very exciting that this particular story was going to be the main focus of the series. And I knew that if anybody was going to do it with a lot of heart and a lot of humor and a lot of integrity, it would be Ryan Murphy.
Are you happy about the way that the writers are depicting Bryan and David's relationship on the show — with real intimacy and affection between them?
AR: Absolutely. We get to show the beginning of this relationship; we also get to show the everyday life of this relationship; but most importantly, for me, was to show the start of this family and how much love and how much work and time it takes. Not to mention the finances, particularly for two gay men to start a family, which is something that I don't know if a lot of people understand. It's not a snap decision that a gay couple would make to have a child. As gay men, it's not like you're going to accidentally get pregnant or accidentally have a baby. So the process is a very difficult one. It's a tricky road — and an expensive one, quite frankly. It obviously takes a lot of thought and a lot of love to even begin that process. And I'm eager and happy to show that.
Does it feel like we're living in a watershed time where gay characters on television are front and center, from "Modern Family" and "Glee" to "The New Normal" and the upcoming CBS series "Partners"?
AR: When I was a kid, there were hardly any gay story lines or characters on television that I recall. Then when I was in college, "Will & Grace" started up. So yeah, I think the progression of gay characters on television is very exciting, and I feel honored to be a part of something that could potentially be a big game-changer for gay characters on television … I feel like we get to benefit from the success of "Will & Grace." That show blazed a lot of trails, obviously, and made gay characters comfortable for a lot of Americans who maybe thought they weren't comfortable with it. And now slowly, even since then, I think the tide has begun to turn for us.
As a gay man, have you thought about having kids? Has the show made the idea of starting a family seem more feasible to you? In what ways did you relate to him?
AR: If I was playing a character who was already a parent, I might have felt some more pressure to research what that is. But because Bryan is sort of experiencing all of it for the first time, I feel like I just get to go along for the ride with him, in terms of the development of the character. But as far as having kids myself, I haven't seriously thought about it. I've been pretty career-focused since moving to New York. But I do have seven nieces and nephews who I love very much, so that's good for right now. I'm not ruling out kids. But they are probably not in my immediate future.
HBO
Can you talk about the challenges that a Ryan Murphy series presents in terms of balancing biting, pop-culture-heavy humor and acerbic one-liners but also finding a real heart and soul to the story and characters?
AR: First of all, I think that he has a really good sense of who his audience is. Also, he's just a brilliant storyteller. So he knows when to make a joke and when to
not
go for the joke. Which is really impressive and really exciting. With our show, I think he's focusing on telling a very specific story. But in the specifics of that, it becomes a more universal one. So it's a story about this couple, and it's also a story about parenting and the fears of parenting and the fears of: "Are we doing the right thing?" Then within that, there's the story of our surrogate mother, her daughter, and her grandmother starting their lives over again. So people who wouldn't think that they could relate to these two gay men, Bryan and David, will be surprised that the challenges they face and what they go through as expectant parents is universal — even though maybe the genders or faces are not what you would expect. In the specificity of these stories, it becomes universal. Ryan also tells everything with a lot of heart. And I remember that from "Nip/Tuck" even. As crazy as some of those stories would become, he could reign it all back in to something very basic about family or about trust or about jealousy.
You had a recurring role on HBO's new series "Girls" last spring, and you'll be in the second season as well. I thought "Girls" was really compelling because it truthfully taps into the post-college years of one's early-to-mid-20s, when you're still fumbling around in the dark, trying to figure stuff out, and just screwing things up left and right. Your character got to New York and came screaming out of the closet. He's lurching from one extreme to the next and is in and out of intense relationships with different guys. In what ways did you identify with what the character is going through at that specific time in his life?
photo by Jordin Althaus/NBC
AR: Well, I spent that period of my life in New York. So I very much related to the show. I mean, I'm almost 10 years older than most of those characters on the show. I turned 34 this week, and Elijah is meant to be 23 or 24. But I completely related to it — just the messiness of it all. I mean, maybe not the specifics of the activities. But certainly in the sort of flailing-ness of being that age — post-college or in college. You're trying to figure yourself out and what you need. And the whole time you're thinking that you're very self-actualized but you're really just fucking it all up. I definitely related to that experience. But it was nice to have a little distance from it — to get to play that role at the age I am now. It's good not to still be in the middle of it. But I have to say, Lena [Dunham] is the least flailing person I've ever met. And she is the age that she's playing on the show. But she's so, so wise and so together and so self-possessed and driven.
After the massive success of The Book of Mormon, were you looking to try your hand at TV and film projects? Was that a transition you were aiming to make, or did it happen organically?
AR: It just sort of happened. Although if I'm being honest, I think it's something that I was certainly hoping would happen. I was hoping it would be in the cards for me. But it's sometimes very difficult for musical theatre actors to make that transition. I had a hard time for years in New York even getting auditions for television shows, because everything on my resume was a musical. And I think that people perceived that as, "Oh, he's going to be too big and too broad for this. He's going to be too theatrical." I couldn't get seen for "Law & Order" to save my life. I think I'm still probably one of the only working actors in New York to have never been on any of the "Law & Order" shows. So with The Book of Mormon, that definitely opened up a lot of doors for me, because it brought a lot of eyes from L.A. to Broadway. Though I think Ryan Murphy has been the exception in that regard. I think he has always kept his eye on Broadway, and I think that his shows are evidence of that, with the cast of "Glee" — Matt [Morrison] and Lea [Michele] and then Jonathan Groff and Kristin Chenoweth. He pulled those folks from Broadway.
Photo by Joan Marcus
There does seem to be more Broadway stars and actors associated with theatre working in television than ever before — from the regulars and guest stars that pop up on "30 Rock" and "The Good Wife" to Laura Linney and Mary-Louise Parker, Audra McDonald on "Private Practice," Sutton Foster on "Bunheads," and Laura Benanti on the new Matthew Perry series "Go On."
AR: People keep asking me about this trend of Broadway performers transitioning into TV and film. I think it's cyclical though. It happens every 10 or 15 years. So I'm really thrilled to be a part of this current wave. But you know, there's been a lot of really great folks that have come from the Broadway and theatre worlds that sometimes people forget. Jane Krakowski and Taye Diggs and Jesse Martin all came from Broadway. They've been on TV for so long that you forget musical-theatre is where they actually started.
Why do you think it's so challenging for Broadway actors with a resume dominated by musical theatre to get casting agents, directors, and producers to be open-minded and take them seriously in the casting process?
AR: As an actor, particularly in theatre, you're trying to get jobs on TV; but you're also losing jobs in theatre to people who are on television. [Laughs.] I had many, many auditions for things that ended up going to someone who had been on a single TV show or who had done a single movie — and it didn't really matter how successful it was. Casting directors, I think, are just drawn to those people, because they feel like there's more momentum there or something. So it can be very frustrating as a theatre actor, because you kind of get stuck in the middle sometimes. That's why The Book of Mormon was a real gift for me, because Trey [Parker] and Matt [Stone] came in not really caring about any of those rules that theatre casting directors sometimes follow. They didn't want to cast a celebrity. They didn't want a star. They wanted to find somebody who they thought was funny and that would serve their show well. I had never opened a show on Broadway before; I didn't have a TV series; I was never in a movie. And they gave me that opportunity, in a way that I think a lot of other New York theatre folks were not willing to take those chances. But Trey and Matt did. So I will always be grateful to them for that.
Are Trey and Matt working on a Book of Mormon movie? Is there any truth to that rumor? Do you think it will happen?
A: You know, there's a listing on IMdb that is bullshit, I'll be honest. I think that you can post things on IMdb sometimes without any credentials. So that page was created, and I think it caused a lot of rumors and a lot of jibber-jabber. For Trey and Matt and Bobby [Lopez], I think that their focus now is getting the new tour on its feet, getting the production in Chicago up and running, and then getting the production in London set. And they're committed to making great theatre, which is amazing. So to my knowledge, they're not in a huge rush to make a movie out of this.
photo by Jordin Althaus/NBC
What were your early years in New York like as a struggling theatre actor? Were there times when you wanted to quit the business? What kept you going as an actor?
AR: There were. And I did leave for a short while. I stopped acting for some time to do voiceover work. I worked for a couple of years just doing animation voiceover work. I had gotten a little overwhelmed and a little beaten down because I was not booking jobs. So I had to take a little break. I did a lot of animation and a lot of commercials, which was great. Then after about three years, I decided that I needed to get back into auditioning for theatre roles again. And all my closest friends, like Jenn Gambatese and Gavin Creel, were still working in the business. So I auditioned for
Hairspray
right after I recommitted to doing theatre, and I booked that job. And that part got the ball rolling on this whole current wave of my career.
Both the New York Times and Entertainment Weekly recently published articles about the so-called "new normal" of actors and other famous figures like Anderson Cooper, Jim Parsons and Zachary Quinto coming out as gay during media interviews in a no-big-whoop sort of way, without the big hullabaloo and magazine cover stories that once attended the coming out of celebrities like Ellen DeGeneres and Lance Bass. You were cited as an example of that in both articles and lumped in with the "trend" because you mentioned being gay in an interview. But you were never actually in the closet, were you?
AR: Well, I mean, that's the silly part. I worked for a long time in New York, and I lived my life honestly and openly. But nobody cared. Nobody asked me about my sexuality. Nobody paid attention. I mean, I took my boyfriend at the time to the Tonys for The Book of Mormon, and nobody asked me anything about that. It was not an issue. So it was funny then that I sort of became part of the story. It was a fancy group of people — Matt Bomer and Jim Parsons — so I was honored to be a part of it. But it wasn't a conscious decision on my part to come out publicly [in an interview]. I was already out, definitely within the Broadway community.
What's your perspective about actors who are in the closet in Hollywood? Do you think they have an obligation to come out and tell the truth about their sexuality — even if it could potentially harm their careers?
AR: I don't know. I mean, you can't really force anyone to be a spokesperson for anything. I don't think that's necessarily fair. You just have to live your life as honestly as you're able to, I suppose. I mean, coming out is not something that you can force anyone to do or should force anyone to do. It's something that I wish was easier. I wish it was easier for people to come out. But it's hard for a lot of reasons — and not always the ones that people assume. Sometimes families make it hard. Obviously society makes it very hard. Luckily for me I have a very supportive family and a loving group of friends. So it's never really proven to be much of an issue for me. I feel very fortunate about that — the fact that I get to live my life honestly and freely and have not been penalized for that professionally. I'm very, very grateful for that.
Watch the pilot: