*
"For Colored Girls" is Tyler Perry's cinematic shorthand for for colored girls who have considered suicide / when the rainbow is enuf, a series of 20 poems which Ntozake Shange collectively called a "choreopoem" and kept in a perpetual theatrical swirl with an African-American cast of many colors. Said another way, these are all "Women on the Verge of a Color-Coded Breakdown."
Perry is a Renaissance man from the South. He has written, directed, produced and performed (sometimes, in drag, as a humongous black diva named Madea) a modest, middle-brow run of nine Lionsgate releases, which collectively roared commerciality (nearly $400 million worldwide). His tenth, arriving in movie houses Nov. 5, more or less refutes that, puts his fan base to an acid test and makes a sharp right turn on to the strange turf of Shange, who phrased as poetry the pain of the modern woman.
Both artists are poles — if not planets — apart, but this film fusion could move the poet more into popular mainstream where Perry normally splashes about. And his lure is one of the best assemblages ever of top, name-brand African-American actresses.
On stage, Off-Broadway and on, Shange joined six other sisters-under-the-yoke as they swept and twirled around each other till, one at a time, each took to the soap box to hold forth on her particular crisis, be it abandonment or abortion or date-rape or promiscuity. There were no name-tags, just a color for every calamity — "Lady in Red" dealt with domestic violence, "Lady in Green" with abandonment, etc. — and, at the end when the sisterhood united in one common sing-out, they made a rainbow. Perry approximates that dance/drama ebb-and-flow with a constantly mobile camera that darts from one principal's storyline to another. He gives all the women names and that necessary evil, men — then leaves them to destructive innerplay.



photo by Sy Friedman
Most of the characters are centrally located in a rundown walkup where prostitute Tangie (Thandie Newton, in orange), parades her johns past her Bible-thumping mom, Alice (Whoopi Goldberg, in white), and her younger sister, Nyla (Tessa Thompson, in purple), downstairs. Across the hall from Tangie is the husband-battered Crystal (Kimberly Elise, in brown), monitored by noisy building-manager, Gilda (Phylicia Rashad), and social-worker Kelly (Kerry Washington, in blue). Also in the tenement mix are dance teacher Yasmine (Anika Noni Rose, in yellow) and the two-timed Juanita (Loretta Devine, in green). Well out of this turmoil is Jo (Janet Jackson, in red), a cold-hearted glamour-mag editor whose own angst fills her East Side penthouse.
They don't interact as much as they intersect — fractured lives that get fleeting focus and filmic fluidity from Perry. His are "women who don't know each other, whose lives are crossing," he said at the film's recent press meet at the London Hotel on West 54th. "As soon as one person would cross in my mind, I just began to follow that story. It wasn't about how much time I was giving for each of these characters as much as it was about how much of their story was being told at that moment.
"I went back to Ntozake's work and was struck by how beautiful it was. The melody of it is so great it's almost like music. What I had to do was mimic it as much as I could in my dialogue to make sure, when these women went into one of her poems, it didn't seem like a door slamming or an accent falling or going somewhere else."
Even from what you know now, you must recognize that Jackson's character screams Meryl Streep in "The Devil Wears Prada," but she offered a different reference: "Actually, there were old films that were very helpful to me. One, in particular, was 'Adam's Rib' with Katharine Hepburn."
She added, "Acting has always been a challenge to me, and that's one of the reasons I love it so much. This is a chance I thought I'd never get. I love this part — being so sure and so bold. She's got a lot of reasons to be strong, and I was up for the challenge. And the fact that Tyler had that faith in me — it really excited me, so I was ready to step forward and take the challenge."
The plot that Perry created leading up to Jackson's poetic monologue is based on a buzzword ("downlow") that didn't exist when the play was first done in California in 1974.
The most horrific of the many sad tales unfolding here is the story of Crystal, also known and The Lady in Brown. (In the stage version, for the record, the track was known as The Lady in Red.) Trazana Beverley's memorable, heart-wrenching account of it Off-Broadway at The Public won her a 1976 Theatre World Award and, when it went to Broadway, a 1977 Tony (plus virtually every other award honoring "Featured Actress" that year).
Beverley's performance has been, somewhat, preserved in a 1982 "American Playhouse" presentation on PBS in which the anguished events relayed in the monologues were acted out by men and women alike. Shange did the script herself and performed it with Alfre Woodard and Lynn Whitfield, but it was the work of the unbilled Beverley that really distinguished the effort.



photo by Quantrell Colbert
The new Beverley at bat, Kimberly Elise, is likewise harrowing in the role — particularly in an all-stops-out hospital scene. "This woman has been through something unthinkable," explained the actress. "I thought that what Ntozake put down on paper about the way we trust people with ourselves — with our spirit, with our bodies, with our lives — was so clear to me that I just tried to allow it to live as truthfully and as clearly as I could. It was important to me not to put a whole lot on it. I didn't want to boo-hoo through the whole scene. If tears happened, that's great, but that wasn't my plan. My plan was to live these words and allow them to be clear because so many people don't get to say that out loud. So many people go through these things and never get a chance to say, 'Somebody hurt me, and I didn't deserve it'. Either they are afraid to or they are told not to — they have been scared into silence. It's important for those words to be heard — and to be heard truthfully."
It took a lot to get Elise to that breaking point, she admitted — mostly, regimenting herself to her character's way of life. "I had a very peaceful, relaxed, joyous life and practiced meditation and yoga. I lived very healthy, and one of the things that I did for this was let all that go because I knew that would take me off balance. Crystal has to be off balance, so denying my character things was a lot, and it left me vulnerable and exposed and in a place that would allow her to inhabit my body and speak her voice. I went there to do this role with about five gray hairs. I came home with about 50. I'm not kidding, either. It's because — and any actor will tell you this — your body doesn't know it's pretend, and it shows up, it manifests itself. So when I came home, there was Crystal still there. I thought it would go away, and they didn't, so a few weeks ago I surrendered to my dye job for the first time and had Miss Crystal covered. And I literally did do a 21-day detox. I had to. I had to push her out.
"I knew it would be scary for me to go into that place, and I really had to build myself up for it daily to go down, down in there — and at the end of every day Tyler would say, 'C'mon back up, Kim. C'mon back up.' It really is like being underwater."
Given the depths being plumbed, director Perry sometimes saw himself as a life-guard of sorts. "I know how traumatic it can be to go that deep inside yourself to get that range of emotion, to get that kind of performance. And after it's over, it is, 'Come up. You're okay. Come up.' As we have seen in the past, there have been people who have gone to these deep places and have not been able to come out. History books are full of it, so it was important to me that after it was done to pull 'em up out of it."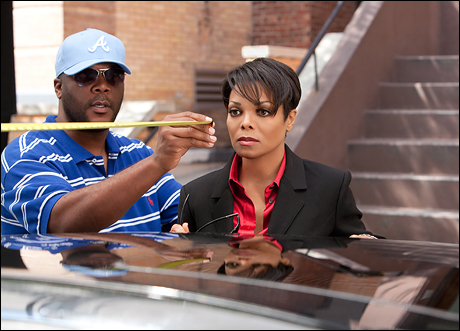 photo by Quantrell Colbert



photo by Quantrell Colbert
The play has become such a staple in African-American drama that all the cast could claim previous interaction with the work. Thompson first encountered it in college, Rashad caught it on Broadway, and Devine actually auditioned for it. "I auditioned for it, and I was cast, too," she remembered, "but I was in graduate school, and they wouldn't let me out so I had to make a choice whether I was going to do the play or not, so I finished grad school. Now, I've come full circle, and I'm glad I did." Caroline, or Change's Rose and A Raisin in the Sun's Rashad are the two Tony-winning actresses making the jump into the dark poetry of Shange's play.
The former found it refreshing: "I'm an actor, and I try always to choose something that is different from the last thing that I did. Otherwise, you just see a different shade of me. That's boring. So I just try to shake it up and find something that is challenging and different and will allow me to attempt to do something better."
Rashad found a throbbing universality in the piece. "Early on in the process of filming," the actress recalled, "we would sit in the makeup trailer, and we would all talk about anything related to the film, and it came to us all — collectively, in an instant — that all women in the world are colored girls, because the color that Ntozake Shange is referring to has not to do with the color of one's skin.
"It has to do with mood, heart, spirit, experience, emotion, expression, understanding — or lack of it, thereof. That being said, and understanding more about who the poet/playwright/star/dancer Dr. Shange is, we understand this piece as an outgrowth of her studies — in literature, in women's studies, her experiences as a professor of literature, her development as a dancer, her expression as a poet and a playwright — that's a lot. I think it's a right of passage for all people. That's what I think. When we understand women correctly, society changes. When women understand ourselves correctly, we change society."



photo by Quantrell Colbert
Men, for the most part, are beasts in "For Colored Girls" — but, notably, not entirely. "I think the biggest add-on for me is Hill Harper's character," Perry said. "I thought it important to show a different side of what a black man is. There are black men who love their wives, take care of them and are faithful and are good people. "As a man, if you want to understand the journey of a woman, you must understand what women are going through and what they've been through. I think this film gives great insight to the women we love and care for and care about. Those of us who are fathers who have daughters — even our mothers — it speaks to what a lot of women carry. For me, it made me much more appreciative of their journey and their struggle, and it made me more sympathetic — not empathetic but sympathetic."
It was on the fifth bounce that Perry finally agreed to bring "For Colored Girls" belatedly to the big screen, and his hesitancy is understandable. "This is the most intimidating work I've ever taken on," he confessed. "I walked away from it many times by saying no, and then, when I'd started it and said yes, I quit four times. I kept wondering, 'Can I do this? Can I do this?' Well, once I surrendered to it, I didn't think about all that. I just knew this is special — this is very special to a lot of people — and I have to do my absolute best with it. And when I shot this film and got to the end of it, I said to myself, 'I did the best work that I can do at this time in my life,' and I was happy with that. I wrote it from a place where I thought this would work. I listened to Ntozake's voice and spoke to her many times, making sure I was on the same page.
"I've always known about women bonding, just seeing the things with my mother and my aunt and my sisters, but I've never been around this many women who bonded in this kind of way. I felt that I was in a bit of a web they were weaving around me to pick me up. They were pushing me to make sure I did a good job, as well, so they taught me a great deal. More than anything they taught me about this bond that women have, and it is unbreakable. It's a sisterhood that men don't get a chance to see so it was really a great education for me."
Tyler Perry discusses "For Colored Girls":