*
The distance from Broadway to Music City U.S.A. is 886 miles, and that's how far Nicole Kidman can spot a good, redheaded role. One February morn in 2006, she was in a Nashville diner leafing through her New York Times and spied a Ben Brantley rave for "a wrenching new play by David Lindsay-Abaire" about a couple coping with the sudden death of their four-year-old son.
The accompanying picture showed redheaded Cynthia Nixon and silver-haired John Slattery coping, and the wheels in Nashville started spinning.
"I think I just immediately connected with the subject matter, obviously," offers the Tennessee Aussie (and wife of country-music star Keith Urban). "It was interesting to me from the review, and then, when I actually read the play — the whole story — I thought it was so available. I could immediately jump in and feel."
It turned out to be a feeling she could bet the Nashville farm on: Nixon nabbed the Tony for Best Actress, and the play won Lindsay-Abaire the Pulitzer Prize. Now, Kidman and her playwright-screenwriter are nicely positioned for Oscar once-overs. The film opens in limited release on Dec. 17 before going wide in the coming weeks. Most fledgling screenwriters would develop swelling heads while adapting their Pulitzer Prize plays, but Lindsay-Abaire took an opposite tact and manhandled his masterpiece. "I really just had to put the play aside, frankly," he admits. "If I was really going to open this up and really reinvent it and tell it in a truly cinematic way, then I had to forget the play. How would I tell this story if it never was a play? Start over. Now, I have moves. Now, I have film. I can go anywhere I want with the story.
"That's the way I did it, by getting into that kind of mindset. Of course, organically, a lot of the play ended up in the movie, but, at the same time, there was a lot of new stuff — and it was all stuff that was mentioned offhandedly in the play. Going to group therapy is only talked about in the play, and I thought, 'Let's go there. I want to meet those people. I want to find out why she has such an adverse reaction to it.'"
Like a true actor preparing, Aaron Eckhart, who plays Kidman's sorrowing spouse, infiltrated a grief-counseling group like the one in the film. "It was raw," he says. "People had just lost their child the day before or three days before or a week before, and there was a lot of emotion in it. I gave my story as the character I played in the movie, which was interesting. I only went once, and that was it. I didn't feel I needed to go back. I thought it was a little unethical and somehow duplicitous."
photo by JoJo Whilden
Kidman, however, was flagged down at the door and not allowed research: "I was told, 'Unless you've actually lost a child or a loved one, you're not to come into the room,' and I completely respected that because they said, 'It's a very sacred place, and we can't let you in to observe.' I'm glad that they didn't [let me in], now when I look back on it, because the way that the emotions came to me in the character was through just my own — the way that I vibrate and the rawness of loving my children. I was able to leap there very quickly. I was amazed at how deep that well is and how available it is. It's probably like what David said — that he wrote about the thing that terrifies him the most. And, as an actor, I was playing the thing that terrifies me the most."
Another new tangent the film takes in Becca and Howie's recovery story is his philandering with a particularly simpatico grief-therapy member (Sandra Oh). "His affair is only hinted at in the play," Lindsay-Abaire notes. "Becca's sister has a friend who saw him with a woman, and you sorta wondered, 'Is he having an affair?' For the movie, his affair becomes a backbone of the plot. It also is a sort of parallel journey for him to go on while she involves herself with Jason" [Miles Teller], the high-school teen responsible for the death of her son.
"I activated Becca's character more in the film. In the play the boy is the one who seeks out the family. In the film she sees him on a school bus and starts stalking him. If you don't know the play, you don't know who he is or why she's following him."
"Rabbit Hole" is, of course, an allusion to Alice's stumbling into Wonderland — an apt metaphor for the dark pit that the grieving couple find themselves in. ("Love Will Get You Through" is the film's advertising tag line.) "Rabbit Hole" is also the name of the short story that the teenager is writing in the play. That prose becomes a comic book called "Rabbithole" for the film. "Again, it was trying to find the visual counterpart for the stuff that was in the play," says Lindsay-Abaire. "He's writing exactly the same story in the movie, only you can't really film someone writing so he became a graphic artist. We can actually see those pictures [in scene transitions]."
Kidman, says the author, was very much the driving force that brought the play to film fruition. She earned her Producer credit: "I sent her the script, and she sat down with me and her co-producer [Per Saari], and conversations began. It was Nicole who called Aaron and said, 'Please. We have no money for this. Just do it.' She is also the one who said, 'What about John Cameron Mitchell for director?'"
Lindsay-Abaire admits that question triggered fast flashes of the over-the-top punk-rock excesses of "Hedwig and the Angry Itch" and the strong sexual content of "Shortbus" — director Mitchell's two times at bat — but these soon subsided, and he could see the logic of the suggestion. "He took his own stage work and adapted it into what I thought was a very successful movie so he knew how to make that transition. Also, at the heart of both of those movies, is a situation where people are trying desperately to connect with one another — people finding themselves in an upside-down, chaotic world and trying to find their places in that world. The wrapping paper around those movies is big and audacious and not at all our wrapping paper, but, once you take it off, the stories are the same. It's about the same thing. So, to me, it felt like an absolutely great choice. That made sense to me."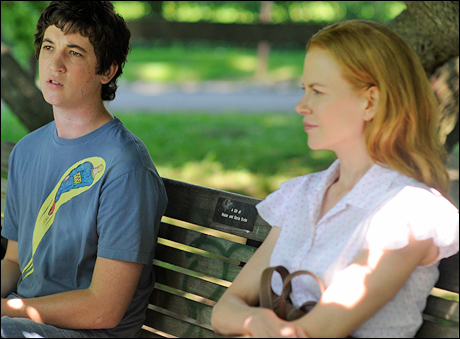 photo by JoJo Whilden
photo by JoJo Whilden
Mitchell, who starred on Broadway in Big River and The Secret Garden, doesn't believe his sharp right turn into accessible family drama from the "Hedwig" crowd will rattle the auteurists too much. "Auteur doesn't necessarily mean you're branding yourself with a certain style," he says. "It's that your vision is perhaps more pure. In this case, I'm working on someone else's script. For me, it felt like what I always did as an actor, which is approach another script and tailor it for myself and serve it. My favorite directors, apart from the idiosyncratic ones like Cassavetes and Fellini, are those like Sidney Lumet, who can do 'Dog Day Afternoon' or 'Network' or 'Murder on the Orient Express.' How different can those films be?"
He credits his arrival at this new venue to agent-persistence: "I have an agent who's been trying hard to get me to do projects I didn't particularly want to do. I have said no a lot since 'Hedwig' — actually more directing-wise than writing-wise — because I was old enough to know that I don't want to spend years on something that I didn't love, and this was the first thing that made me want to drop everything and do it."
There was another reason the project spoke so personally to him: "When I was a teenager, I lost a brother, and all the feelings came up in the screenplay. At the time — 1977, when I was 14 and he was four, the same age as the child in the film — we weren't supposed to talk about it. There wasn't a lot of grief counseling. We had religion, and it was about moving on and letting go before you were really ready to. Books and stories helped me through. So I thought now it was time to look into that.
photo by Joan Marcus
"I realized when I read David's script that it was some unfinished business for me — to think about what had happened to me and maybe work through some stuff while working on this beautiful piece. It was really wonderful to work with these virtuoso actors because, as they did their scenes, I felt like I was in the scenes with them and feeling behind the camera all the things they were feeling in front. It allowed me to release stuff. Of course, that's the point of work like this. That's the point of art."
For the time being, Mitchell is staying behind the camera: "I'm in the middle of producing an animated feature, 'The Ruined Cast,' directed by Dash Shaw, the guy who did the comic book art for 'Rabbit Hole.' It's going to be an adult sci-fi." But the actor in him dies hard: "We're still trying to figure out a way to get 'Hedwig' on Broadway, which has a lot of obstacles." (The show was an Off-Broadway smash, of course.)
Lindsay-Abaire is Broadway-bound — specifically, the Samuel J. Friedman where his Good People bows March 3, with Frances McDormand, Tate Donovan, Estelle Parsons and Becky Ann Baker.
"I'm going out to L.A. next week to promote the movie — there's all that gauntlet stuff you have to do — but once I'm in rehearsal, I'm in rehearsal." That will be on Jan. 4.
"Good People is about a neighborhood in South Boston where I'm from — I've never written about my hometown, ever — and it's about a working-class woman who has had minimum-wage jobs her entire life and never been able to escape that life. In the course of the play, she finds out that a guy she grew up with who escaped the neighborhood has gone on to become a successful doctor. She sorta insinuates herself into his life in order to escape her circumstance. In a line, it's about the myth in America that anyone can accomplish anything if they just work hard enough."
The Friedman was called the Biltmore when Lindsay-Abaire made his Broadway debut there in 2006. Previously known for his kinky comedies Off-Broadway (Fuddy Meers, Kimberly Akimbo, Wonder of the World), he did an abrupt about-face and daringly turned on the dark with Rabbit Hole.
"It's a mournful story," he readily allows. "It's about loss, but I also hope it's about . . . hope. I hope that it's about people desperately trying to reconnect and finding their way back to each other. That's what I think it's about, ultimately."
View the trailer: