*
'Tis the season to be Julie, no doubt about it. Wherever you look, regardless of the medium, Julie Taymor is making her mark. In opera, The Met is reprising The Magic Flute, her 100-minute eye-popper from 2004, via eight weekday matinees for the holiday kid-crowd — all of it touched up by a team of elves and minions so Madame can do the heavy-lifting for Broadway: making sure Spider-Man Turn Off the Dark flies to his appointed Date with Destiny (1/11/11) at the Foxwoods Theatre.
Mastering Mozart and Marvel Comics would be enough for most mortals, but Taymor is also tackling Shakespeare with another "Ariel act." This one — a film version of The Bard's penultimate play, The Tempest — lifts off at movie houses Dec. 10, in NYC and L.A. before going wide.
"Actually," says the Tony-winning Renaissance woman, "The Tempest was the first Shakespeare play I ever directed — in 1986 — at Theatre for a New Audience. I fell in love with the play back then, and I have directed it three times since then."
Of her four feature flicks, half have been Shakespearean. After film-debuting with "Titus [Andronicus]" in 1999, "I decided, if I were to do another Shakespeare, it would be The Tempest. It's one of his greats. I fell in love with it in the theatre. I don't think I'd do a Shakespeare film without trying it in a theatre first. The paired-down minimalism — what you have to do in theatre — you'd have to really do it with the actors first. It lends itself to the cinema. It's extremely visual — and, in fact, his most visual play." Poof! Enter Ariel, the high-flying fairy/sprite dashing across the sky in misty streaks, doing the bidding of Prospero, an exiled king with magical powers, lording over an enchanted isle in the Mediterranean. Taymor's advanced visual sense propels this character to properly fanciful heights — making him an ideal conduit for her cinemagic.



photo by Melinda Sue Gordon ©2010 Tempest Production, LLC
Over the years, Ariel has been played by men, women and, on at least one occasion, by a robot named Robby (in the 1956 sci-fi "Forbidden Planet"). Here, Taymor has opted for the unisex look and cast Ben Whishaw, seen last year Off-Broadway in The Pride and on screen as the sickly John Keats of "Bright Star." He plays Ariel nude-but-not-so-you'd-notice — in a blurry series of lunges and artfully arranged poses, with ambiguous genitalia and, every once in a while, female breasts to further confuse matters.
There's more Taymor gender-bending: She also changed the sex and vowel of the lead. Prospero is now Prospera and played by Helen Mirren — without any discernible loss of authority or majesty — and, while this fem tack is hardly unprecedented (Blair Brown was a 2003 Prospera at the McCarter Theatre), it does shake up the work's foundation somewhat. "There are many things that haven't changed, but, once Helen Mirren went into the play, without changing the lines, things changed immensely," Taymor noted, "not just because she's a great actress but also because the dynamics were so different."
This unexpected casting came out of a casual conversation the actress and the director had at a party. Mirren had no idea Taymor was planning to film The Tempest when she mentioned that the first Shakespeare she ever did was as that play's Caliban, Prospero's monster servant. "Then," recalls Taymor, "she actually said to me, 'You know, I could play Prospero as a woman,' and I said, 'Do you want to?' — because I was already thinking about it, with exactly that in mind. Fortunately, she said, 'Yes,' and, at that moment, I said, 'Let's do it.' She asked if it would be in the theatre, and I told her film. Then we raised the money, cast it and did a reading to make sure it would work."
Now, Taymor points out, the relationship of Prospera and her daughter, Miranda (Felicity Jones), is different from a father-daughter relationship. The prince who courts Miranda, Ferdinand (Reeve Carney, Broadway's Spidey), is not viewed by Prospera as competition but as someone from whom to protect her daughter.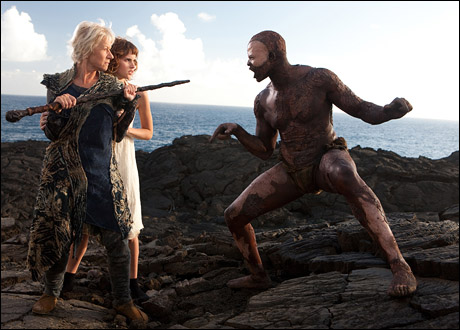 photo by Melinda Sue Gordon ©2010 Tempest Production, LLC



photo by Dave Allocca, StarPix©2010
There is no feminist subtext in the casting, she insists. "It was just wanting Helen Mirren to play Prospera. I was going to do it with a male, but I didn't have a male in mind that excited me more than the idea of working with Helen Mirren. In this day and age, it shouldn't be such a big deal. It's a great actor with a different feeling for the play." She also thought that Mirren's Prospera and Whishaw's Ariel would be good chemistry, "not necessarily sexual chemistry," although the relationship of an older woman and a younger man "seemed that it could be very cool" to certain contemporary audiences.
Unfortunately, Whishaw's schedule prevented him from making the Hawaiian shoot. "Instead of casting another actor," says the unfazed director, "I took it as one of those restrictions that could be a plus. It was an enormous plus. The fact that he wasn't there made me come up with a concept, and I always wanted Ariel to be able to be transparent. Not having Ben on location freed us up for allowing him to transform. He was air, he was water, he was fire, he was frogs, he was harpies. He is with giant wings, on a glass table, in blue screen. I wanted it to be as real as possible. I didn't want it to be a CGI character because the power comes through the actor. We could make it transparent in post[-production] and control the corporeality of his presence. One of my favorite scenes is the one where Prospera and Ariel talk about compassion and forgiveness, and she says, 'What do you think, Spirit? Shall I forgive him?' He says, 'I would, if I were human.' The real Ben has to be there for that moment, in his white make-up that helps create this non-human androgynous figure. We wanted the duality there of a male-female spirit."
The rehearsal process for stage and screen is different, says Taymor, who has seen both sides now. "In theatre, you get all your actors on Day One, and you get them for five or six weeks before you go into tech. Helen worked on it for four weeks. We did a reading a year in advance because it was extremely critical to both Helen and myself that this wasn't a gimmick, that it had validity as a Shakespeare play and wasn't just about putting a woman in. Obviously, you had to change many of the words, the he's to she's. We kept the word master because the word mistress doesn't mean the same thing. It's incredible in the English language about which words change and which don't. We used the word 'Mum' as opposed to 'Mother,' and the reading process informed us about where we needed to go.



photo by Melinda Sue Gordon ©2010 Tempest Production, LLC.
"We rehearsed in London for about two weeks on and off. And then in Hawaii, I had what we called The Court — David Strathairn, Tom Conti, Alan Cumming and Chris Cooper — for not very long, because these actors were very busy. But I did have Djimon Hounsou, Russell Brand and Alfred Molina in Los Angeles for a hilarious four or five days, rehearsing in a bare room where you can really engage with the language and the physicality of it all."
There is also different pacing for both stage and screen, she finds. Shakespeare's plays were never meant to be shown in full," she asserts. 'Titus' was long — it was two hours and 40 minutes — and The Tempest is four hours in full, unedited, unexpurgated versions, but I had already cut it when I did it years ago to an hour and a half version. This is probably a little longer because I wanted to have certain moments of breathers from the language, and there isn't a lot. Knowing audience attention spans, I didn't just go into these visual massive panoramas — although there are a few — because there is a momentum in the play. This play takes place, literally, between 2 PM. and 6 PM" But, during that time, she read a solar eclipse into the proceedings, enabling her to go into a theatrical, highly stylized world. "It's very hard to shoot in broad daylight all the time. You can't control it. We're in landscapes where you can't bring in lighting — we're in cliffs with winds and rain — but it's wonderful to pull this sense from the script itself to the landscape, then shoot in green screen or blue screen later for the stylized moments."
Elliot Goldenthal, Taymor's partner and musical collaborator for the past 30 years (he won an Oscar for her 2002 "Frida"), set Shakespeare's final speech in the play to music, and it is lovingly delivered by Beth Gibbons of the English band Portishead. Taymor thinks of it as a last-minute, post-production save: "That speech was cut from the film. I never shot it with Helen because I thought we didn't need it. She'd already done a number of monologues, so what was she going to do, turn to the audience?
"Even if it hadn't been end credits, I felt very different. In theatre, the house lights come up, the actor unmasks himself, and the artifice is revealed. That really doesn't happen in cinema. When we got to the end of the film and were editing, I thought two things: One, what are we going to do for end credits because we don't have any more money? And two, it's not enough — we need the speech, so Elliot and I discussed taking that speech and tailoring it a bit so a few things were edited from it. Beth came to mind because she felt just like Helen. She has an incredible vulnerability and power, simultaneously. Some people have told me they thought it was Helen — but, I can tell you, Helen doesn't sing."
Watch the trailer: